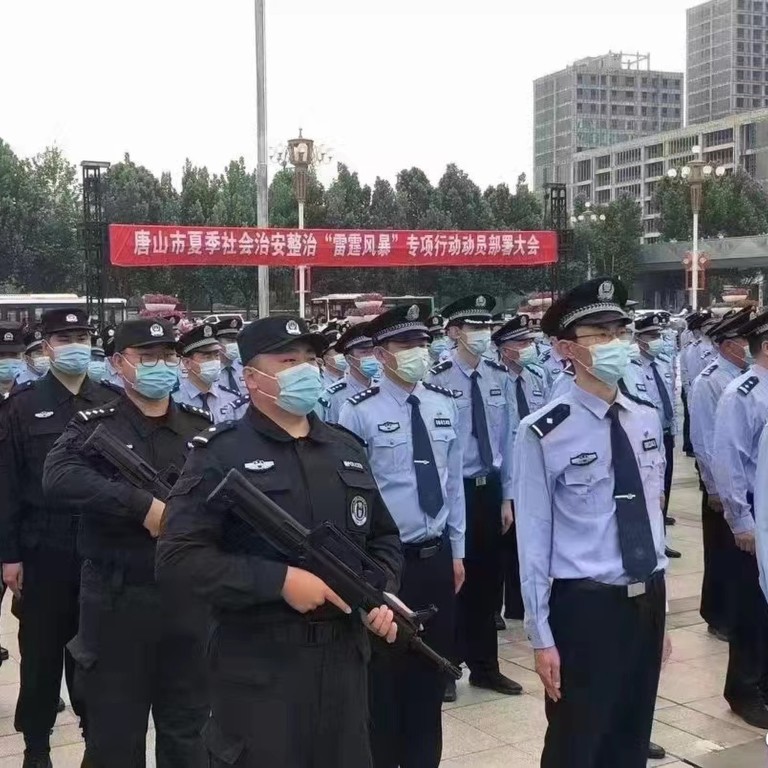 Chinese authorities unveil plans to 'maximise display of police force' two weeks after group assault on women
New public security minister Wang Xiahong promises 100-day 'hard-fist' campaign to target criminals in run-up to year's biggest political event
The announcement comes two weeks after an attack on a group of women in the city of Tangshan that triggered a wave of public outrage
China has promised a "maximum" display of police force in a 100-day campaign the public security ministry said would improve public safety.
The assault triggered widespread outrage and discussion about violence against women after security camera footage showed a group of men rushing into a barbecue restaurant to attack a woman who rejected one man's advances and the three others she was dining with. Two of the victims had to be hospitalised.
The authorities will "maximise the display of police force on a street and community level" as part of a 100-day campaign to step up protection for women, children, and the elderly, the Ministry of Public Security announced on Saturday, ahead of the Communist Party's 20th party congress.
On Saturday the new public security minister Wang Xiaohong announced plans at a planning conference to consolidate control over social order this summer, the ministry said in a notice.
"We must use hard fists to protect the legal rights of women, children, the elderly, the disabled and students with fast, accurate and fierce measures according to law," the ministry said.
"We must comprehensively deepen the battles against criminal forces and maintain a zero-tolerance approach to actively eliminate organised crime and severely punish their protectors."
Last week,
senior security official Chen Yixin
called for action to be taken against street crimes, group attacks, and other criminal activities including child abduction, pension fraud, prostitution, gambling, drug abuse, theft, robbery and scams.
The Tangshan city government also responded to the attack on the women with a two-week "blitz" targeting criminal gangs after the attack. Nine people have been detained, a
deputy police chief fired
and five other law enforcement officials are under investigation over the case.
At the conference on Saturday, Wang vowed that the 100-day "hard-fist" campaign would enhance public social order ahead of the party congress later this year by targeting hidden security risks at a community level.
The ministry said in the notice that it would link up police and armed police patrols and activate a swift response mechanism of no less than five minutes.
Civil powers will also be mobilised to strengthen community levels to target crimes rampant in the summertime, while night patrols and crackdowns against guns and explosives would also be stepped up.
According to the notice, law enforcement capability will also be strengthened to raise policing standards and credibility.
Wang, 64 and a close ally of President Xi Jinping, is expected to further Xi's national security vision and anti-corruption drive.
He is the first professional police officer to lead the ministry in 24 years and replaced Zhao Kezhi as part of a major reshuffle of central and local governments ahead of the congress, which is expected to see a new leadership team unveiled.