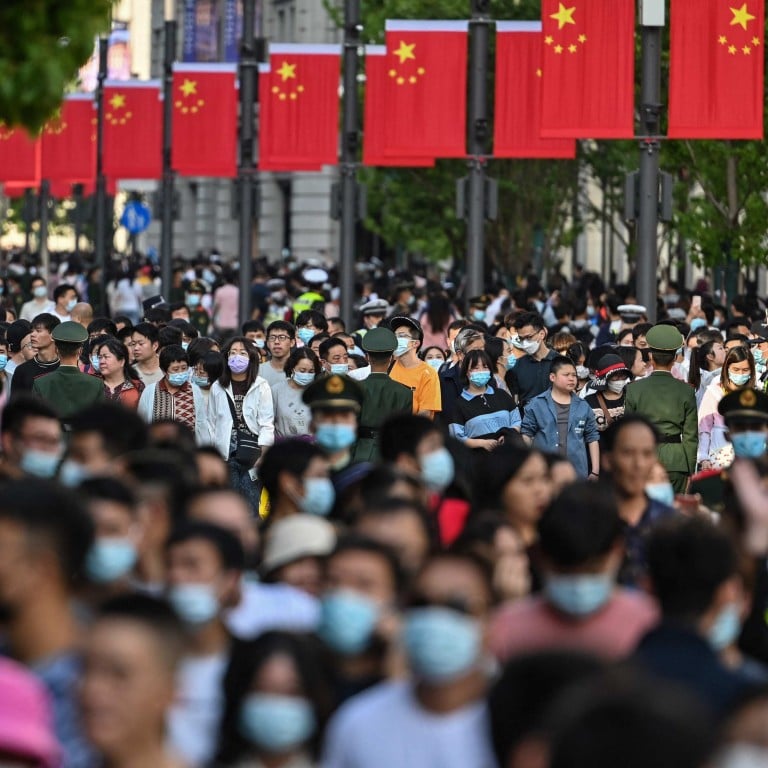 Xi Jinping allies lay out Chinese president's global risk outlook in countdown to Communist Party congress
Top party theorist says political and ideological conflict with the West to persist
Presenting Xi as a strong leader meant to justify extending his tenure, analyst says
China is at a critical point in its ties with other countries, with risks mounting from international conflict and competition, a leading Communist Party theorist wrote in an article summarising
President Xi Jinping
's global outlook.
In comments published online on Friday, Qu Qingshan, head of the Central Committee's Institute of Party History and Literature, said it was crucial for China to address the challenges, from US containment efforts to the West's polarisation tactics and the threat of a
middle-income trap
.
In another article published on Friday, Chen Yixin, secretary general of the committee's Commission for Political and Legal Affairs, focused inward, saying China would improve its mechanism to "strictly govern the party and the police" and tackle the root of violations of party discipline.
Chen, a Xi protégé, has been the main enforcer of a clean-up in the security apparatus over the past two years.
His comments on the commission's WeChat account expand on Xi's party policy after a decade-long graft-busting campaign that has claimed more than 300 senior officials and cadres and consolidated Xi's power.
In his 11,000-word article on the website of the Central Commission for Discipline Inspection, Qu elaborated on Xi's assessment that China was mired in a changing international environment in which countries were competing on overall national strength, political systems and ideology.
"Western countries led by the United States do not want to see the emergence of a strong China, a strong socialist China," the theorist said.
"The US regards China as a strategic competitor. It is comprehensively restricting and curbing China's development on fronts of technology, economy, political, military and diplomacy.
"The wrangle of the two political and ideological systems will be tough and complicated. We must be sufficiently prepared for a long-term strategic contest between China and the US."
Alfred Wu, an associate professor and assistant dean at the Lee Kuan Yew School of Public Policy at the National University of Singapore, said Qu was a top party theorist and his article was an important part of building a theoretical foundation for the party.
"The key message here is the party should be ready to set itself into a prolonged crisis mode to handle and prevail over the unprecedented challenges," Wu said.
"A strong leader with great wisdom and firm plan is of course needed to navigate the complex environment and achieve Xi's goal of great rejuvenation. Such a narrative is clearly trying to justify the legitimacy of Xi's extended terms [after the party congress]."
Part of that push for legitimacy is the
Belt and Road Initiative
, a massive infrastructure programme launched to support Xi's goal to construct a "community with shared future for mankind".
The initiative is designed to woo partners in developing countries and counter Washington's economic and diplomatic outreach.
However, it has faced many hurdles, including accusations from the US and its allies that it creates "debt traps" for poor countries and poses environmental risks in some destination countries.
In recent weeks, US President Joe Biden and other leaders from the Group of 7 presented their own initiative – the "Partnership for Global Infrastructure and Investment", with a pledge to raise US$600 billion over five years to fund infrastructure projects in developing countries.
But Qu said China would continue to pursue a peaceful rise, actively developing global partnerships, while firmly safeguarding sovereignty, national security and its development interests. "The essential requirement for China's diplomatic work in the new era is sticking to enhancing strategic confidence," he said.
China's ties with the US have worsened dramatically in the past few years and its "Wolf Warrior" diplomats have been busy spinning a narrative that Beijing is defeating a Western plot to contain the rise of China.
Qu said China would stand firm against rising protectionism, unilateralism, populism and hegemony, especially when the "Russian-Ukraine situation" affects the world order.
He said the international situation would be complex and the competition to lead the global order would continue for a long time, with Xi's leadership key to China "turning danger into safety".
China is also facing headwinds from a global economic downturn, exacerbated by the Covid-19 pandemic as well as ecological, biological, grain and energy security problems, according to Qu.
Domestically, China has expanded the governance of national security to a wide arena covering politics, the military, land, the economy, culture, society and technology – among other areas.
In terms of politics and ideology, there is a "Westernisation" risk while on the economic and social development, there is the danger of a "middle-income trap" – when rising costs and declining competitiveness stops a middle-income country becoming a high-income one.
Xie Maosong, distinguished professor of the Centre for Strategy and Security Research's China Forum at Tsinghua University, said it was very clear that the Chinese leadership had "no illusions" about the US and the West.
"As the US' past strategies towards Japan and the European Union show, it will not allow another great Western power to take its place in world leadership. And it is even more unlikely for it to accept a socialist power on the world's centre stage," Xie said.
"Qu's article is a rallying call to the party, making it very clear that China cannot run away from this protracted hostility. All the party members will have to be united to face it, handle it and overcome it eventually."
He said Beijing had to be proactive to show its model of governance could be adopted by other developing countries – and win their support.
"In such a long-term struggle that is complex, arduous and tough, the US is increasingly relying on its allies with similar ideologies to coordinate their moves. That shall also be a key strategy for China too," Xie said.
"Some good examples include Beijing's support for Argentina to become a BRICS member.
"Another is the establishment of China's Centre for International Knowledge on Development, which aims to research and communicate with other countries on development theory and practices suitable to their respective national conditions with reference to China's development experience."
Additional reporting by William Zheng