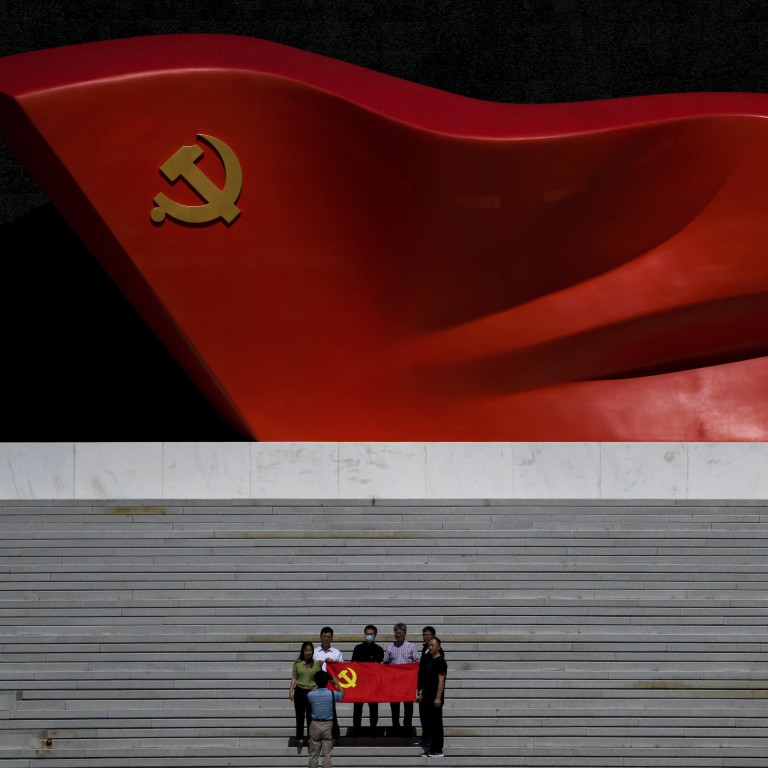 China's Communist Party points to 'continuity' at congress, observers say
Politburo statement announcing date of the key political event suggests it will be 'primarily dominated by Xi Jinping's agenda'
Mention of having confidence in Chinese history also seen as significant, and could be 'one key indication of where China is going'
China's ruling Communist Party has set the date for its
twice-a-decade congress
, and observers say the official announcement suggests President
Xi Jinping
is likely to remain in firm control in the coming years.
It cited a Politburo statement laden with political slogans from the past decade of Xi's rule and a call for the party to take stock of the "major achievements and valuable experience" under his leadership. It also called for the party to continue to implement Xi's key policies.
The Politburo said the congress would be "of great significance" and held at a "crucial moment" – echoing
remarks made by Xi
to key officials at a study session in July.
The congress would also "thoroughly review the international and domestic situations … as well as the new expectations of the people", according to Xinhua.
Party members and Chinese would be mobilised to "firm up confidence in their history, strengthen [their] historical initiative, innovate on the basis of what has been done, and bravely charge ahead", and to push forward policies such as "common prosperity", which Beijing says is aimed at narrowing the wealth gap.
There will also be some key leadership changes made at the congress, though Xi is expected to secure a third term in power. An official report from the ongoing meeting of the National People's Congress Standing Committee on Tuesday said personnel changes had been discussed, but no further details were given.
Although the Xinhua report did not confirm Xi's third term, the tone was one of "continuity", said Fei-Ling Wang, a professor at the Sam Nunn School of International Affairs at Georgia Institute of Technology.
That view was echoed by Deng Yuwen, a former editor of official newspaper Study Times. Deng noted that the announcement was dominated by Xi's policy buzzwords, suggesting that he will continue to chart the party's direction.
"From Xinhua's report, you can see the skeleton of the [upcoming] 20th party congress report, which will be primarily dominated by Xi's agenda," Deng said.
He said the congress date was much earlier than expected. "That indicates that most of the closed-door negotiations on key positions are over and the party has decided it's better to announce it sooner and leave no room for political rumours – which have been rampant in the past two months."
Deng also noted that an earlier congress would give Xi time to prepare for upcoming international summits such as the
Group of 20
meeting to be held in Bali in November, which the Chinese president is expected to attend in person.
The mention of having confidence in Chinese history was also significant, according to Chen Daoyin, a political commentator and former professor at Shanghai University of Political Science and Law.
It comes as an article defending the "closed-door" policies of the Ming and Qing dynasties has
set off a storm online
. Published in a Chinese Academy of History journal in June, the article is attributed to a research group, with no authors named. It argues that the policies of the last two imperial dynasties were not total isolation but "self-restriction" to protect national interests and ward off foreign invasion.
"We should keep a close eye on whether the congress will reframe the party's narrative on China's history – especially the period when China had closed-door policies," Chen said. "That might be one key indication of where China is going."