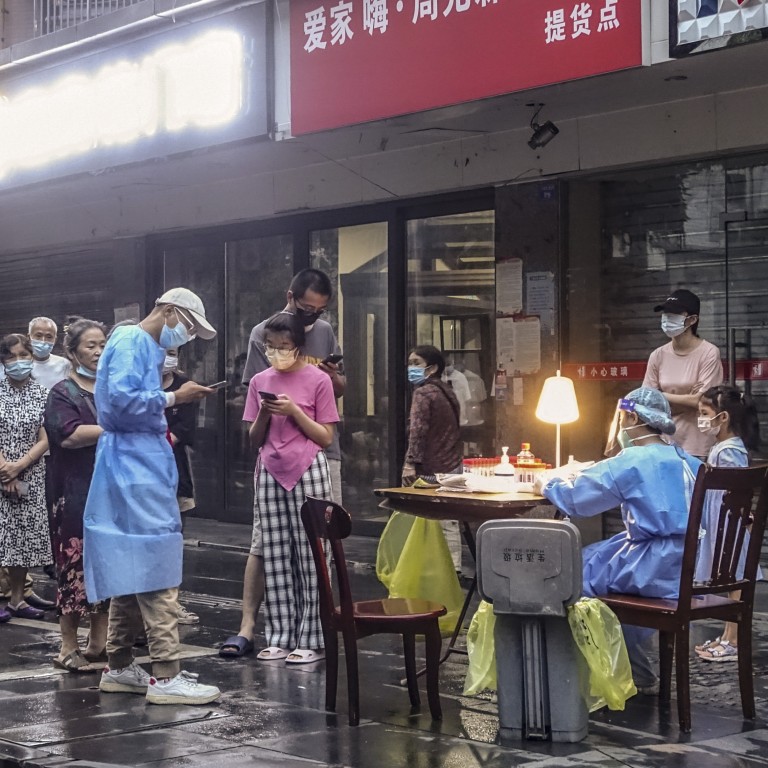 Locked-down Chinese city apologises after mandatory Covid testing system crashes
Chengdu authorities say sorry for long delays that forced people to wait in the rain late into the night
Transport hub ordered residents to test daily to try to keep a lid on coronavirus cases
Authorities in the
southwestern Chinese city of Chengdu
apologised to the public for disruptions in its mandatory Covid-19 mass testing system after long queues formed late into the night over the weekend.
In a statement on Saturday night, the municipal government said the electronic testing system in the
locked-down city
was overwhelmed due to an unexpected rush in tests.
"There was abnormal activity in the citywide nucleic acid testing system, leading to slow progress and long lines in the cold rain," the municipal government said in a statement on Saturday night.
"We feel concerned, ashamed and accept public criticism. We sincerely apologise and thank the public for their understanding and support."
A team was assembled immediately to fix the problem, and the government would stagger test times across the city to avoid congestion, it said.
Authorities imposed a three-day snap lockdown from Thursday evening and ordered residents to test daily to combat a surge in Covid-19 cases. More than 900 cases have been reported in the southwestern transport hub of 21 million since mid-August.
Chengdu is among 33 cities in China that have imposed some sort of restrictions in hopes of quelling a new wave of infections, with just over a month to go until the Communist Party's national congress next month. On Sunday, China reported 314 local confirmed cases and 1,359 local asymptomatic infections.
Chengdu resident Jenny Liu said she went downstairs twice on Friday night to check on the queue but gave up on getting tested when she saw the lines were not moving at all.
Photos posted on Chinese social media showed medical staff across the city standing on chairs and holding up their phones, trying to get reception or reboot the system, late into the night.
On Saturday, Chengdu residents were able to resume testing, Liu said, but the results had been slow to come, as the city's labs were stretched.
"I was tested at 4pm on Saturday but still haven't received my results," she said on Sunday.
Chengdu is the latest city to apologise for failures as the country pursues a zero-Covid strategy – and the rest of the world opens up – in the third year of the pandemic.
In July, health authorities in the southern city of Guangzhou
apologised
for breaking locks and entering nearly 100 homes to screen close contacts of confirmed cases. The confirmed cases had been sent to centralised quarantine and authorities suspected the close contacts were hiding to avoid isolation orders.
On Saturday night, the government of Urumqi in the Xinjiang Uygur autonomous region apologised to its people for long periods of restrictions, food shortages and not being able to meet the public's medical needs. They said more emphasis would be placed on communicating with the public and attending to emergency cases.
However, members of the public argued that the chain had continued production when Shanghai residents were experiencing food shortages and receiving only rotten potatoes and cabbages from the government.
"They are a heroic company and I will go out and buy some Paris Baguette bakery goods today," one resident said online.