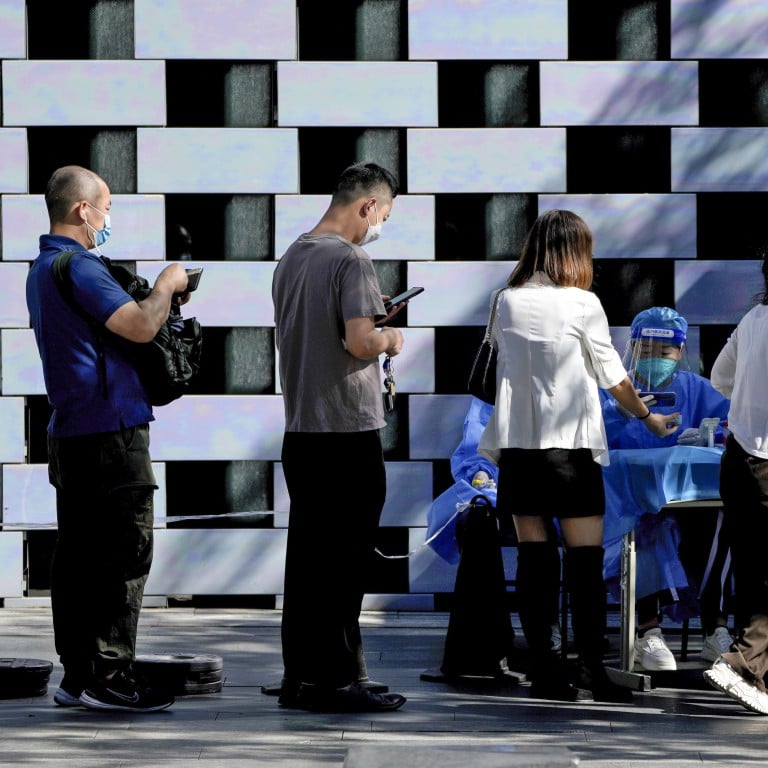 China calls for mass Covid-19 testing, but it could burden local governments
Frequent testing has become an expensive approach in the face of highly contagious Omicron variants
The cost of a year of mass screening in all first- and second-tier cities could top US$208 billion, according to one estimate
China has stepped up its
zero-Covid response
by asking cities – even those without an outbreak – to conduct regular mass testing as an important Communist Party meeting approaches, but it could be a costly measure that will further burden local government coffers.
"Regular Covid-19 testing should be conducted in areas that do not report any outbreak and carry out epidemic surveillance and reporting," Li Dachuan, an official with the National Health Commission, said at a press briefing on Thursday.
That is a U-turn from the commission's statement in early June, when a senior official said low-risk areas, people who stay at home for long periods and those at low risk of infection do not need to undergo frequent testing.
China's zero-Covid response is facing its toughest stress test since the outbreak in Shanghai forced a two-month hard lockdown. For over a month, the country has reported over 1,000 local infections every day and more cities entered different levels of lockdown, including the
southwestern megacity of Chengdu
, home to more than 21 million.
Prompt mass testing, which is free for residents, is a major tool for early detection under the
zero-Covid strategy
.
Although the cost of the tests has been cut drastically, frequent testing has become an increasingly expensive approach in the face of highly contagious Omicron variants.
A research team from Soochow Securities projected in May that if all of China's first- and second-tier cities, with roughly 505 million residents, implement a year's worth of mass testing, the cost could top 1.45 trillion yuan (US$208 billion), or about 1.5 per cent of China's 2021 GDP.
The heavy burden has prompted some cities to call off testing or slow the pace after the National Healthcare Security Administration in May banned cities from using public medical insurance funds to pay for regular nucleic acid testing. Local government coffers should be shouldering the costs of regular mass testing instead, they were told.
In the first half of 2022, China's budget income slipped 10.2 per cent year-on-year to 10.5 trillion yuan, partly due to Covid-19 outbreaks across the country, according to the finance ministry.
Meanwhile, PCR testing has grown from an unknown industry to a booming,
highly profitable one
. Data released by the health commission in May showed that 13,000 laboratories and 153,000 technicians have obtained qualifications to conduct the tests.
In recent days, 10 listed companies reporting half-year earnings results recorded strong growth, with combined revenue and net profits of 48.5 billion yuan and 16.2 billion yuan.
KingMed Diagnostics recorded 52 per cent growth in net profits to 1.64 billion yuan while EasyDiagnosis Biomedicine's net profits grew 376 per cent to 2.76 billion yuan.
But the windfall is largely on paper as unpaid bills to companies have also grown. KingMed Diagnostics reported revenue of 7.8 billion yuan, but accounts receivable stood at 7.1 billion yuan. Accounts receivable for Dian Diagnostics stood at 10.6 billion yuan – almost equal to revenue.
Labs are also occasionally blamed by local authorities for failing to come up with results in a timely manner, and some have even been accused of fraud.
Last week, three officials with Beijing's Fangshan district health commission were expelled from the Communist Party for taking bribes to make Beijing Pushi Medical Laboratory one of the testing companies for the city's mass testing campaign. Six of the company's employees were arrested in May for data fraud and the lab's business licence was revoked.
Li from the National Health Commission said authorities would step up supervision over quality control and assessment of laboratories that are engaged in testing, with a focus on improving the process for disqualifying labs.
He said penalties ranging from warnings to disqualification or business licence revocation should be imposed to improve the quality of testing.