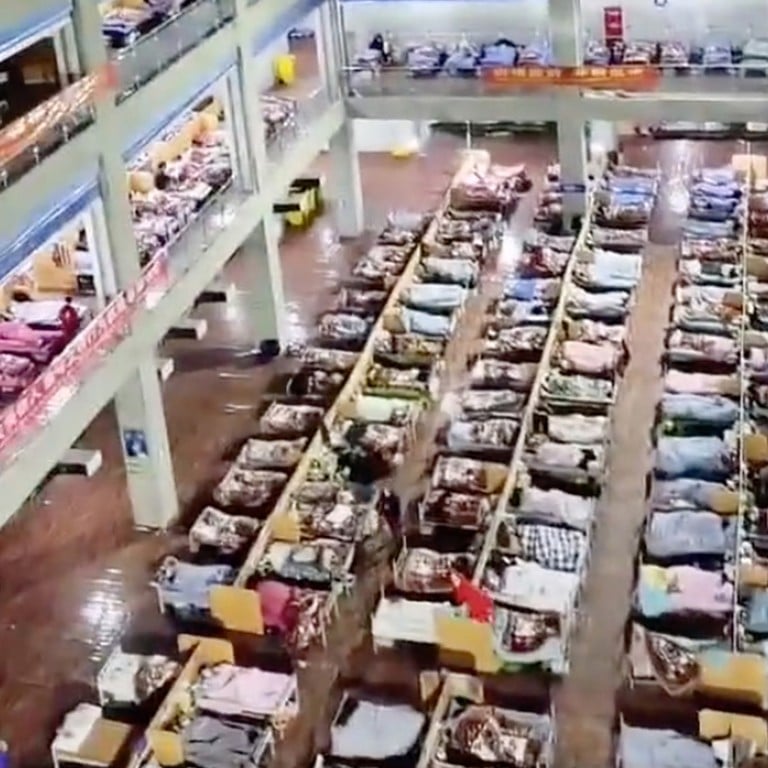 Officials in Tibet's capital Lhasa apologise for handling of Covid lockdown after string of complaints
Residents say they have not been given enough food and denied medical care, becoming the latest city in China to experience such problems
Vice-mayor Zhandui bows in apology to residents during press conference and admits the month-long lockdown has highlighted government failings
The authorities in the Tibetan capital of Lhasa have apologised for their handling of the city's lockdown after angry residents complained about food shortages, a lack of proper care for hospital and quarantine patients, and a chaotic mass-testing system.
Zhandui, one of the city's vice mayors, bowed in apology during a media briefing on Saturday night and said the complaints had highlighted the city government's shortcomings and weaknesses.
"We sincerely accept criticism for these problems, which have had a greater impact on the productivity and life of some of the people. On behalf of the municipal government, I would like to express our deep apologies to the people of all ethnic groups and those stranded in Lhasa due to the epidemic," Zhandui said.
The city of 860,000 people has reported 565 symptomatic cases in the current outbreak, including four for Saturday, but far more asymptomatic ones – although the way the figures are recorded means it is impossible to give an exact number.
Although such lockdowns can help cut chains of transmission, complaints about food shortages and the inability to access medical care have become increasingly common.
Such complaints were common during
Shanghai's lockdown
earlier this year, and this month government officials in the southwestern city of Guiyang and Xinjiang's Yining county apologised for failing to fulfil people's basic needs after a torrent of complaints online.
Angry residents in Lhasa also took to social media to voice their frustration over the handling of the outbreak, which started in early August and prompted a citywide lockdown.
Some complained that infected patients had been quarantined alongside those who tested negative, while others questioned how their community kept recording positive cases when they were confined to their flats.
Videos posted on social media apparently showing poor conditions in isolation facilities were removed by online censors.
One of these clips showed what appeared to be an unfinished isolation facility with cement floors and walls, with one shared toilet and sink between residents. Others showed scores of people sleeping on the floor or in crowded facilities.
Some of those in isolation complained that they had to wait for hours for food and it was cold when it eventually came.
One resident who identified himself as Sam Wang said last week that
he had not been able to buy food
after being locked down for more than a month and was living on potatoes and onions.
Zhandui said the city did not have enough capacity for Covid-19 testing so test result reports could not be updated on time. He also said some results had been inaccurate, but did not say how many people had been affected by the error.
He also said some people who had tested positive did not have the health code they needed and that some makeshift hospitals opened in a rush and had difficulty providing support services such as cleaning and removing rubbish.
Sui Xingguo, deputy chief of the city's Chengguan district, also apologised for failing to address the lack of food and essential items for people under quarantine, as well as the bad attitude of some officials who handled complaints.
"Some staff did not treat residents with care … and responded to their demands with an attitude and manner that hurt residents' feelings," Sui said, adding that some food packages had not been delivered to those that needed them.