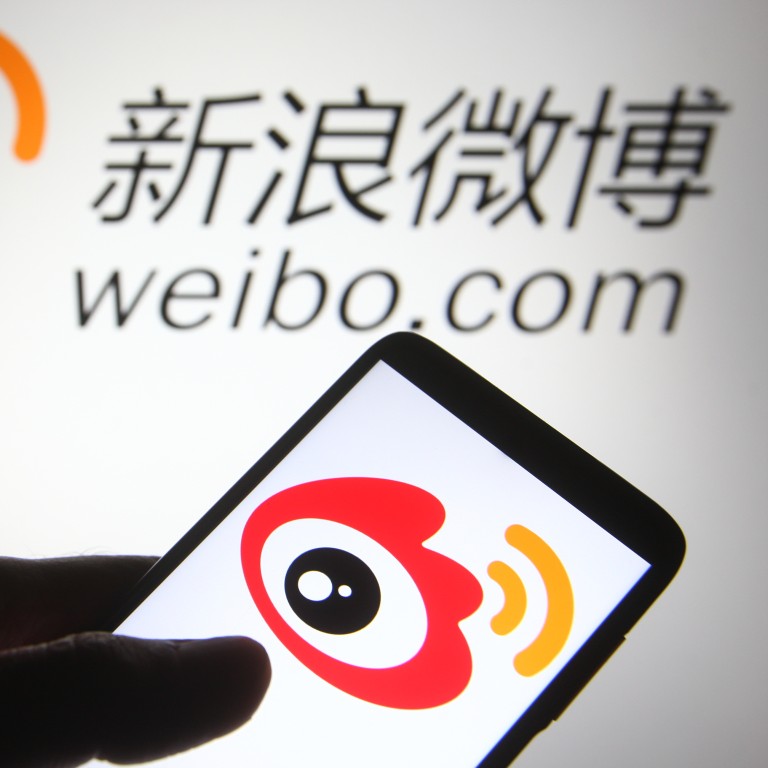 Weibo chairman backs Chinese censors' crackdown and promises 'ecologically sound' cyberspace
Cao Guowei also promises to promote government-affiliated accounts to guide online debate in article for magazine published by country's online regulator
Weibo has already started revealing user locations to combat 'misinformation' and uses a network of volunteers to monitor and report content
Writing in a journal published by the Cyberspace Administration of China, the country's internet regulator and censor, Cao Guowei said rules such as a real-name registration system, displaying users' locations and the role of Weibo users in monitoring other accounts had all helped to clean up the platform.
He also said the site would help promote government-affiliated accounts to set the tone for online discussion.
"Cyberspace is the common spiritual home of hundreds of millions of users. It is in the public interest if [we keep] cyberspace clean and ecologically sound," Cao wrote in the article published on Thursday.
The language echoes remarks previously made by President Xi Jinping, who told a 2016 symposium on cybersecurity: "It is against peoples' interests if the ecology of cyberspace deteriorates."
The online regulator recently began a three-month campaign to clear up "rumours and false information online" in the run-up to
next month's Communist Party congress
, which will see a major leadership reshuffle.
Weibo, the country's nearest equivalent to Twitter, is one of the main forums for public comment on current affairs.
A series of Covid-19 lockdowns this year have prompted residents in the areas affected to post complaints about food shortages and lack of access to medical supplies both in some of the country's biggest cities and in remote rural areas – but many videos and posts have since been wiped from the site.
Earlier this week Weibo
wiped the account of Lao Dongyan
, a respected law professor at Tsinghua University and high-profile critic of the government's Covid policy with more than 400,000 followers.
Cao said that a feature to display users' IP addresses, which allows people to see where they are posting and commenting from, helped to stop impersonation and the spread of misinformation.
Earlier in March this year, the Weibo regulator announced that due to heated online discussions and the spread of "misinformation", users who posted or commented on Russia's invasion of Ukraine would have their locations revealed. A month later, Weibo implemented this feature across the whole platform.
Cao said the site had been overhauled to "establish community conventions and regulate order with the system, update product functions and manage online chaos at a technical level, [while] innovations in the operating mode let users participate in the Weibo ecology".
Cao also praised the site's monitoring system that uses volunteer supervisors, community juries and expert committees, which, he said, helped the platform to better guide users' behaviour.
"Since 2017, more than 2,000 community volunteers have inspected and filed complaints about illegal information, with an average of 3.5 million complaints per month and an accuracy rate of over 99 per cent.
"Nearly 35,000 judges voted on and solved 11,592 community cases, and the Weibo regulator punished or exposed these accounts according to the judges' ruling," Cao wrote.
Weibo officially launched the web supervisor feature in September 2017.
Weibo supervisors can get a monthly allowance of 200 yuan [US$28] for internet fees and membership privileges.
The top 10 supervisors with the highest number of effective reports and complaints each month receive rewards such as mobile phones and laptops.
Cao also vowed to facilitate government-affiliated Weibo accounts and encourage crossover cooperation between state-backed accounts with key opinion leaders to further deliver the party's voice.
"Weibo has the responsibility to let more positive energy and authoritative content occupy the top ranks of the trending topic, to let them become the platform's mainstream and establish a healthy and upbeat order for online public opinion," Cao said.