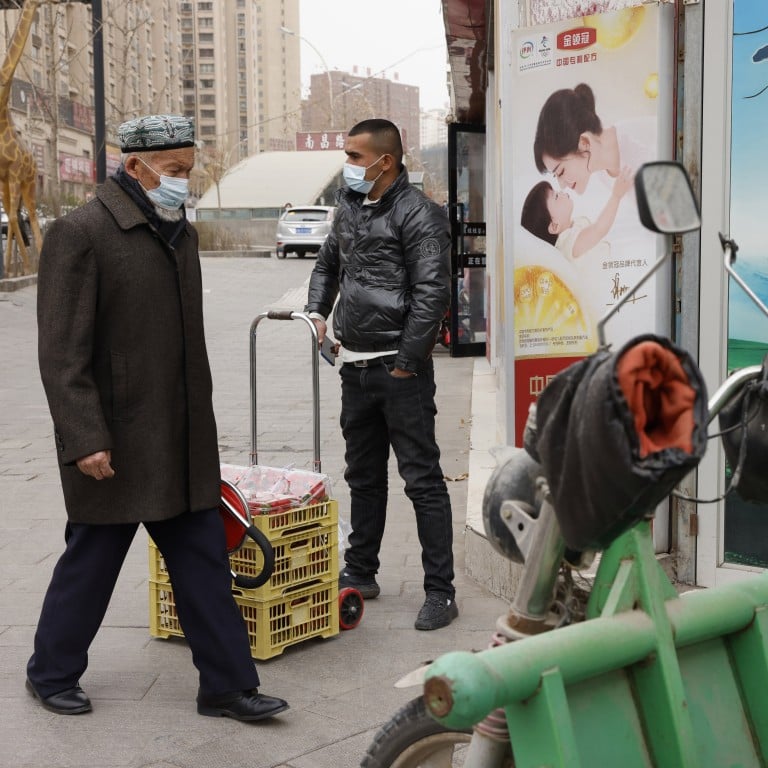 In China, Xinjiang halts travel out of region as officials admit to failures in controlling outbreak
Authorities aim to prevent spread of virus elsewhere in China and make up for shortcomings that led to resurgence in cases
Xinjiang vice-chairman says failures include low testing capacity and lack of professionalism among staff who mishandled samples and became infected
Xinjiang
has suspended all passenger train services leaving the region to stop the spread of
Covid-19
, as officials admit their inadequate actions have hampered attempts to curb the outbreak for the past two months.
Xinjiang reported 91 asymptomatic cases on Wednesday morning and had 54 high-risk areas and 25 medium-risk areas as of 1pm, according to the health commission.
"This is a major public health emergency with the fastest spread, the broadest scope, the largest number of infections, and it is the most difficult in terms of prevention and control in the history of Xinjiang," said Liu Sushe, vice-chairman of Xinjiang Uygur autonomous region, on Tuesday evening.
Authorities said they would prevent the virus from spreading beyond the region and make up for shortcomings that have led to a resurgence in cases since mid-September.
The train suspension, announced on Tuesday, fell during the National Day "golden week" holiday, which is typically a busy time for tourism in Xinjiang. Many tourists have been left stranded since travel from the region was halted on Tuesday night.
Sean, a tourist from Shenzhen in southern Guangdong province, landed in Kashgar on September 30. After days of sightseeing, he found himself stranded in the city on Tuesday evening.
Most of Xinjiang's high- and medium-risk areas are in the northern part of the region. Kashgar, which sits in southern Xinjiang, has not logged a single case for weeks.
Although Kashgar is not sealed off, Sean, who originally planned to leave Xinjiang on Wednesday, said most flights were swiftly cancelled and the few remaining tickets were snapped up in a blink.
"We've been relatively lucky," he said. "We are staying in the hotel now, and we are allowed to go out and move freely in the city."
"The main problem is uncertainty. I don't know when I can leave Kashgar," he said, noting that a previous lockdown of the city that began in August ended up lasting more than a month.
Liu said there has been a resurgence of Covid infections even though the previous outbreak was controlled by the end of August, according to the official newspaper Xinjiang Daily.
"The outbreak that was effectively controlled by the end of August saw a rebound because people became relaxed and measures were not strictly put in place," Liu said on Tuesday.
He said the number of infections rose in places, including the cities of Urumqi, Yining and Turpan, making the wave of infections difficult to control.
"The rebound led to local spread and spillover to many other provinces, causing trouble for Covid-19 control in neighbouring provinces, and the country," Liu said. "I would like to express my deep apologies to the affected areas."
"We have not been able to achieve dynamic zero Covid for more than two months because of the highly infectious BA. 5.2 variant and the ineffectiveness of our control measures," he said.
He said the biggest shortcomings were a low testing capacity and a lack of professionalism among staff who mishandled samples and became infected because of inadequate protection.
Last month, residents in part of western Xinjiang took to social media to complain of serious shortages of food and supplies after more than a month of Covid-19 restrictions.
Ili Kazakh autonomous prefecture – an area in northern Xinjiang that is home to 4.5 million people –
went into lockdown
in early August after an outbreak there, according to posts on microblogging site Weibo. There has not been an official announcement but people in the Ili Kazakh prefecture say they have been confined to their homes since early August.
On Tuesday, local authorities dismissed rumours on social media saying the whole prefecture would be locked down from Wednesday.
The vice-mayor of Xinjiang's capital Urumqi, Zhu Dagang, said residents were not allowed to leave the city and even in the case of people with "special reasons" to visit Beijing, the local Covid-19 control centre must coordinate with its counterpart in the capital city.
Daric, a Xinjiang local who now studies abroad, said his mother in Urumqi has been placed under a lockdown for almost four weeks. His father, who works in a hospital in Kuytun, a county-level city with about 285,000 residents in Ili Kazakh Autonomous Prefecture, has lived in a makeshift quarantine hospital for more than 20 days.
"It's horrible," Daric said.
"Because of the repeated Covid restrictions in the past two years, it has been extremely difficult for many people without a fixed income to get by. Every day [they just] spend money without earning any," he said, adding that he has heard about vendors and business owners running out of money.
Residents of locked-down areas in Xinjiang can buy daily supplies from government-approved shops, and local officials and volunteers will distribute the goods.
China is trying to control the spread of the virus before the ruling Communist Party holds its
20th party congress
from October 16 in Beijing, an event that will usher in the top leadership for the next five years.
---