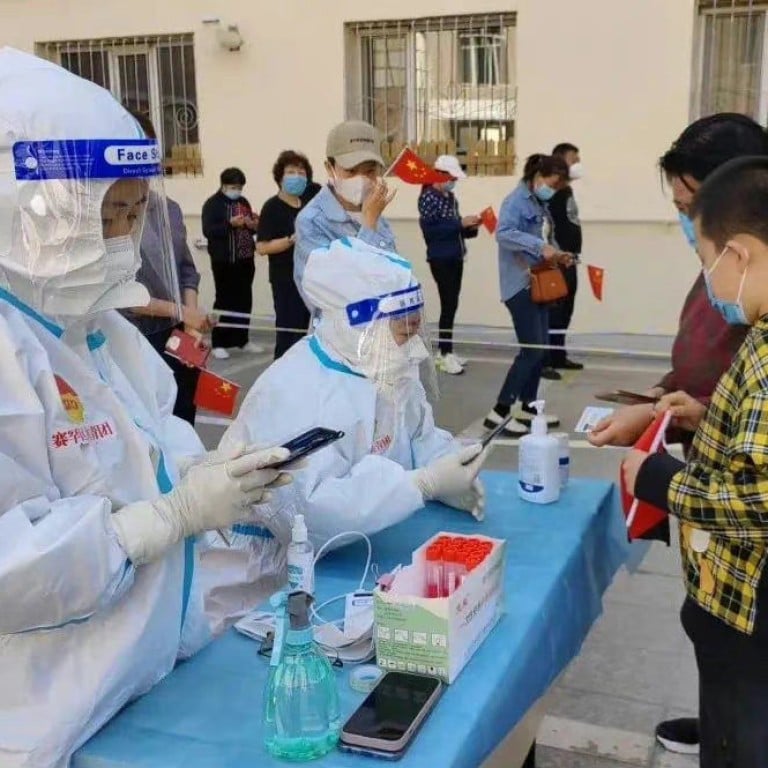 Inner Mongolia scrambles to stop Covid cases spreading to China's capital
The autonomous region imposes lockdowns in some areas as infections – most of them asymptomatic – mount
With a week to go until the Communist Party's national congress, officials ordered to prevent spillovers to Beijing
Local governments in Inner Mongolia are scrambling to stop flare-ups of
Covid-19
reaching the Chinese capital, locking down several cities and counties after logging more than 2,000 infections in the past 10 days.
The autonomous region reported 637 new cases on Saturday – the highest total among the country's provincial administrations, most of them asymptomatic.
Authorities are locking down many parts of Hohhot, Ulanhot and Hulunbuir, and mandating mass testing and quarantine in Baotou and Chifeng to ensure no disruptions to the
Communist Party's twice-a-decade congress
, which starts next weekend in Beijing.
In Hohhot, the regional capital, more than 360 parts of the city have been designated high or medium risk, limiting movement for residents.
"Yesterday I was banned from leaving my residential compound. Today I was prohibited from exiting the building. It's the sixth day of lockdown. I'm so desperate!" one user in Hohhot wrote on social media platform Weibo.
"I've been eating instant noodles for a week," another one at Inner Mongolia University in Hohhot wrote. "Canteens are closed. Delivery services are unavailable. My stock of instant noodles is running low. Help!"
Health authorities say the growth in cases has been caused by the BF.7 Omicron sub-variant of the coronavirus, a more infectious and immune-evasive strain that US health experts expect to fuel a winter surge.
In Hohhot, the city hit the hardest, a fangcang, or makeshift hospital with 2,400 beds has been put into operation.
The government has also assigned two hospitals to treat people with yellow or red health codes, indicating non-critical illnesses. Only people with a green health code can move freely under China's zero-Covid policy.
Last week, Sun Shaocheng, the party chief of Inner Mongolia, urged officials to stop infections by "killing chickens with a knife for slaughtering cows", a Chinese idiom meaning to use much more force than is needed.
"Act faster, and prevent spread and spillover, especially to Beijing," Sun said in an official statement.
Beijing has tightened restrictions to prevent holidaymakers returning to the capital to threaten the zero-Covid goal.
Tens of thousands of people trying to head home to Beijing after trips during the
weeklong National Day break
did not have a green code, preventing them booking rail or air tickets to the capital.
Others had to isolate at home in Beijing for up to seven days, despite staying away from high or medium-risk areas.
The 12345 hotline and social media accounts of Beijing municipal government have been bombarded with complaints, applications and pleas to resume their "green code" status.
"I'm in a risk-free area in Inner Mongolia. No Covid outbreaks. No close contacts. PCR test conducted every day in the past week … Why can't I go to Beijing?" one Weibo user wrote to the Beijing government.
China recorded 422 million tourist trips over the seven-day holiday, down 18.2 per cent from last year's National Day break, according to government data.
The number of trips was 60.7 per cent of the pre-Covid 2019 level, state broadcaster CCTV reported late on Friday, citing figures from China's Ministry of Culture and Tourism.
Domestic tourism revenues, at 287.2 billion yuan (US$40.37 billion), were down 26.2 per cent on the year and just 44.2 per cent of their pre-pandemic 2019 level, the data showed.
One popular destination, Xishuangbanna in southwest China's Yunnan province, was subject to stringent curbs over the holiday period, with districts locked down and tourists prevented from leaving after a Covid-19 outbreak, with 12 positive cases of the Omicron BA.5.2 variant reported by the end of Thursday.
The region has ordered three rounds of tests in its urban centre Jinghong, and is delivering emergency food supplies to tourists unable to leave their hotels.
Urumqi, the capital of the far northwestern region of Xinjiang, has set up emergency accommodation for tourists after suspending outbound travel on October 4.
Additional reporting by Reuters