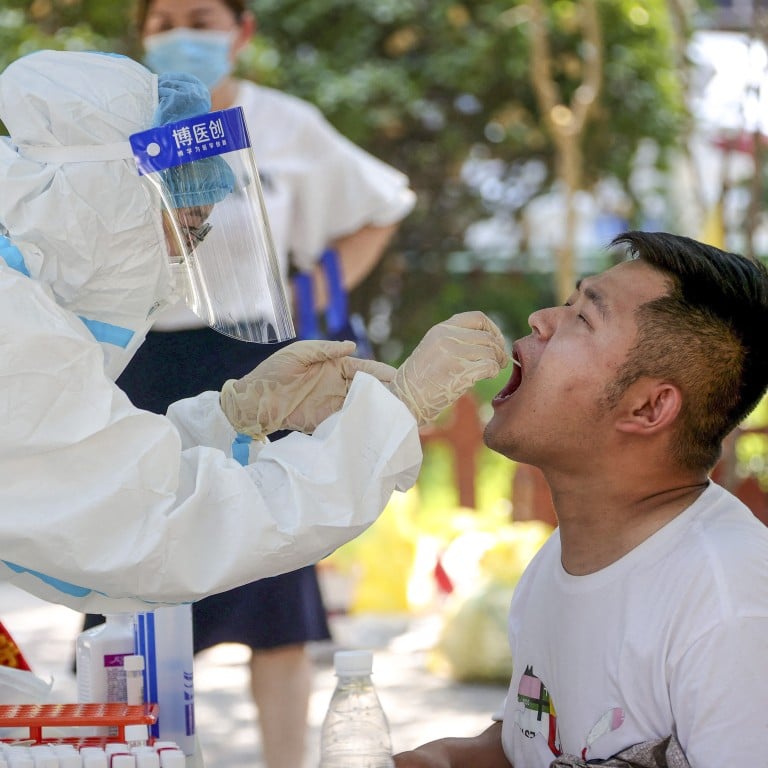 Chinese cities step up Covid-19 testing as party congress approaches
Tech zone in central China's Zhengzhou and areas of Guangzhou require twice-a-day PCR screenings as cases rebound nationwide
New measures come as Beijing signals it will continue strict zero-Covid strategy after pivotal political meeting next week
Districts in two major Chinese cities have imposed twice-a-day testing requirements to control the coronavirus as the country maintains its
zero-Covid approach
ahead of the national party congress.
Huadu district in the southern metropolis of
Guangzhou
started a new round of mass testing on Thursday morning, with some areas implementing "temporary control measures" requiring residents to undergo twice-daily tests, according to the district's epidemic prevention and control headquarters.
Restaurants in Huadu district have suspended dine-in services, while schools have suspended face-to-face instruction.
Meanwhile, residents of a hi-tech zone in
Zhengzhou
, capital of Henan province, are required to undergo two tests daily for three consecutive days from Wednesday, according to a People's Daily social media post.
Those who do not participate in the Covid-19 screenings risk a change to their
health code status
, restricting their entry to public places, the post said.
Many residents in the Zhengzhou hi-tech zone received a notice requiring them to participate in Covid-19 testing from October 12 to October 14, once in the morning or early afternoon and once in the evening, Caixin reported.
Officials have not publicly released any policies on the testing programme, but social media users in Henan have posted photos of people queuing for tests and a notice outlining the testing requirements, though the document's authenticity has not been confirmed.
On Wednesday, Henan province reported 12 locally confirmed cases, all of them in Zhengzhou, and 23 asymptomatic cases, including two in Zhengzhou.
Zhengzhou has faced a growing risk of outbreaks because of large numbers of travellers passing through the city during the National Day holiday earlier this month. Residents entering public places and taking public transport are required to show test results from within 24 hours, according to a statement issued by the Zhengzhou epidemic prevention and control command office on Wednesday.
A person close to the Zhengzhou CDC told The Economic Observer that he had not heard of the new testing requirements, "but if it is true, [the decision] is certainly being made after a comprehensive study".
China has seen a rebound in Covid-19 cases in recent weeks fuelled by stealthier and more transmissible variants, with 1,476 local infections reported on Wednesday. In response, local governments have doubled down on efforts to contain the spread, including more frequent polymerase chain reaction (PCR) testing.
Some subway stations in Hangzhou in the eastern province of Zhejiang require passengers to provide proof of a negative PCR test taken within 24 hours before entering. Some cities in Zhejiang have asked travellers to complete testing within 1½ hours of arrival or face restrictions that would ban them from entering public places.
Communist Party mouthpiece People's Daily has published three commentaries this week urging China to stick with its zero-Covid strategy.
A commentary on Tuesday was the
clearest sign yet
that the party is determined to continue with stringent Covid-19 controls after its twice-a-decade national congress, which starts on Sunday.
The public and some investors had hoped for a shift, however slight, from the present measures after the party congress, where Xi is expected to secure a precedent-breaking third term as the party's top leader.