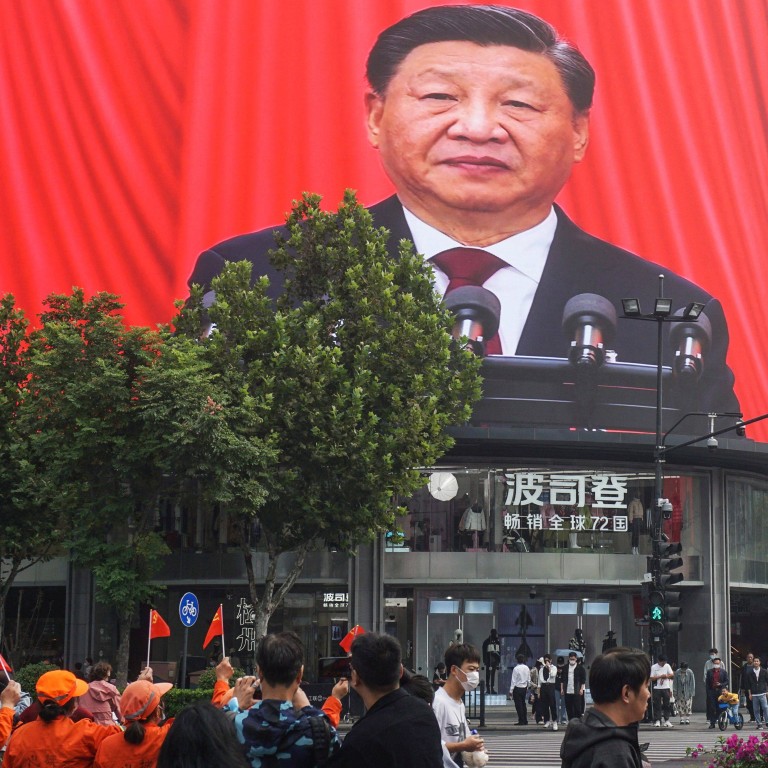 Beijing will do its utmost for peaceful reunification with Taiwan, Xi Jinping says
But Chinese president tells Communist Party congress that 'we will never promise to renounce the use of force'
Analysts say Xi's remarks suggest Beijing is exercising restraint on the island, despite the soaring tensions
President
Xi Jinping
told Communist Party elites on Sunday that Beijing would do its utmost to achieve peaceful reunification with
Taiwan
, but would not rule out the use of force to bring the island under its control.
Addressing more than 2,200 delegates to the
20th party congress
at the Great Hall of the People in Beijing, Xi said it was up to the Chinese people to find a solution.
"Resolving the Taiwan question is a matter for the Chinese, a matter that must be resolved by the Chinese. We will continue to strive for peaceful reunification with the greatest sincerity and the utmost effort, but we will never promise to renounce the use of force, and we reserve the option of taking all measures necessary," Xi said.
"This is directed solely at interference by outside forces and the few separatists seeking 'Taiwan independence' and their separatist activities; it is by no means targeted at our Taiwan compatriots."
He also said that as China was on course to achieve national rejuvenation, reunification with Taiwan was a certainty.
"Complete reunification of our country must be realised, and it can, without doubt, be realised," he said, a remark that was met with one of the longest rounds of applause during his speech.
Xi's remarks came after US House Speaker Nancy Pelosi
visited Taiwan in August
, infuriating Beijing. It responded with large-scale military drills around the self-ruled island and the sabre-rattling has continued since then, with the PLA regularly sending warships and fighter jets near Taiwan.
US President Joe Biden in September told CBS that
US troops would defend Taiwan
if there was an unprecedented attack from Beijing. It was the third time he has appeared to move away from the long-standing US policy of "strategic ambiguity" on Taiwan, but as on previous occasions the White House walked back his comments and said there was no policy change.
In his speech, Xi did not mention "one country, two systems" or the "1992 consensus" – an understanding reached by Beijing and Taipei that there is only one China – but they were in the printed work report given to delegates.
"Peaceful unification and 'one country, two systems' is the best way to bring unification across the strait," the report says.
Analysts said Xi's remarks suggested that Beijing was exercising restraint on Taiwan, despite the soaring tensions.
"[There was] no sign of any increased risk of a military attack – for example, I was expecting Xi to link reunification with milestone goals like 2035 or 2049, but he did not," said Chen Jie, associate professor of political science and international relations at the University of Western Australia.
"In other words, it is still anyone's guess how Taiwan may fit into [Xi's] national rejuvenation vision."
But Chen said Beijing was aware that "one country, two systems" would not strike a chord among the Taiwan public.
Lim John Chuan-tiong, a former researcher at Taiwan's Academia Sinica, said Xi's message to the Taiwanese people was "balanced and not combative".
He said the language Xi used on Sunday was similar to that in a 2019 policy speech on Taiwan, though the tone was slightly stronger.
According to Yue Gang, a former PLA colonel, Beijing will continue to strengthen the military to boost its deterrent capability.
"Preparing for war will ensure that the People's Liberation Army is able to achieve a swift and full victory [in the event of a conflict over Taiwan] and only that assurance can allow the possibility of peaceful reunification with Taiwan," Yue said.
Lim noted that Xi had again spoken of "an overall strategy for resolving the Taiwan issue in the new era" but had not shed any light on what that entailed.
"There is very little information about this guiding strategy on Taiwan," he said, adding that the authorities were likely to be "working on it". "It may be announced at the work conference on Taiwan that usually happens in January."
Jade Guan, a lecturer of strategic studies at Deakin University, Australia, said although Xi had not stepped up his rhetoric against Taiwan, tension across the strait would inevitably grow in the future.
"Under the US-China strategic rivalry, Taiwan's further alienation from mainland China under its democratic politics, and the significance of Taiwan to China's rejuvenation, I see the tension over Taiwan will continue to increase regardless of Chinese political rhetoric."
Xi also wanted to address the Taiwan audience with his remark, Guan added.
Both Chen and Lim said Xi's call for more economic and cultural exchanges with Taiwan was a positive sign.
Chen noted that Taiwanese President
Tsai Ing-wen
, in her speech marking
Double Tenth Day
– or the 111th anniversary of the Republic of China, the island's official name – last week, had also mentioned promoting exchanges with the mainland.
Taiwan's Mainland Affairs Council released a statement hours after Xi's speech on Sunday, saying that only the island's 23 million people could decide its future.
Additional reporting by Jack Lau