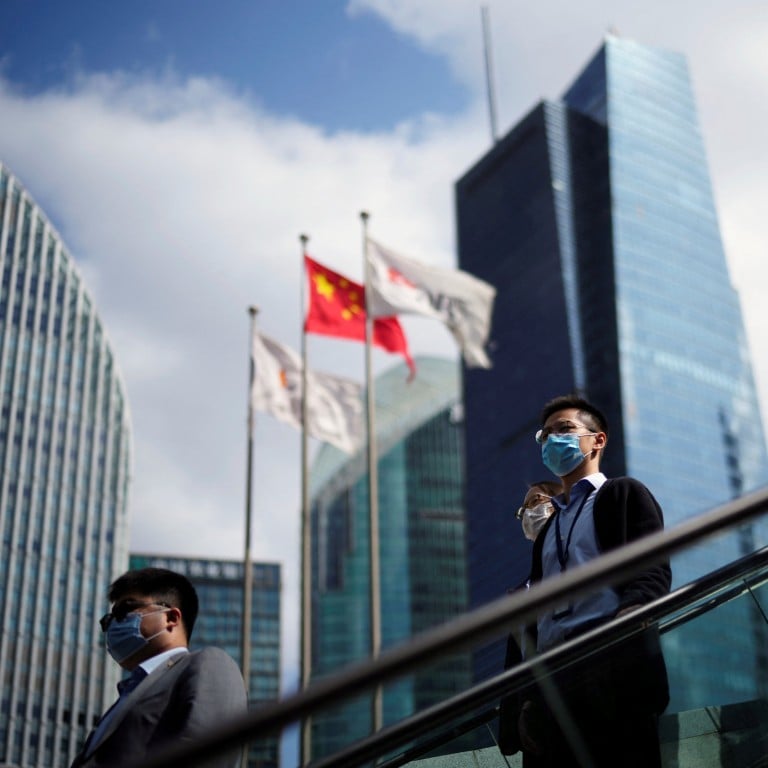 Economic and finance shake-up on China's Central Committee heralds new era in face of global uncertainty
The 20th party congress adopted development security, tech self-reliance and common prosperity as new overriding guidelines
Reshuffle follows Central Committee retirements, banking crises and Xi Jinping's anti-corruption campaign but scope of changes prompts uncertainty
A bigger-than-expected reshuffle of economic and financial personnel unfolded at the just concluded
Communist Party congress
, as development security, tech self-reliance and
common prosperity
were adopted as new overriding guidelines to counter rising external uncertainties over the next five years.
It has generated major questions over how the new team will shore up the slowing economy, handle spillover from US Federal Reserve rate hikes and grapple with the looming global recession.
Vice-Premier
Liu He
, President Xi Jinping's top economic adviser and chief trade negotiator with the United States and the European Union, has moved out of the Central Committee, according to the new list published by state news agency Xinhua on Saturday.
The retirement of the 71-year-old – who helped draft China's economic structural reform, de-risking and innovation policies over the past 10 years – has long been expected because of the party's unofficial age limit of 68, but there is speculation he may be retained as a special adviser in another capacity.
Liu's aides on trade negotiations and the Central Economic and Financial Affairs Commission, including 59-year-old Han Wenxiu, 56-year-old deputy commerce minister Wang Shouwen and 58-year-old Han Jun, governor of northeast China's Jilin province, were elevated to the Central Committee for the first time.
He Lifeng, chairman of the National Development and Reform Commission and a leading candidate for the top economic adviser role, made an unsurprising appearance on the Central Committee list.
Analysts generally do not expect a one-to-one replacement for Liu, because the move will eventually depend on the work allocation of the new leadership, including the position of premier.
As Li Keqiang retires as China's premier, a position that has traditionally overseen economic work, his successor will be largely decided by a chemistry with the paramount leader, Xi Jinping, and will not be announced until the National People's Congress in March.
No current central bank or banking regulator leadership appeared on the new party elite list, which has 205 Central Committee members and 171 alternate members.
Guo Shuqing, 66, who served as the party chief of the
People's Bank of China (PBOC)
and the chairman of China Banking and Insurance Regulatory Commission, has long been viewed as a candidate for a higher job, but he has been excluded this time.
Neither central bank governor Yi Gang, 64, and vice-governor Pan Gongsheng, 59, remain in the inner power circle.
Yi Huiman, chairman of the China Securities Regulatory Commission, was the only senior financial cadre promoted to member from alternate status. Three former PBOC deputy governors are new faces, with Yin Yong, now deputy party secretary of Beijing, selected as a Central Committee member, while deputy Tianjin mayor Liu Guiping and Citic Group chairman Zhu Hexin were listed as alternate members.
Executives of state-bank financial institutions – including Gu Shu, Miao Jianmin, Liu Jun, Liao Lin and Zhang Jinliang – have been selected as alternate members, which could be a reserve pool for regulatory jobs. Miao, current chairman of China Merchants Group, is serving his second term as an alternate member.
The reshuffle comes as China's financial regulators scramble to deal with a variety of banking crises, including the bankruptcy of
Baoshang Bank
, the restructuring of Hengfeng Bank, small bank runs and protests against village bank frauds in central China's Henan province in May.
Xi's sweeping anti-corruption campaign have also netted dozens of senior financial cadres and executives in recent years, including former deputy head of the banking commission Cai Esheng; Wang Bin, former chairman of state-owned China Life Insurance Group; and Sun Guofeng, former head of the PBOC's monetary policy department.
Beijing has refused to deliver an all-out stimulus out of fear that the debt bubble accumulated from the 2008 global financial crisis could burst. It has used targeted supports to help hard-hit sectors.
However, the Chinese economy is under heavy pressure as its second-quarter gross domestic product grew only 0.4 per cent and full-year growth is widely believed to miss the target of around 5.5 per cent for the year.
Elsewhere, Beijing's emphasis on state-owned enterprises and development security was evident by the personnel listed on the Central Committee.
Hao Peng, 62, director of the State-owned Assets Supervision and Administration Commission, remained in the inner circle of Central Committee members.