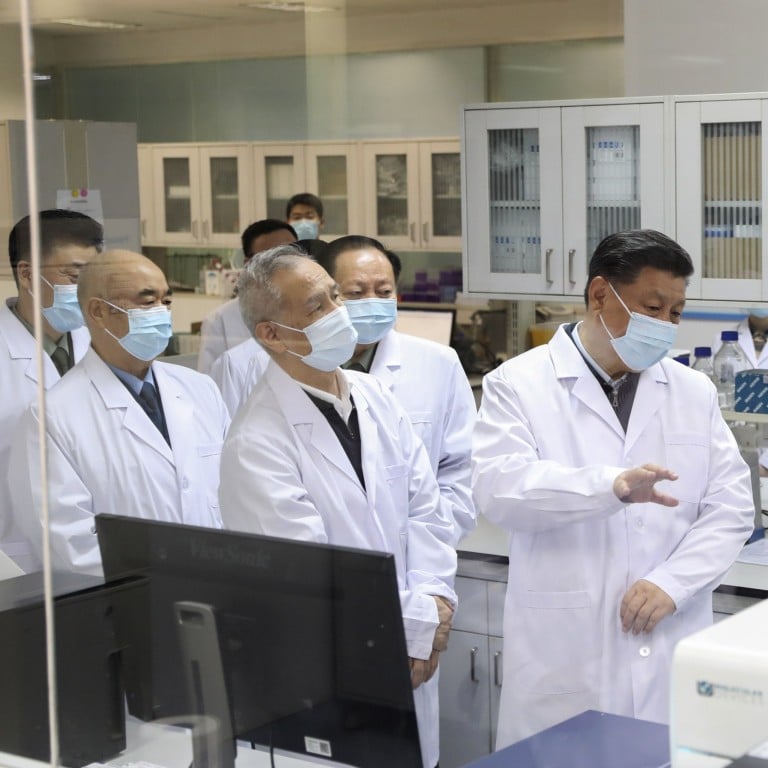 China's Communist Party looks to science cadres to help push back at US tech squeeze
More scientists added to the top ranks of the party and military command
Expertise ranges from rocket science to nuclear power and the environment
More leaders with a strong
science and technology
background have been promoted to the upper echelon of the Communist Party as President
Xi Jinping
seeks to counter pressure from the West.
The emphasis on science and technology was evident not only in the new line-up of the powerful
Politburo
announced on Sunday but also in the newly elected policymaking
Central Committee
.
At least six new Politburo members boast qualifications in science and technology fields. Their areas of expertise range from rocket science to nuclear power safety and public health.
Xinjiang party secretary Ma Xingrui, 63, and Zhejiang party secretary Yang Jiajun, 58, were both former chief commanders of China's space programme before they entered politics.
Shandong party secretary Li Ganjie, 57, and Beijing mayor Chen Jining, 57, are environment experts. Liaoning party secretary Zhang Guoqing, 58, was chief executive of China North Industries – China's biggest defence conglomerate, and Fujian party secretary Yin Li, 60, is a public health expert.
Apart from Ma and Yuan, the other four studied overseas after graduating from Chinese universities. Li studied nuclear safety in France and Chen received his doctorate in environmental science from Imperial College London. Yin studied in Russia and the United States, and Zhang is an alumni of a Harvard executive programme.
While Ma is expected to stay on as Xinjiang party boss, Chen is set to take over from Cai Qi as Beijing party chief after the 66-year-old is promoted to the Politburo Standing Committee.
Yuan meanwhile is tipped to succeed Li Xi as Guangdong party boss. Like Cai, Li has been promoted to the Politburo Standing Committee.
In a similar vein, more officials with science and technology expertise have joined the 205-member Central Committee. They include 29 members of the Chinese academies of sciences and engineering, up from 25 five years ago, according to state news agency Xinhua.
In addition, 98.9 per cent of the Central Committee members have a tertiary degree – with various scientific fields represented – compared with 98.1 per cent in 2017.
Likewise, more military top brass have a science and technology track record. They include
Central Military Commission
(CMC) member Li Shangfu, 64; Academy of Military Science president Yang Xuejun, 59; and Zhao Xiaozhe, 59 and deputy director of the CMC's science and technology committee.
Other noteworthy new leaders with a military science background include Hunan party secretary Zhang Qingwei, 60, and Sichuan governor Huang Qiang, 59, who is known for his contribution in the design of China's J-20 stealth fighter plane.
Wu Junfei, a researcher at the Hong Kong-China Economic and Cultural Development Association, said the promotion of these scientific specialists was mainly based on their "proven loyalty, track record, strong execution and efficiency" but also showed Xi's determination to foster China's own science and technology strength.
As the country tries to grapple with restrictions from the United States, including bans on
advanced chip technologies
, Xi has vowed to boost Chinese scientific and technological research and achieve "self-reliance" on technology.
Washington's new
Chips and Science Act
has also barred American firms from setting up advanced chip factories in China for the next 10 years.
Wu said the cadres with science backgrounds were "generally more down-to-earth compared with cadres from other streams. This will be a tight-knit team that understands technology and with a goal-oriented mindset."
"These are the people who have previously delivered on some of China's most important and ambitious national projects," he said.
"In the case of Ma Xingrui and Yuan Jiajun from the aerospace industry, they promised a series of goals for China's space programme, and they delivered 100 per cent.
"Those in the defence industry have delivered better tanks and warplanes for the modernisation of China's armed forces. The environment enforcers have also made its presence felt in the past few years, reducing China's air, soil and water pollution substantially."