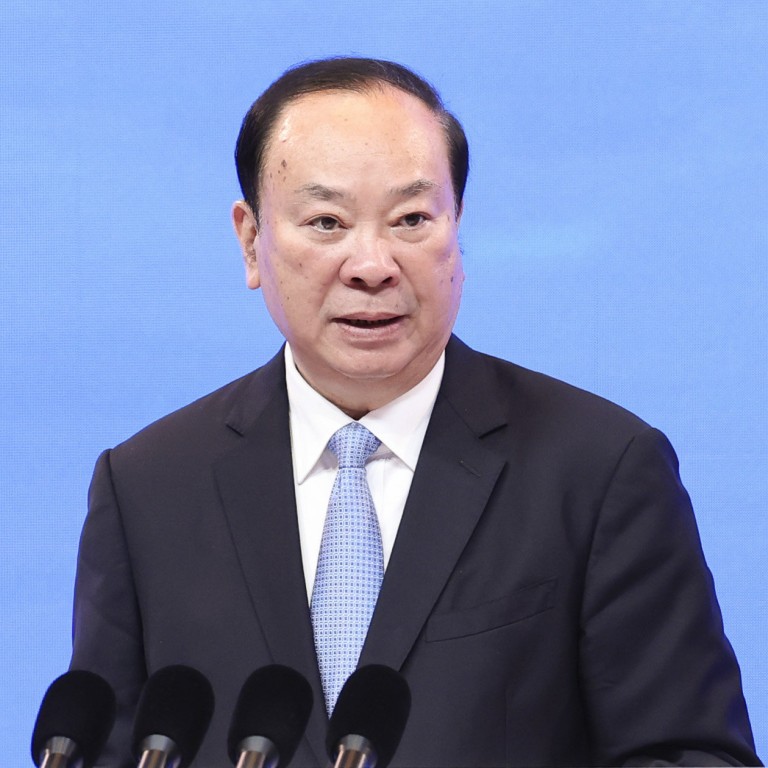 China's former propaganda chief Huang Kunming gets top Guangdong job in key reshuffle
Huang replaces Li Xi in the economic powerhouse southern province, confirming earlier Post report
He became the party's top propaganda official and was elevated to the Politburo five years ago
Former Chinese propaganda boss Huang Kunming has been appointed to the top job in Guangdong province, confirming an earlier report by the South China Morning Post.
The appointment of Huang as the province's Communist Party secretary was made public on Friday evening by state news agency Xinhua.
It is one of a number of key appointments expected to follow the unveiling of a new leadership line-up on Sunday after the
party's national congress
.
Huang, who has been China's top propaganda and ideology official since 2017, was expected to replace Li Xi as Guangdong party boss, sources earlier told the Post.
Huang's first job in the propaganda field started in 2007, when he was appointed Zhejiang's provincial propaganda chief. But he had already received Xi's praise before then for his efforts in ideology promotion.
In 2006, as party chief of Jiaxing in Zhejiang province, Huang oversaw the construction of a new museum for the South Lake, where the party's founding fathers, fleeing the authorities in Shanghai, gathered on a boat to wrap up the first congress in 1921.
Leading the foundation stone laying ceremony for the new museum, Xi, then party chief of Zhejiang, said it would be a "meaningful battlefield" for revolutionary education, while Huang pledged his diligent dedication to the project.
Guangdong party chiefs have traditionally been picked from other regional chiefs. Huang's predecessor Li Xi had been a party chief of Liaoning, while Hu Chunhua, the Guangdong boss before Li, had served as party chief of Inner Mongolia.
As propaganda chief, Huang's remarks on Hong Kong and the Greater Bay Area, as well as Western culture, have drawn media attention in recent years.
Addressing a media summit in 2019, Huang said: "I hope news organisations can focus on the development of the Greater Bay Area and join forces to tell the stories of today's China well … to tell the stories of how 'one country, two systems' has been successfully implemented in Hong Kong and Macau."
Alfred Wu, an associate professor and assistant dean at the National University of Singapore's Lee Kuan Yew School of Public Policy, said earlier that if Huang did get the top job in Guangdong it would be in line with Xi's practice of promoting people he was familiar with to key positions.
Peng Peng, executive chairman at the Guangdong Society of Reform, said Huang's time in Fujian and Zhejiang would be helpful in his new job.
"His experience in Fujian is beneficial for dealing with Taiwanese businesses, relations between the mainland and Taiwan, and interactions between Guangdong, Hong Kong and Macau, which is favourable for the development of the Greater Bay Area," Peng said.