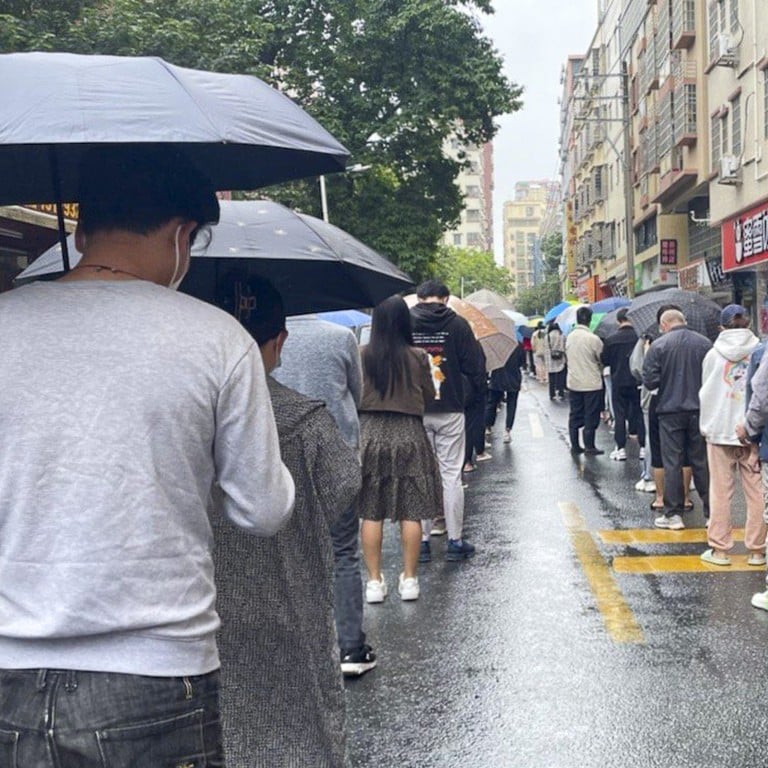 Coronavirus: Guangzhou in southern China launches mass testing in 9 districts as case numbers top 2,000
Resident in Haizhu district reports difficulties enforcing lockdown, with contact between people continuing
Across China, authorities report 843 confirmed local cases and 6,632 asymptomatic cases, including outbreaks in Inner Mongolia and Xinjiang
Authorities in the southern Chinese city of Guangzhou have launched mandatory mass testing in nine districts and extended a lockdown one of them until the weekend amid fear of a worsening in a
Covid-19 outbreak in the city
.
The city reached a new height in infection numbers on Tuesday, reporting 114 confirmed local cases and 2,263 asymptomatic cases. It was the third day in a row for Guangzhou to have more than 1,000 daily cases and more than two weeks since the start of this outbreak, which is being driven by the Omicron
BA.5.2 strain
.
Authorities said on Tuesday mass testing was required for nine districts – including Haizhu – where more than 90 per cent of the new cases were found. Haizhu also extended its lockdown to Friday.
They also again urged residents to respect prevention measures, asking them to get tested, monitor their own health and reduce movement as much as possible.
"Currently, there is still the risk of community spread in non-risk areas, and the outbreak remains severe and complex," Zhang Yi, deputy director of the Guangzhou health commission, said.
But people in the area say there is still a lot of contact between people.
"They say it's a lockdown, but it wasn't really carried out," said Alice Qiu, a resident of Haizhu.
She said the district was among the older areas of the city, containing many dense, unregulated buildings with many houses standing in rows next to the street instead of fenced in residential compounds, making it difficult to keep everyone indoors.
"Furthermore, administrators in our areas keep saying it's a lockdown 'in theory'. Not many mandatory actions were imposed, so it really depends on everyone's voluntary action," she said.
However, commercial activity had fallen and many shops had been told to close to discourage people from going outside, she said, adding that the streets appeared quiet. Qiu said her family had been voluntarily complying with mass testing to prevent their health codes turning to yellow, a classification that bars people from entering public places.
A taxi driver in the area said bus and subway services had been halted, students were told to switch to online learning and adults to work from home. However, private cars could still use the roads.
On Monday, Guangzhou authorities said the coronavirus numbers kept climbing in Haizhu because movement – and chances to spread the virus – continued. Furthermore, as more people were told to test, more cases surfaced.
Previously, authorities stressed that anyone resisting or bypassing prevention methods – such as recent instances of moving barriers to go outside – would be punished.
Outbreaks have flared across China. On Tuesday, the country reported 843 confirmed local cases and 6,632 asymptomatic cases. More than 1,000 of the infections were found in Inner Mongolia, Xinjiang reported more than 600 cases and there were counts of a dozen to 100 cases in more than 20 provinces.
As flu season approaches, raising the challenge of managing multiple respiratory diseases, China continues to strengthen restrictions. In Beijing, many people who travel outside for work or leisure have complained of difficulty returning to the capital.
Its government hotline said on Monday that it would improve services, make restrictions more precise and come up with ways to reduce inconvenience for its residents.