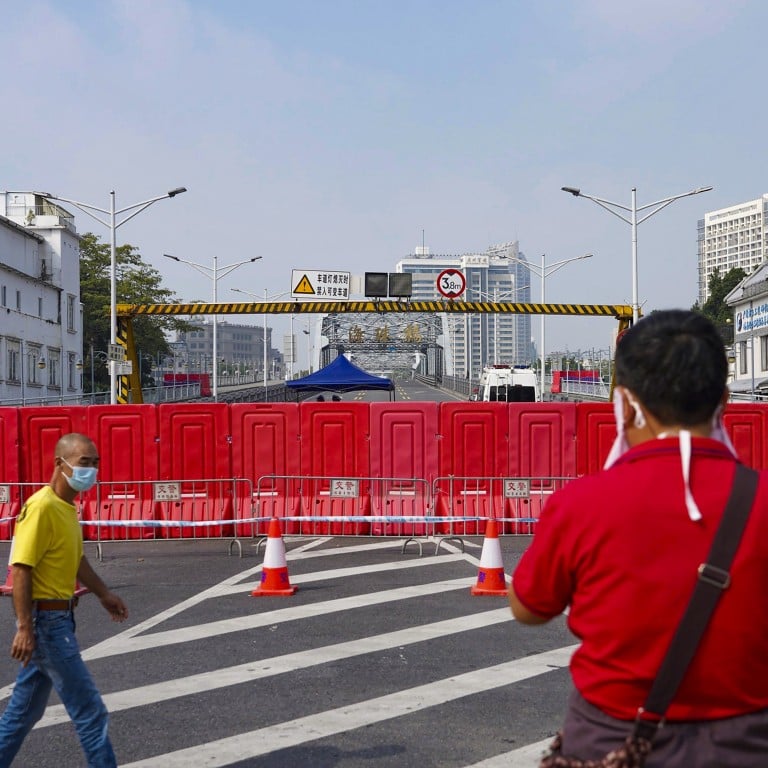 China's easing of Covid tracking rules to free up stretched resources in Guangdong: official
Local authorities no longer have to investigate close contacts of close contacts
But zero-Covid still in place and officials worry they will be held responsible for any rise in cases
China's decision to
relax its Covid-19 restrictions
is a chance for Guangdong to refocus some of its stretched resources on the most critical cases as the southern province tries to contain its latest major outbreak, according to health officials.
But some officials also said they were worried that they would still be held responsible if the outbreak continued to escalate after the relaxation.
Coronavirus cases
are on the rise on the mainland, with the National Health Commission reporting 11,950 new cases on Saturday, of which 10,446 were asymptomatic. The total was 1,221 higher than a day earlier and the highest since late April.
The fresh peak came just a day after Beijing unveiled an easing in some Covid-19 measures, including no longer requiring local governments to track "secondary" close contacts – close contacts of close contacts of infected people.
The changes are designed to reduce the economic and social impact of the stringent zero-Covid policy which has been a drag on the world's second-largest economy, disrupting people and goods flow, industrial activity and frustrating residents and foreign investors with lockdowns, quarantines, frequent testing and regular travel interruptions.
The increasingly transmissible new variants have also made it difficult to continue with the containment strategy, though China said it would continue to
hold on to the zero-Covid policy
.
A major centre of the latest round outbreak is the Guangdong capital Guangzhou, which accounts for over 95 per cent of the province's total infections. It reported 3,180 new local cases, including 2921 asymptomatic infections, on Saturday, or nearly 600 more than a day earlier.
The southern metropolis of more than 18 million people has restricted movement in a number of districts. A lockdown in the city's densely populated district of Haizhu was extended until Sunday, and various restrictions are in place in at least two other districts.
But, in line with the new rules, the city said it would no longer track secondary close contacts.
Zhang Zhoubin, Communist Party secretary and spokesman of Guangzhou Centre for Disease Control and Prevention, told broadcaster CCTV on Friday night that the new measures would be "a good thing" for the city.
"The tracking of the secondary close contacts consumes [a lot of] resources. Limiting it to just close contacts will … make it more accurate and effective."
But a Guangdong health official said local health officials, like their counterparts in other parts of China, were concerned that they would have to be answerable if cases rose after the easing in control measures.
"Yes, we will implement the central government's measures faithfully, leaving out secondary close contacts. But the end game has not changed," said the official, who declined to be named.
"At the end of the day, we are responsible for bringing the current infection under control because Beijing has made it very clear that it has not changed the zero-Covid policy. That means, we have to move even faster to identify close contacts and quarantine them."
The outbreak in Guangzhou started in early November and is the first major test of the new provincial leadership.
Huang Kunming, 65, Politburo member and former party publicity chief, became Guangdong's party secretary at the end of October, after his predecessor Li Xi, 66, was promoted to become the new party disciplinary chief and a member of the Politburo's Standing Committee.
In other parts of the country, major outbreaks are recorded in Zhengzhou, Henan province, Chongqing municipality and Hohhot in Inner Mongolia.