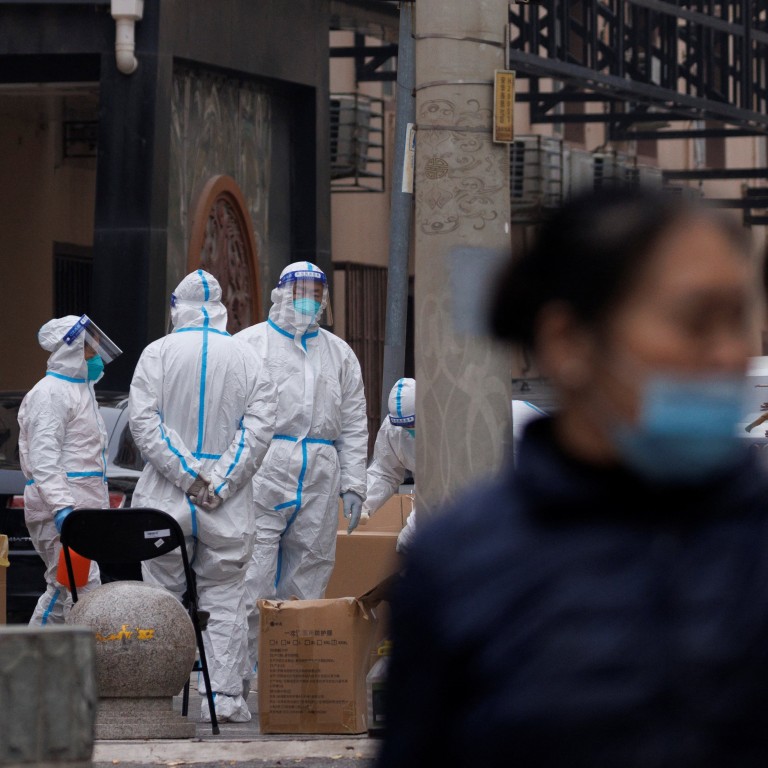 Coronavirus: Beijing moves teaching online, urges people to stay home while testing China's shift from strict measures
The deaths of two more elderly people, both with pre-existing conditions, bring the pandemic death toll in the Chinese capital to 12
Lockdown came quickly and quietly, residents report, as the city attempts to curb rapidly growing outbreak without relying on previous harsh measures
Schools in Beijing have switched to online teaching and residents of several districts have been asked to limit their movements as the city's
Covid-19 cases
soar and new virus-related deaths add to the city's pandemic toll.
Officials in Haidian district said schoolchildren would have one week of online learning from Monday and that regular testing would be conducted in the district. Other districts, such as Xicheng, Dongcheng and Fengtai, gave notice of remote teaching.
The city authorities also said that starting from Tuesday, anyone arriving in the city will have to take three PCR tests over three consecutive days.
Covid-19 outbreaks are
rapidly expanding in the capital
, with 962 infections reported on Monday, including 266 detected during community screening, suggesting authorities are struggling to contain the outbreaks. The case numbers have more than doubled since a week ago, when 407 infections were reported.
A spokesman for the Beijing government, Xu Hejian, said on Sunday the situation for epidemic prevention and control "is grim".
Two elderly people with pre-existing conditions – a 91-year-old woman and an 88-year-old man – died on Sunday from Covid-19 complications. The woman had a history of stroke and Alzheimer's while the man, who had been confined to bed for years, had suffered from long-term high blood pressure, ischemic stroke and prostate cancer.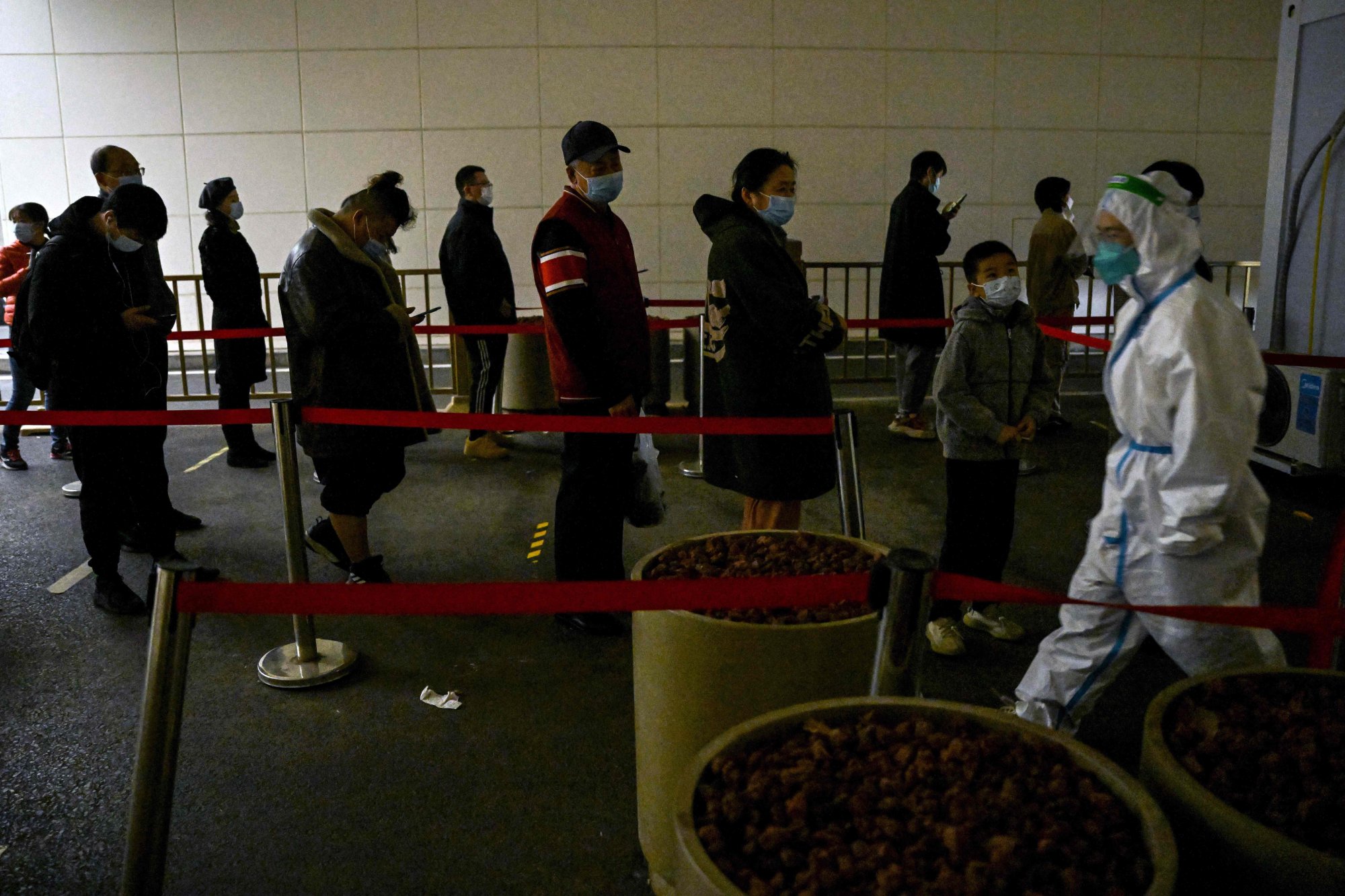 Several districts, including Tongzhou, Fengtai, Xicheng, Dongcheng, Shunyi and Yanqing, issued letters to residents, calling on them to stay at home to minimise the risk of spreading the virus. Residents were also advised to only travel between home and work, and not venture to other districts.
Some office buildings in Chaoyang, a district with a population of 3.45 million and the worst hit in the current Covid-19 wave, have capped the number of employees allowed into their offices. One notice in the central business district set a limit as low as 5 per cent.
Liu Xiaofeng, deputy director of the Beijing Centre for Disease Prevention and Control, told a press conference on Monday afternoon that different districts in Beijing need to take more responsibility for controlling their outbreaks.
"The city will insist on lowering social mobility, areas with heavier outbreaks should have flexible working schedules, reduce the number of people coming into offices, launch online learning and limit visitors to public areas," he said.
Beijing residents said they had found that the most recent lockdown and other restrictions came swiftly and quietly. Some were told by their residential compounds overnight that they were in lockdown.
A woman who works at a university said her supervisors suggested that no staff should come to the office unless it was necessary. Her daughter, who attends kindergarten, has also been told to stay at home.
Libby Zhang, who lives in Shunyi district but works in Chaoyang, said her usual two-hour commute to work took about 40 minutes on Monday, because there was barely any traffic on the streets.
Across the country, daily cases continued to rise. On Monday, China reported 2,277 confirmed local cases and 24,547 asymptomatic infections, with heavy concentrations of cases in
Guangzhou
city in southern China and Chongqing in the southwest. Guangzhou introduced a lockdown and suspended public transport for five days from Monday in the Baiyun district.
There were more than 100 infections in over 20 provinces.
The new wave of infections – the most severe the country has seen since a hard lockdown in Shanghai months ago – is testing China's latest efforts to gradually pivot away from the stringent zero Covid-19 response. Local authorities are trying to contain the fast-growing outbreak without excessive measures such as mass testing and harsh lockdowns.
In Shijiazhuang, in the northern province of Hebei, there was a return to restrictive policies after a week-long run without mass testing or checking test results. Two confirmed local cases and 639 asymptomatic cases were reported on Monday.
On Sunday night, the city's Covid-19 prevention headquarters issued a notice stating mass testing would be conducted in six of its eight districts this week, and residents across the city must stay at home as much as possible until Friday.
Only those working in public services, supermarkets and Covid-19 prevention may move around, the notice said. Each day every family may send one person – who must show a negative test result within 24 hours – to buy essentials.
Public venues, including restaurants, gyms and shopping centres are closed and students must attend online learning.
Within the past week,
Shijiazhuang
has experienced a roller coaster of policies amid mixed reactions from the public. Last Monday, the city said it had cancelled mass testing and testing booths would all be closed.
A day later, the Shijiazhuang reopened some of its testing centres and on Friday, it offered testing in some residential compounds.