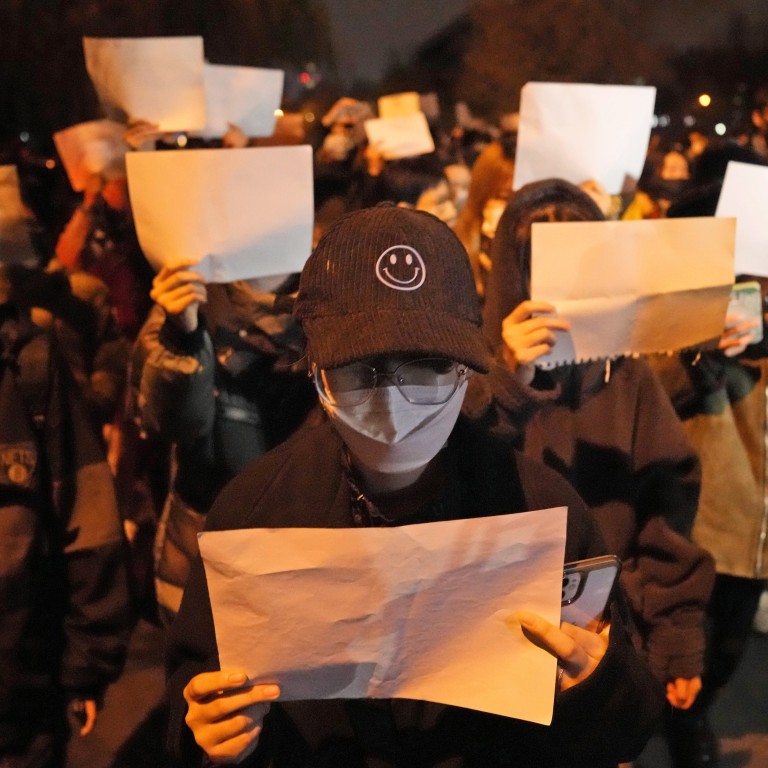 Why China's lockdown protests pose an unprecedented challenge to Beijing
Last weekend's demonstrations are a sign of growing public discontent over Beijing's Covid controls but also pose a direct challenge to the authorities
A deadly fire in Xinjiang marks a turning point in public opinion and has crystallised people's fears over being locked in their homes, analysts say
While local protests in China over environmental, labour and land disputes are not uncommon, the rare wave of blank-paper protests that spilled across China's wealthiest cities – all targeting President Xi Jinping's zero-Covid policy – represents a challenge of the type the country's leaders have not faced for decades.
The protests erupted last weekend after a fire at a residential block in Urumqi, the capital of Xinjiang, claimed 10 lives.
University students and angry citizens staged vigils on campuses and took to the streets in more than 10 cities – some holding blank sheets of paper to protest against censorship or shouting inflammatory slogans rejecting lockdowns and endless PCR tests, while some called for constitutional reform and regime change.
Although things appear to have quietened down since last weekend – and some cities have started easing their controls – analysts said the size and scale of the protests meant Beijing should not underestimate their political implications and give a clear signal about how and when the zero-Covid policy would end.
"Given how the party is centred on [Xi] now, this moment is a test of his leadership," said Dali Yang, a political scientist at the University of Chicago.
Xi, who has emerged as China's most powerful figure since Deng Xiaoping, has proudly claimed ownership of Beijing's efforts to contain the pandemic.
The narrative that China is capable of protecting its people from Covid while the West cannot, has been regularly played up by state media over the past two or more years, even linking Xi to the highly unpopular and disruptive lockdown of Shanghai earlier this year.
But the signs of public impatience have been building for months. In May and June – a highly sensitive period in Beijing because of memories of the bloody 1989 crackdown against the Tiananmen demonstrations – protests against Covid restrictions erupted
inside
and
around
the city.
But the fire in Urumqi, marked a turning point in public opinion, even though the authorities have denied that Covid restrictions had hampered the rescue attempt.
Fang Kecheng, assistant professor of journalism at the Chinese University of Hong Kong, said the deaths had fuelled "the public's anxiety over whether their children too would be trapped and their fire exits would be blocked too during lockdowns".
Fang added: "The Urumqi fire, to them, is a symbol of resonating traumatic experiences."
Simultaneous protests that spread nationwide are highly unusual during the Xi era, according to Kyle Jaros, associate professor of global affairs at the University of Notre Dame.
"The synchronised nature and scope of protests is not a reflection of any centralised coordination but shared sentiments across large swathes of the Chinese public. This is undoubtedly very alarming to central and provincial authorities," Jaros said.
Like most civil resistance in the past decades, the Covid-related protests seem to have been short-lived with the authorities seeking to deter further demonstrations with a heavy police presence and arrests.
Meanwhile, Beijing has signalled that it will start to roll back restrictions, but further unrest may re-emerge if the government "fails to recognise the depth of popular unhappiness," said Liu Yawei, a senior adviser on China at the Carter Centre.
"There is no need to overinterpret the slogans but the government has to recognise people's patience has limits, even the most docile population."
Rana Mitter, professor of the history and politics of modern China at the University of Oxford, added: "The [party] needs to present a narrative that suggests there is an endpoint to the Covid lockdowns."
Last month the State Council, China's cabinet, released a 20-point set of guidelines to ease restrictions and accused local governments of failing to enforce containment measures based on an "accurate and scientific approach".
But implementation still varies greatly from city to city. Many officials are still erring on the side of caution because, although the guidelines send a clear message that restrictions should be reduced, they are not clear how far they can go but fear they will be blamed for any failures in containing the virus.
"[The protests] will also add to the difficulty of communication between the central and local governments and may add to local officials' discontent towards the central government," said Deng Yuwen, a former deputy editor of the Study Times, the official newspaper of the Central Party School, where cadres are given ideological training.
The triumphant narrative that worked for Beijing at the start of the pandemic is no longer working.
"The protests really show that earlier public support towards the government in 2020 and 2021 was really performance-based rather than blindly centralised to a certain ideology or leader," Fang said.
But the government faces a real dilemma over lifting controls because of fears the healthcare system will be overwhelmed by a surge in cases and deaths.
Effective vaccination coverage, especially for the elderly, remains low in China. By November, about 86 per cent of people over 60 years of age had been fully vaccinated and 68 per cent boosted. But among the over-80s the figures fall for 66 per cent and 40 per cent respectively.
Epidemiologists have warned China's healthcare system might not be able to handle waves of Omicron because of the country's unevenly distributed medical resources.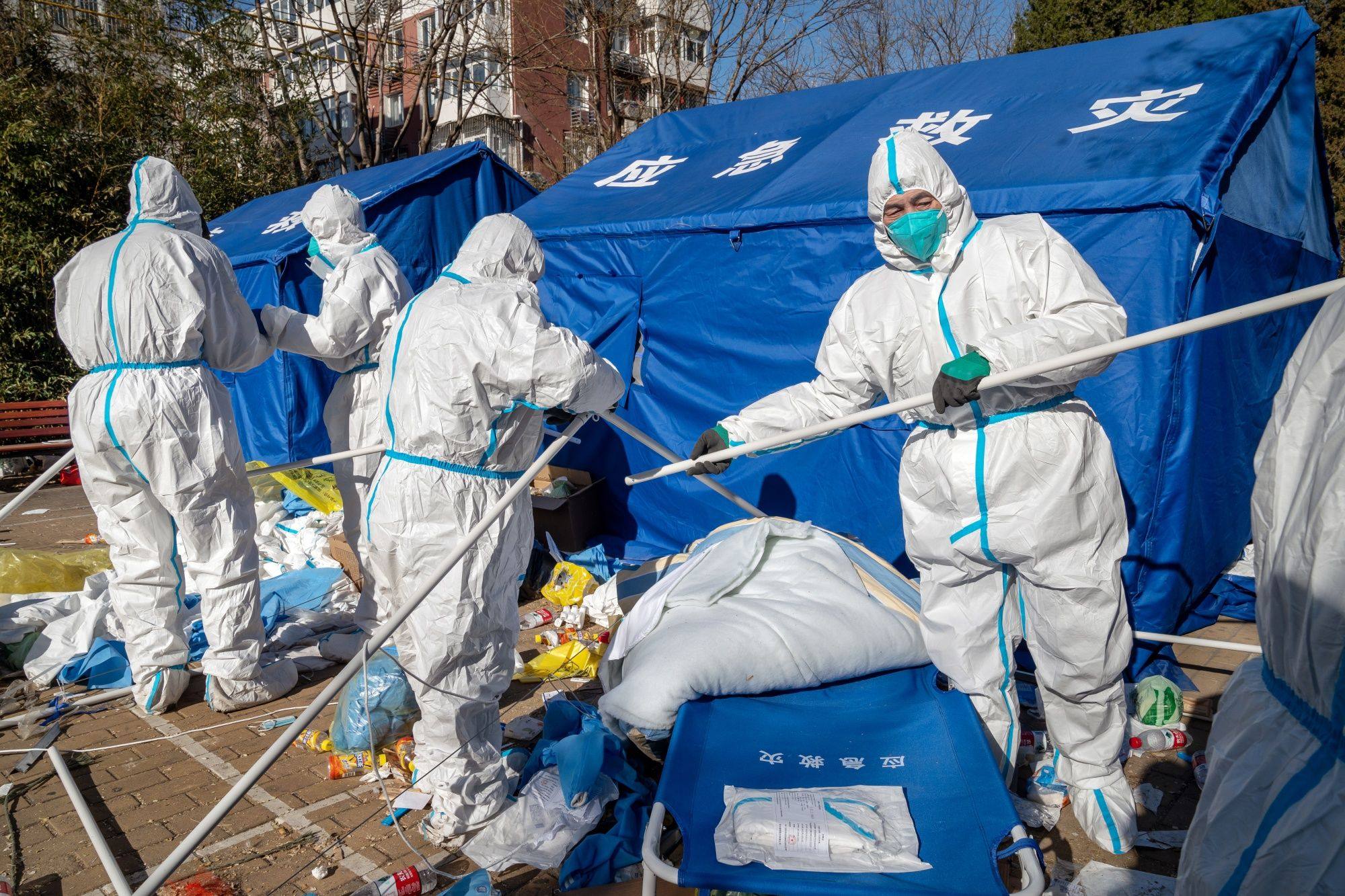 In Shanghai, the country's richest and most developed city, the public health system struggled to function properly at the height of its Covid outbreak with hospitals - including accident and emergency departments - being closed from becoming overwhelmed.
In 2021, the ratio of intensive care beds in China stood at 4.53 per 100,000 people, with numbers varying greatly across provinces. This is much lower than developed countries, such as the United States, where the figure is 25.8, or Germany where it stands at 33.9.
Tao Li, associate professor of government and public administration at the University of Macau, said the political capital at stake was too high for Xi to make an abrupt U-turn.
"It's about the leader's policy precision and leadership dignity so it's difficult to withdraw the policy direction simply out of some blank-paper protests," Li said.
Beijing must relax "demands for zero-Covid and allow a genuinely decentralised response" or give clearer operational guidance to local governments specifying which types of lockdown measures were acceptable, Jaros said.
While there is no good exit strategy other than to recognise and acknowledge the hardship caused by this seemingly "absurd" policy, Liu urged Beijing to tell the public about the real rationale behind its policy and admit to its shortcomings.
He added that new policies should include a more vigorous vaccination drive, punishments for those who are benefiting from the disaster illegally and disciplinary action against officials who were overzealous in controlling Covid and those who harassed the public.
"They should also import foreign vaccines and drugs for the vulnerable population and announce the opening up date for the nation," Liu said.
Additional reporting by Jun Mai