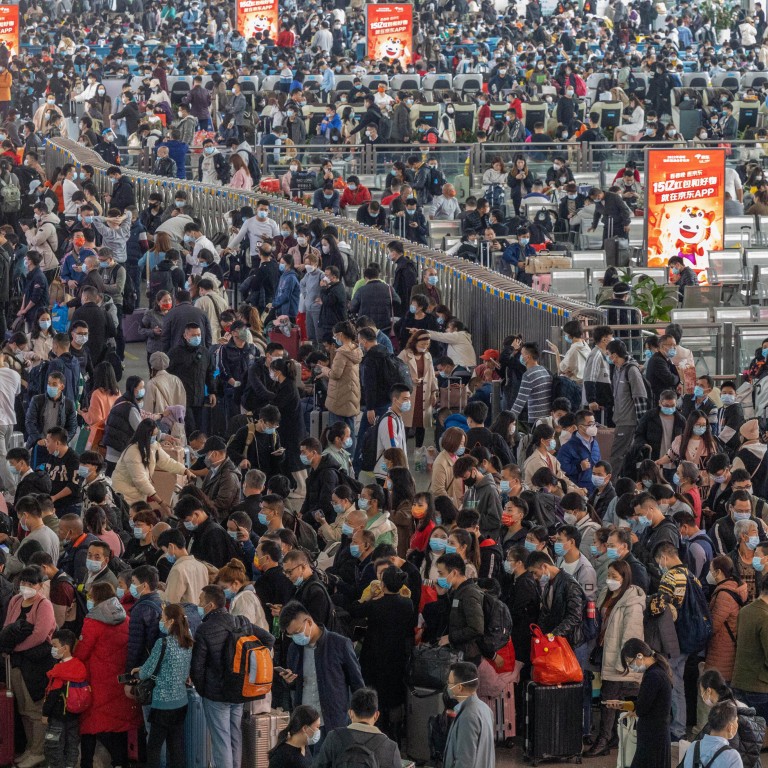 China orders rural hospitals to brace for Covid-19 as millions expected to travel for Lunar New Year
Beijing tells local authorities to set up fever clinics and boost healthcare manpower and medicine supplies ahead of Spring Festival
The holiday period has been called the biggest annual human migration as workers in cities return to their hometowns for family reunions
In a directive on Friday, the Joint Prevention and Control Mechanism of the State Council asked local governments to prioritise pandemic control and
health services in rural areas
to protect the population from severe outcomes.
Noting the relative shortage of healthcare resources in rural areas, high mobility during the
Lunar New Year
holiday and an increase in migrant workers returning to their hometowns, the directive said local authorities should coordinate and combine resources to provide comprehensive health services.
It also called on authorities to provide medication, test kits and medical resources depending on the severity of local outbreaks and degree of urgency.
The Lunar New Year holiday, known in China as the Spring Festival, has been called the world's
biggest annual human migration
, with hundreds of millions of people travelling across the country by road, rail and air.
But for the past two years,
domestic travel slumped
because of Covid-19 prevention measures and draconian restrictions on movement between provinces.
In 2023, Lunar New Year will fall on January 22 and the Spring Festival holiday will span from January 21 to 27.
Zhang Boli, a
traditional Chinese medicine
expert with the Chinese Academy of Engineering, said the coming holiday would be a time for reunion but there was a high risk of coronavirus transmission, and authorities and individuals should stay alert and be prepared.
"Reunion is the greatest expectation of the Chinese people for the Spring Festival," he told Xinhua on Wednesday.
"Under the new situation, I believe the pandemic prevention and control departments and local governments are preparing to formulate policies on returning home according to local conditions.
"This [Lunar New Year] is very likely to be a year of reunion."
Friday's directive asked rural hospitals to set up more fever clinics and expand their capacity to treat patients.
"In principle, the establishment of fever clinics in township clinics should achieve full coverage, should be 'set up as much as possible' and 'stay open as much as possible'," the directive said.
The directive reiterated that rural hospitals should modify their healthcare systems and seek timely support from high-tier hospitals through a medical collaboration network.
The directive also asked township governments and villagers' committees to keep a record of migrant workers who return to their hometowns and remind them to carefully monitor their health, wear masks and reduce contact with the elderly, especially those with underlying medical conditions.
The returnees should also provide their contact information to local medical and health institutions so they can receive treatment at various doctors, clinics and hospitals if infected.
The central government ordered local authorities to strengthen medical manpower and medication supplies in rural areas, including dispatching doctors from higher-level hospitals, recruiting retired medical personnel and increasing temporary employees.
It also ordered localities to have enough supplies in stock – including rapid antigen tests, traditional Chinese medicine, fever reducers and medication to treat coughs and other symptoms – to cover 15-20 per cent of the population served by township clinics.