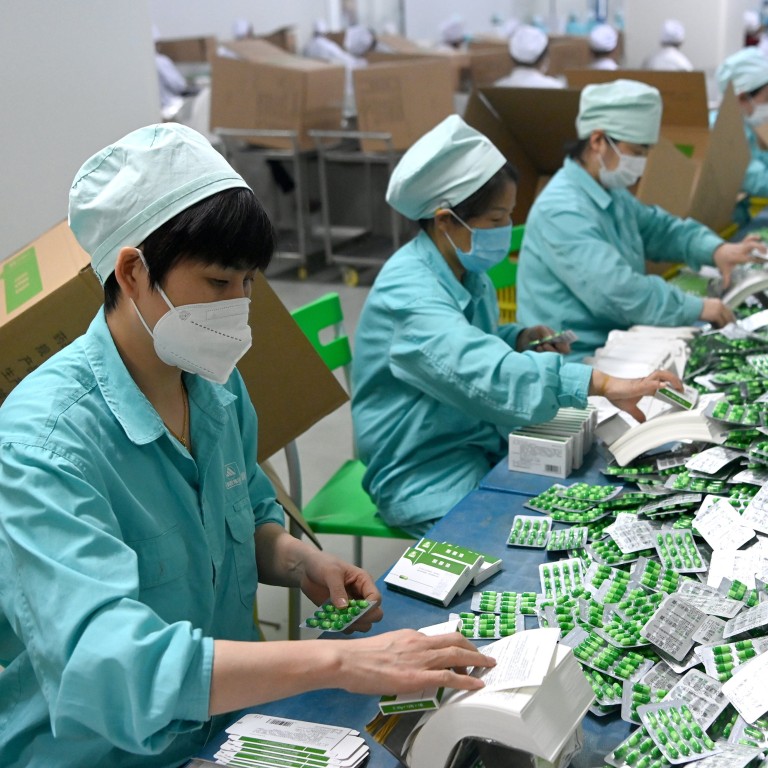 Rumours of new XBB variant Covid-19 wave spark run on anti-diarrhoea drugs in China
Online post triggers panic buying reminds of frenzy over paracetamol and other Covid-19 supplies as cases surged last month
Diarrhoea is not a particular symptom of Covid-19 caused by the XBB variant, health experts have said in urging people not to stockpile drugs
Diarrhoea pills have sparked the latest
Covid-related
hoarding spree in China, after online rumours of an imminent
new wave
caused by the Omicron subvariant XBB.
Health experts hastened to quash the rumours, saying diarrhoea was not a particular symptom of Covid-19 caused by the XBB variant and it was "extremely unlikely" that China would see a new wave within three months.
But their assurances failed to stop the panic buying.
The rumours began after a WeChat user warned about the highly transmissive strain "circulating abroad", suggesting people stock up on medicines, including "diosmectite rehydration salts", as China prepared to
reopen its borders
.
He went on to say the XBB.1.5 had become dominant in the US within 15 days and was much more dangerous than those seen so far in China.
A screenshot of the social media post quickly went viral, triggering panic buying of anti-diarrheal drugs under the belief that XBB caused gastrointestinal symptoms.
This followed a similar frenzy over fever medicines, pulse oximeters or oxygen generators when China's biggest ever wave of Covid-19 hit last month.
Hashtags translated as "diosmectite", an over-the-counter gastrointestinal drug, and "how to guard against the XBB strain" were trending topics on Weibo, China's Twitter-like platform, with millions of views for both as of January 5.
"Some pharmacies really have nothing left," a Weibo user from the southwestern province of Guangxi posted.
"Our pharmacy is empty and has not received new supplies for two weeks.
"Ibuprofen, paracetamol – both oral and rectal, thermometers, masks, cough syrup, medicine for colds – they are all no longer available. Now we cannot even get diosmectite."
Many pharmacies in Beijing, Shanghai and Shenzhen, including online ones, reported they were out of anti-diarrheal drugs for both adults and children, further fanning supply concerns among the public, local media reported.
The WeChat user behind the viral post later clarified that he had not meant to scare the public. His note in the Moments section of his account was only for his friends to see, explained the user – surnamed Huang and based in the eastern city of Wuxi.
He had been called into a local police station on Monday to make a statement, and advised not to post anything that was not factual, Huang told China National Radio. Police had been unable to identify who posted the screenshot online, he said.
Yang Yiheng, chief pharmacist with the Peking University Third Hospital, said diosmectite might cause constipation if taken in excess, and the World Health Organization did not recommend the drug for the treatment of diarrhoea.
"The main principle of treatment for diarrhoea is to prevent dehydration. The amount of fluid that is expelled has to be replaced," Yang was quoted as saying by the Beijing Daily on Thursday.
National health body the Chinese Centre for Disease Control and Prevention also urged the public to be "reasonable" in ensuring personal medicine supplies instead of hoarding them.
Xu Wenbo, head of the China CDC's National Institute for Viral Disease Control and Prevention, said gastrointestinal symptoms were not exclusive to Covid-19 caused by the XBB variant.
There was also "no evidence" suggesting that the XBB.1.5 Omicron subvariant, currently dominant in the US and Europe, would cause more severe diarrhoea or other gastrointestinal clinical manifestations, Xu told state broadcaster CCTV on Wednesday.
"Be it Omicron, or earlier strains such as Delta or Alpha or Beta, they can all cause infected patients to develop intestinal symptoms … [but] the occurrence of symptoms – such as diarrhoea, nausea and vomiting – varies," Xu said.
There was no evidence to suggest XBB.1.5 would cause more gastrointestinal symptoms than other strains, he added, urging the public not to stockpile medicines at home.
Covid-19 has been ripping through China since its strict zero-Covid policy was lifted in early December. Many cities have detected a
diverse mix of Omicron strains
, with BF.7 and BA.5.2 dominating, while the new BQ.7 and XBB variants have recently been found among inbound travellers.
China will reopen its borders and drop all Covid quarantine rules on January 8.