Were China's 3 years of strict Covid controls a wasted opportunity?
Medical and economic analysts says the country bought itself time and saved lives but failed to prepare for the lifting of controls
Despite locking cities down for prolonged periods and imposing strict control on movements, the low vaccination rate among the elderly may prove a crucial error
After three years of tough pandemic controls, China's sudden U-turn on its zero-Covid policy last month has brought relief but also anxiety that the country is unprepared for the surge in cases. In the fourth of a
five-part series
on the policy change and its impact, Holly Chik examines whether the authorities could have better prepared for the lifting of controls.
China has defended its strict zero-Covid policies for helping the country withstand the early waves of the pandemic with relatively little loss of life and buying it time over the past three years to prepare for the return to normality.
But following last month's abrupt decision to lift these controls, the country has seen an
avalanche of cases
that overwhelmed hospitals, funeral homes and crematoriums.
Analysts said the policy carried heavy social and economic costs, while putting the country's global leadership on the line – with some arguing that the failure to vaccinate many elderly people and prepare for the inevitable spike in cases meant that much of the grace period won by the lockdown had been "wasted".
Just before new year, Li Bin, the health vice-minister, set out Beijing's case, telling reporters: "In the past three years, we withstood the shock of five waves of a global outbreak through strict controls.
"We successfully kept away the vast spread of the highly pathogenic wild strain and Delta variant. We greatly reduced severe illness and death, while winning precious time for the development and deployment of vaccines and drugs, as well as medical and other resources."
He also said that following the lifting of controls, the main focus was on "protecting health and preventing severe illness". He added that the change "will help us better adapt to changes in virus mutation and outbreak … and minimise the impact of Covid-19 on economic and social development".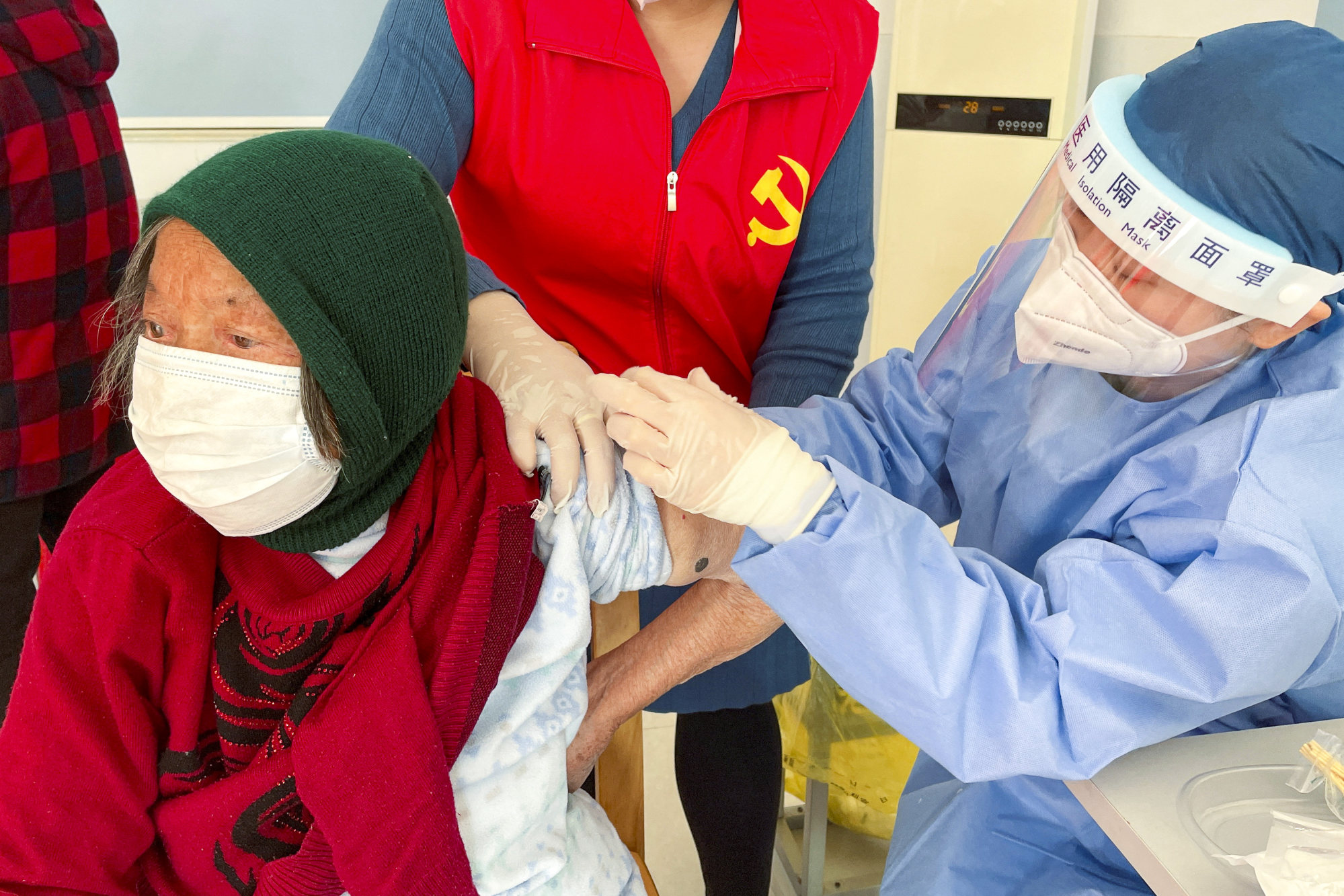 During this period, China severely limited travel in and out of the country and saw new arrivals subject to strict quarantine requirements. Other policies included mass PCR testing, the use of health codes and – in the event of outbreaks – lockdowns that could last for months and strict curbs on travel within the country.
Elanah Uretsky, a medical anthropologist from Brandeis University in the United States who studies public health trends in China, said the sustained zero-Covid policy gave China longer than any other country to prepare for a more successful reopening, but it had missed the chance.
"They chose a much steeper curve that immediately opened up the floodgates to all the casualties they avoided for the past three years," she said.
"Had the government focused more on prevention through immunisation with effective vaccines, perhaps China would have experienced lower rates of excess mortality when they eventually relaxed the policy."
While Beijing touts the 90 per cent vaccination coverage for its whole population, the uptake rate for the elderly remains worrying – 23.8 million people over the age of 60, one of the most vulnerable groups,
had yet to receive their first jab as of last month
.
The latest official data released on December 14 showed that only 69.8 per cent of people aged 60 or over had received three doses of a Covid-19 vaccine, a figure that fell to just 42.4 per cent for those aged 80 and over.
Ben Cowling, the chair professor of epidemiology at the University of Hong Kong, said it had been a "remarkable achievement" to keep Covid at bay for so long, but it came at a heavy cost and encouraging the vulnerable population to get vaccinated could have put China in a better position to adjust its policies.
"China had 85 per cent vaccine uptake a year ago, and could have pushed vaccine uptake in older adults to a very high level in early 2022 before a summer reopening," he said.
"This would have saved all the expense of zero-Covid measures in the second half of 2022 as well as allowed a more measured transition out of zero-Covid with careful plans in place."
George Magnus, a research associate at Oxford University's China Centre, said the Chinese government "wasted its three years of zero-Covid commitment for nothing, ending up with costs and scars that will linger for a long time".
While some of the costs to the economy may be partially recouped as people spend more, he said "the costs in terms of loss of trust and confidence in the government's capacity for good governance may not be so easily accounted for".
He said: "Unemployment, limited opportunities for the young, abandoned focus on ageing society policies, and welfare rights for hundreds of millions of people, still poor by international standards, will haunt China for years."
Yang Dali, a professor of political science at the University of Chicago, said the usefulness of zero-Covid in China had been overstated and the strong commitment to pursuing Zero-covid stood in the way of better preparations for an eventual transition.
"Of course, there was a significant cost to zero mortality," he said. "But looking at the entire society, China managed quite well through Delta.
He said that it was hard to argue it was the wrong strategy just because it "didn't turn out as well as it should have".
Clearly, it would have been better if the exit was conducted in the summer when people were still relatively fresh from having gotten the vaccines and when the weather [was warm].
"Part of the reason the Chinese leadership decided to still conduct the lengthy lockdown in Shanghai and elsewhere was also the horror of... the Hong Kong experience. There are interconnections between the local and the regional experiences."
Hong Kong was hit with a fifth wave of cases earlier last year, recording thousands of deaths – mainly among unvaccinated elderly people – one of the world's highest death rates per capita.
Julian Tang, a clinical virologist at the University of Leicester in England, said measures like lockdowns and masking only buy time for more comprehensive, long-term solutions of achieving herd immunity through natural infection or vaccination.
"Eastern countries became victims of their own success," he said. "Their control of the virus with so few cases and deaths made people fear the side effects of these vaccines more than getting Covid-19 itself."
"The East's reluctance to take up the vaccines allowed the virus to mutate and spread more rapidly beyond the protection of these now older vaccines."
Looking at how the world responded to Covid-19, he said the approach taken by island nations like Australia and New Zealand worked best.
They successfully stopped the importation of the virus by closing borders until vaccines were available – then vaccinated everyone quickly.
For countries with harder to control land borders, "masking and lockdowns with social distancing will have to be used to control the virus – pending vaccine production and distribution," he said, adding that this is more difficult with more cases and deaths.
Bonnie Glaser, managing director of the Indo-Pacific programme at the German Marshall Fund of the United States think tank, said China had misplaced its resources during the pandemic, resulting in millions falling sick and hospitals becoming overloaded after the abrupt abandonment of zero-Covid.
"Resources were poured into quarantines and lockdowns, but very little was invested in improving healthcare infrastructure and not much progress was made in getting people vaccinated.
"The way that the leadership has handled Covid has damaged China's international reputation and set back Xi Jinping's efforts to demonstrate that China has a superior governance system that qualifies it to lead global governance reform."
Paul Haenle, the director of the Carnegie China think tank, said the country had not been prepared when it lifted zero-Covid, losing much of the credibility it gained from portraying itself as responding to the pandemic responsibly and from sending medical supplies overseas in the early stages of the pandemic.
"While its mask and vaccine diplomacy may have consolidated China's position in some developing countries, overall, the way Beijing managed the pandemic has contributed to deteriorating its image and underscored a growing rivalry with the United States and Europe," Haenle said.
"Many countries and international organisations have questioned the reliability and transparency of Chinese official data amid China's recent surge in infections.
"The Chinese government's anger over the recent testing or quarantine policies of foreign countries has resulted in criticism of Chinese double standards regarding its own border policies during the pandemic."
Amid growing alarm over a Covid-19 surge, countries including Australia, Britain, Canada, France, India, Israel, Japan, South Korea, Spain and the United States have stepped up Covid-19 curbs on travellers from China, such as mandating preflight tests.
This promoted Beijing to denounce entry restrictions on Chinese travellers as unscientific and "unacceptable" and vow to reciprocate measures imposed by countries such as Morocco, which has banned entry to all travellers arriving from mainland China.
The World Health Organization has been urging China to provice more rapid and regular data on hospitalisations and deaths, as well as more comprehensive, real-time viral sequencing.
Victoria Fan, a senior fellow in global health at the Centre for Global Development think tank, said it remains to be seen how large and severe the impact of China's failure to adequately vaccinate its population will be.
She said an
unprecedented series of protests
in several Chinese cities and university campuses in the weeks before the U-turn "were a clear indication that draconian zero-Covid measures were no longer being accepted by the public, and that the social and economic costs of such measures outweighed its health benefits".
The protests were fuelled by public anger at the
death of 10 people in a fire in Urumqi
in Xinjiang amid reports – denied by the authorities – that the victims had been unable to escape and firefighters had been prevented from reaching the high-rise apartment block as a result of the city's lockdown.
Fan said the unrest was also "a sign that the zero-Covid policy took a serious toll on the public's well-being".
"Strict and extensive quarantine measures, akin to community house arrest or imprisonment, naturally lead to social isolation, loneliness, and expected mental health conditions such as anxiety and depression," she said.
Huang Yanzhong, a senior fellow for global health at US think tank the Council on Foreign Relations, said the gains from protecting lives under zero-Covid might not make up for the health, economic and social impact of the policy.
"Additional deaths from chronic diseases, mental health crisis, economic impact – we need to look at the full picture," he said.
"China's exit showed no planning. It should have gradually relaxed its controls, not a 180-degree turn after the protests. Now the government is doing too little, too late.
"The government needs to prepare for what comes after this national wave. It will not achieve universal immunity; things won't be all right. There will be the next wave, and the next after the next."
Additional reporting by Jane Cai