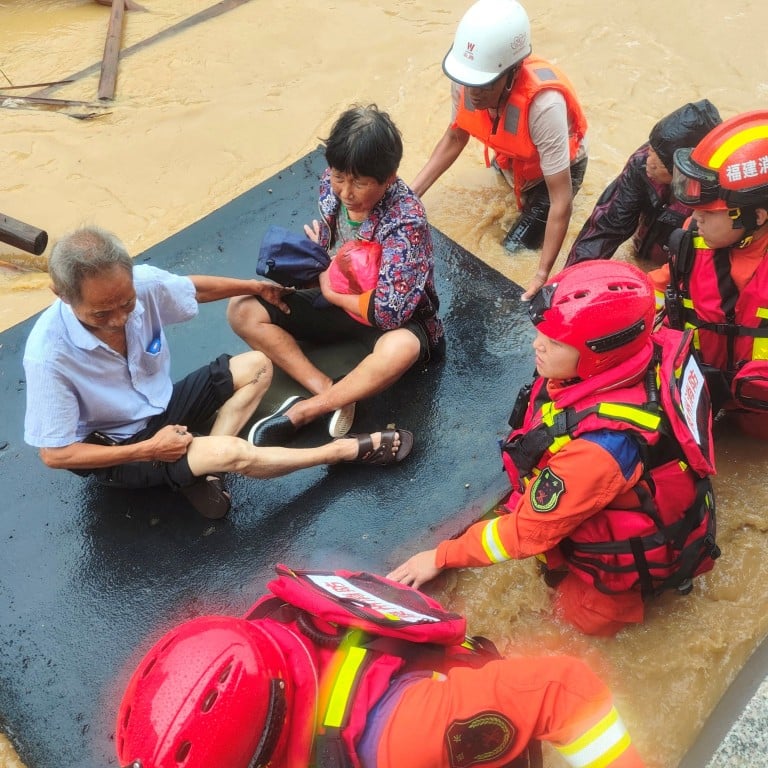 Typhoon Doksuri hammers China, bringing floods and landslides to southeast
It is the most powerful typhoon to hit Fujian province in more than 70 years, leading to evacuation of 124,400 residents
Storm expected to bring extreme rain to Beijing and neighbouring areas, possibly rivalling 2012 downpour that left 79 dead
Typhoon Doksuri
caused widespread flooding and landslides in the southeastern province of Fujian after making landfall on Friday morning.
As it moves north and deeper inland, the storm will bring extreme rainfall to Beijing and its neighbouring provinces, affecting 130 million people, according to the National Meteorological Centre.
On Saturday evening, the centre upgraded an orange alert for rainstorms to a red alert, the highest in China's four-tier weather warning system. It is the second rainstorm red alert issued since the system was set up in 2010. The previous red alert was issued in 2011.
Meteorologists said the intensity of rainfall in northern China from Saturday to Tuesday could equal or exceed a
2012 downpour
in Beijing that killed 79 people.
Doksuri is the most powerful typhoon to hit Fujian since meteorological records began in 1950. It is also the strongest typhoon to make landfall in China this year, according to Fujian Daily.
When Doksuri hit the city of Jinjiang at 9.55am on Friday, the maximum sustained wind near the centre was about 50 metres per second (164 feet per second).
It is even stronger than
Typhoon Meranti in 2016
, which recorded winds of up to 48 metres per second near its centre at landfall and killed at least 11 people.
More than 724,600 people in 84 Fujian counties were affected, with 124,400 residents evacuated. About 262 hectares (647 acres) of
crops were damaged
, state news agency Xinhua reported on Friday.
Doksuri moved to the southeastern province of Anhui on Saturday morning and weakened into a tropical depression, a type of weak tropical cyclone. On Friday night, it was centred on the city of Fuzhou in neighbouring Jiangxi province, where it weakened into a tropical storm.
Doksuri will bring heavy rainfall to more than 12 provinces across China – from Fujian and Jiangxi in the southeast to Hebei and Liaoning in the north, according to the National Meteorological Centre.
A high-pressure atmospheric circulation system over East Asia, known as the western North Pacific subtropical high, and high pressure over the Taihang Mountains in northern China will slow Doksuri's speed, causing it to linger in the north and increase the cumulative rainfall.
Fang Chong, the centre's chief forecaster, said precipitation in northern China – especially in the
Jingjinji area
encompassing Beijing, Tianjin and Hebei province – was expected to be extreme, with a high risk of natural disasters.
He added that Tropical Storm Khanun over the western Pacific, which entered the Philippine area of responsibility on Saturday morning, would bring abundant moisture to northern China via strong south-easterly winds.
"We expect this precipitation to be very strong," Fang was quoted as saying by online news portal ThePaper.cn.
On Saturday and Sunday, heavy rainstorms are forecast to hit Beijing, Tianjin and the provinces of Shandong, Henan and Liaoning. Hourly precipitation in some regions may surpass 80mm (3 inches), according to the centre.
Beijing was hit by heavy rainfall on July 21, 2012, which caused 11.6 billion yuan (US$1.6 billion) in economic losses and affected more than 1.6 million people. It was the heaviest rainfall in the region in 61 years, damaging 66,000 homes and destroying around 750km (466 miles) of road, according to Xinhua.
At least five Fujian cities broke 24-hour rainfall records on Friday, including Baisha county in Putian which recorded daily rainfall of 648mm.
The provincial capital Fuzhou – not to be confused with the city in Jiangxi – had a daily rainfall of 338mm, far exceeding that of Typhoon Meranti, which brought daily rainfall of 170mm.
Heavy rain has led to severe flooding and landslides in the province. Fuzhou reported 30 waterlogged areas on Saturday morning. Five underpasses in the city were flooded, with maximum water levels reaching 2 metres, according to ThePaper.cn.
Doksuri caused landslides in the Fujian city of Nanan, where residents were trapped in flooded buildings.
Fuzhou authorities have asked residents to stay at home unless necessary. Officials in Nanan reminded residents to prepare food, water and other necessities.
Ports, ferry routes and tourist attractions in Fujian were temporarily closed on Friday. Public transport was suspended on Saturday morning in Fuzhou after the city initiated a Level-I emergency response for rainstorms.
Meanwhile, eight officials in Ningde, Fujian, were reprimanded, according to local media. The officials reportedly failed to be on duty and take initiative when the city prepared for Doksuri to make landfall.