Science
Get more with myNEWS
A personalised news feed of stories that matter to you
Learn more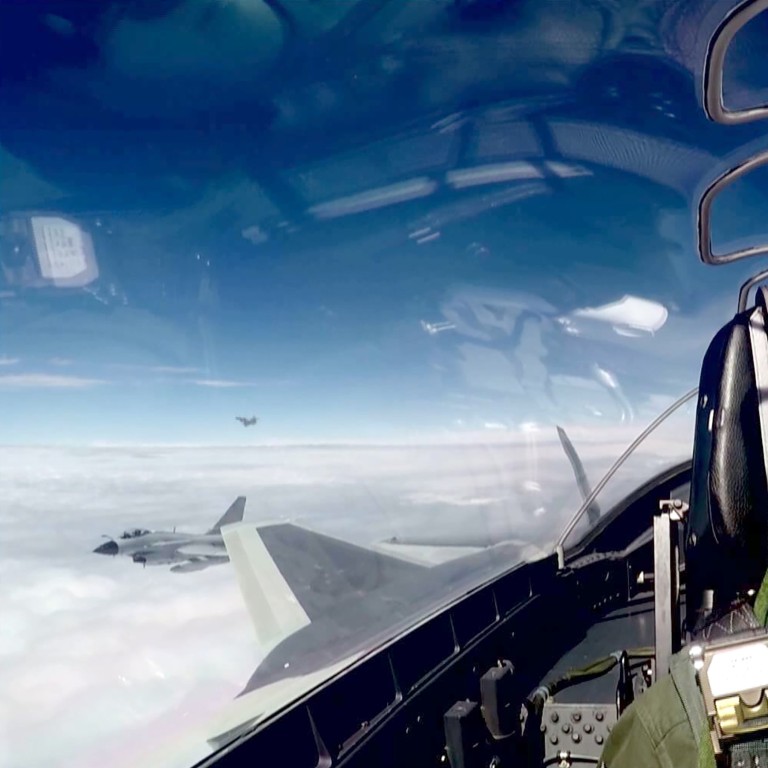 Google denies link to China's military over touch-screen tools that may help PLA pilots
Predicting screen touches accurately has many potential uses, but one is to help pilots select a fast-moving target
Lead scientist in Google's artificial intelligence team revealed to be taking part in research by Chinese institute
Google has denied contributing expertise to the Chinese military after taking part in research that could be used to sharpen the accuracy of China's new stealth fighter jet.
A lead scientist from Google took part in research in Beijing with applications that include military, medicine and education, according to China's largest government science institute.
The research paper, about the development of new computer-human interaction technology, focuses on a smart target-selection assistant that can speed up on-screen mobile target selection by more than 50 per cent and improve accuracy by nearly 80 per cent, the government institute said.
A fighter jet pilot or anti-air missile operator could therefore select fast-moving targets on a touch screen with unprecedented speed and accuracy, according to two mainland researchers informed about the study.
This makes China's stealth fighter J-20 a candidate to use it, said the two researchers, who declined to be named.
Shumin Zhai, a lead scientist in Google's artificial intelligence (AI) team, was named on Friday as one of the authors of the research paper.
Google confirmed its involvement but denied a link to the military. "This paper addresses a very general research question in user experience design of how people interact with moving items on a touch screen," said a Google spokesperson on Wednesday. "This paper is simply not about military applications.
"There is nothing in this paper that refers to a military application. Research like this is key to improving finger or stylus-based navigation in any app."
The Chinese Academy of Sciences said on its website on Friday: "This research … will have broad application prospects in military, medical, education and digital entertainment."
The word "military" had been removed from the statement after the publication of the South China Morning Post's story.
An AI weapon researcher working for the People's Liberation Army said it was possible for foreigners from international technology companies to work on China's defence-related projects.
"They will have no security clearance to get access to sensitive information, for sure," said the researcher, who requested not to be named because of the sensitivity of the issue.
"But it does not matter. What we need is their brain.
"For instance, they can be asked to develop an algorithm but not briefed on the details of how the algorithm would be used."
Dr Zhai leads and directs research, design and development of input methods and haptics systems in flagship productions for Google and its partners, according to Google AI's webpage.
Google denied it had contributed AI technology to China. "It uses long-existing statistical modelling techniques, not AI or deep learning models," the spokesperson said.
China has put a 25-inch touch screen in its J-20 jet, the biggest of its kind in the world, according to previous state media reports.
The screen size is more than 50 per cent larger than the touch screen of the United States' F-22 stealth fighter jet and 35 per cent larger than that of the US' F-35.
The J-20's touch screen can display airborne weapon configuration, engine status, airborne radar search, enemy-friendly targets, navigation path and complete flight attitudes.
Cao Feng, a senior official with the Aviation Industry Corporation of China, said during a state television interview in 2016 that a J-20 pilot could use the touch screen like an iPad, with natural touches to trigger a wide range of operations such as zooming in and out of a picture.
But the selection of moving objects, for example to target rapidly approaching hostile planes on the radar screen, can be a tricky business for pilots.
They need to follow the target continuously while planning the timing for selecting it. The high demands on eye-hand coordination could lead to mistakes during combat. There have been reports that F-35 pilots still relied on the traditional cursor for target selection.
Some solutions have been proposed, such as reducing targets' moving speed and making the dot larger on screen, but these can distort the display's consistency.
A research team for the State Key Laboratory of Computer Science, at the Chinese Academy of Sciences in Beijing, proposed a new solution last year, according to the academy.
It developed an algorithm that can predict a finger's landing point on screen when a human user pinpoints a moving target. Even if the touch is a little off-target, the machine can make a fairly accurate estimate of which target the user intended to select.
That system could sound an alert with 94 per cent accuracy when the wrong target was selected.
The team will present its findings at a technology symposium in the United States in October. Dr Zhai is a co-author of the paper.
Google's AI work in China has
prompted protests
from a top US military official. Joseph Dunford, chairman of the Joint Chiefs of Staff, met senior Google representatives this year to discuss the company's potential contribution to the advancement of Chinese military technology.
"That venture for artificial intelligence in China … indirectly benefits the Chinese military and creates a challenge for us in maintaining a competitive advantage," he told US media in March.