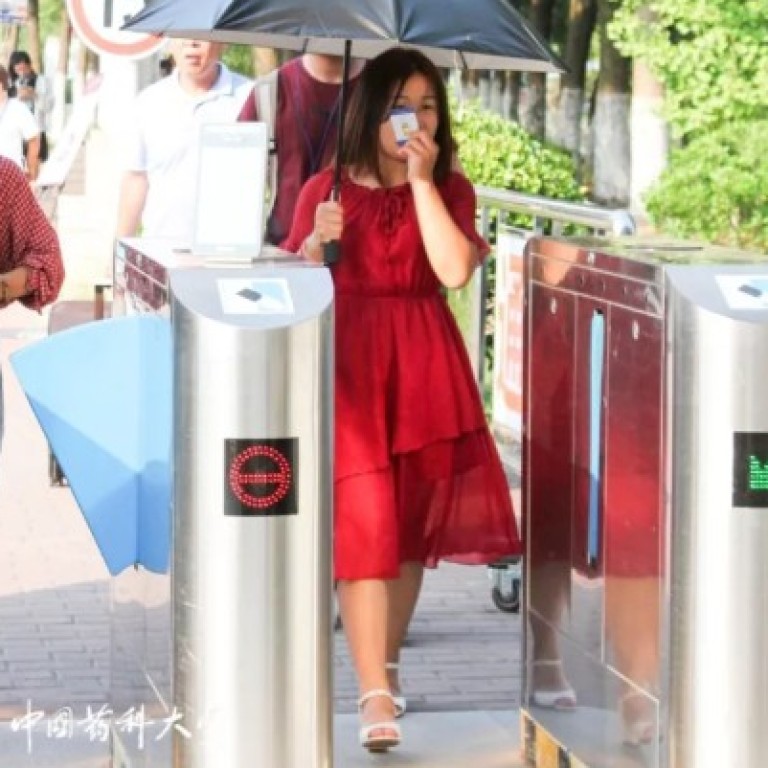 Chinese university says new classroom facial recognition system will improve attendance
Two classrooms on Nanjing campus were chosen for pilot project
Camera automatically captures students' faces without their cooperation
A university in eastern China has installed a facial recognition system at its entrance and in two classrooms to monitor the attendance and behaviour of students.
China Pharmaceutical University in Nanjing, Jiangsu province, announced on its website on Thursday that it was one of the first higher education institutions in the country to put such a system in place.
"It can effectively solve the management difficulties and low efficiencies in a traditional attendance system, and make it easier for managers to track their students," Xu Jianzhen, director of the university's library and information centre, told news website Thepaper.cn
In a pilot project, two classrooms were equipped with an attendance system using facial recognition software, with a camera that automatically captured the faces of students in class without their cooperation, the university said.
"Besides attendance, the system installed in the classroom can provide surveillance of the students' learning, such as whether they are listening to the lectures, how many times they raise their heads, and whether they are playing on their phones or falling asleep," Xu told the news website.
"The school is taking action to cut down on students skipping class, leaving classes early, paying for a substitute to attend classes for them and not listening in class," he said.
The plan was not well received online, with some critics raising privacy concerns for staff and students.
"What kind of talent are they trying to cultivate?" a user of the Twitter-style Weibo network asked. "I've never seen such a method."
Another wrote: "If this system was being installed in Europe or America, they'd be sued and the school would have to close down."
But Xu said the university had consulted the police and sought legal advice, and was told the system would not be considered an invasion of privacy as classrooms were public spaces.
"You are complaining about [a system] that's meant to urge you to learn? Are you a student?" he told the news website.
The university would seek feedback from teaching staff before deciding whether to install facial recognition systems in all of its classrooms, according to the report.
In May last year, a school in Hangzhou, Zhejiang province, installed cameras to monitor pupils' facial expressions and attentiveness in class as part of a "smart classroom behaviour management system" to give teachers real-time information on their students.
Elsewhere, facial recognition has been used to catch unlicensed drivers in the southern technology hub of Shenzhen, jaywalkers in Shanghai, and criminal suspects at public events across China.