Science
Get more with myNEWS
A personalised news feed of stories that matter to you
Learn more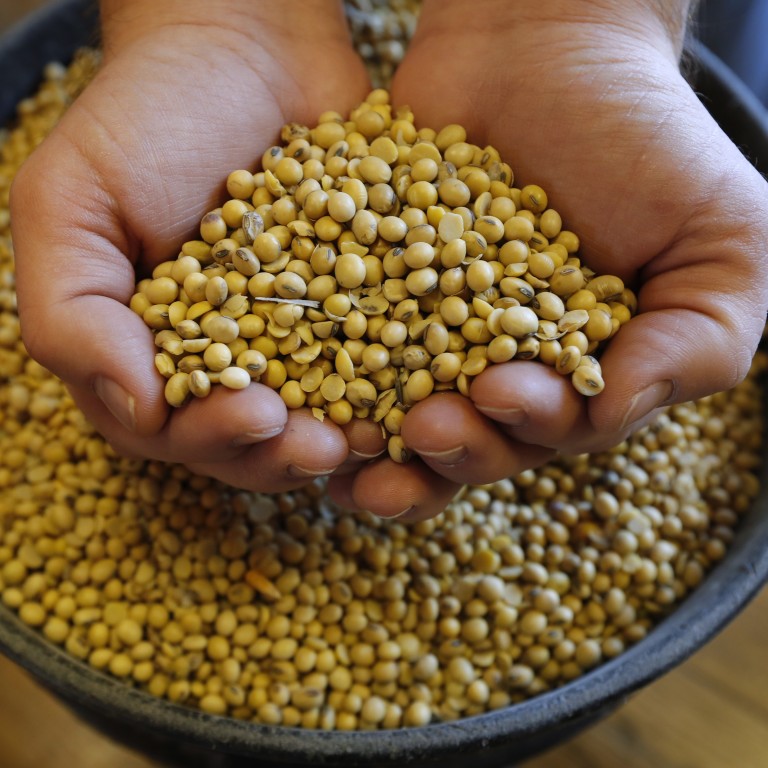 New soybean could make China more self-reliant during trade war
Scientists create Henong-71, whose seeds produce nearly four times the average yield for the plant in China
A drop in imports from the US left a shortfall for the world's biggest soybean consumer
A new hybrid species of soybean could help China get around the higher cost of importing them during its
trade war
with the US – despite a domestic ban on the high-yield GM crops that dominate the market.
Trials of a soybean in Xinjiang Uygur autonomous region, in western China, have achieved a record yield after scientists from the country's northeast created a hybrid species that grew extra pods and was more resistant to harsh weather.
Henong-71 seeds produced nearly four times the average yield for soybeans grown in China, according to the Ministry of Science and Technology last week.
Imports of the plant from the United States plunged after China slapped 25 per cent punitive tariffs on American soybeans in July last year. That forced the world's biggest soybean consumer – China imported 88 million tonnes last year, according to its customs data – to buy from other countries and boost domestic production.
It was traditionally a global leader in producing a crop that provides raw material for tofu and has been an important source of protein for Chinese people since the earliest archaeological records, in 1100BC.
But more than 80 per cent of soybean plantations worldwide now use genetically modified (GM) species that have been modified with a foreign gene to provide herbicide resistance. Planting GM crops is illegal in China, so researchers from the Northeast Institute of Geography and Agroecology in Changchun had to find alternative ways to increase yields and reduce costs.
A team led by Professor Guo Tai and Feng Xianzhong created various new species from domesticated and wild hybrids, then put the seeds in a radioactive chamber to simulate and accelerate the mutation that occurs in sunlight.
Unlike GM species, these soybeans did not contain foreign genes, but researchers did select and boost the genes they already had, to improve the potential yield and enhance specific traits – such as strengthening the stalk of the plant to help it thrive in windy conditions.
"The trade war has thrown us a curveball," Professor Yan Zhe, who was involved in the research, said. "We must hit back – and we can do that with technology."
Henong-71, which grew a larger number of pods and branches than existing species and withstood stronger winds, was the best-performing hybrid so far.
"This variety has high, stable yield with enormous production potential and good adaptability [regarding environment]," the institute said in a statement on Sunday. "It has rewritten China's high-yield record."
Agricultural authorities in Heilongjiang province, in the northeast, have approved commercial plantation of Henong-71, according to the institute.
Yan said that the research had received strong support from the government, which wanted to reduce the country's dependence on soybean imports.
"Soybean is now getting full attention after being neglected for years," he said.
The Chinese government offers farmers a subsidy of 5,100 yuan (US$713) per hectare for soybean production, more than seven times that for corn, according to the Ministry of Agriculture.
Without the subsidy, most soybean farms in China would have been losing money, partly because their costs have increased substantially in recent years. They have also faced fierce competition, especially from the US.
An American farmer this month set a world record soybean yield of nearly 13 tonnes per hectare, according to Agdaily.com.
The Henong-71 seeds produced about half that – 6.7 tonnes per hectare – but a study last year at Purdue University in Indiana found that the average yield in the US was about three tonnes.
This article appeared in the South China Morning Post print edition as: Hybrid soybean species could make China more self-reliant in trade war