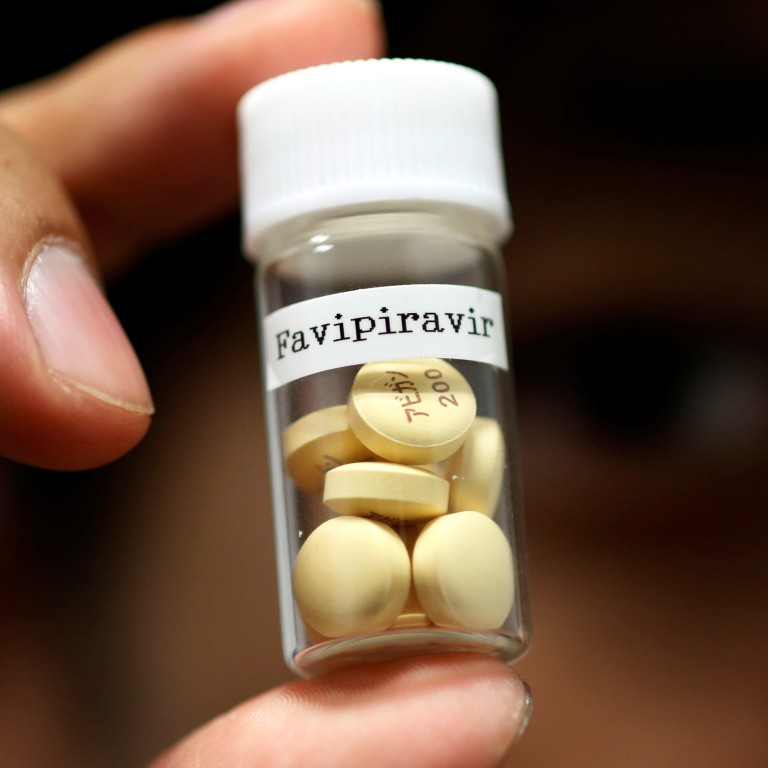 China and South Korea split over Japanese anti-flu drug Avigan in fight against coronavirus
Favipiravir emerges as a potential drug to treat Covid-19 patients but worries over risks to fetus remain
Shinzo Abe has promoted the drug to Donald Trump but FDA 'concerned'
Japan's neighbours are divided over use of the controversial anti-flu drug 'Avigan' in their countries; with China welcoming the trial use, while South Korea has declined, saying "serious side effects" potentially cause fetal damage.
The Trump administration and US expert groups are also at odds over using the unproven drug, joining the latest international debate.
The antiviral drug, also known as favipiravir and developed by Japanese company Fujifilm Toyama Chemical Company, has emerged as a
potential drug
to treat patients infected with the deadly
coronavirus, Sars-CoV-2,
for which there is currently no cure.
Favipiravir is widely known as a treatment effective on a wide range of viruses – including coronavirus, arenavirus, bunyavirus and filovirus – by selectively inhibiting viruses and preventing replication.
A research team stated there may be risks. The research paper, "Favipiravir (T-705), a broad-spectrum inhibitor of viral RNA polymerase" by Yousuke Furuta, of Toyama Chemical, Takashi Komeno (Fujifilm), and Takaaki Nakamura (Toyama) said "favipiravir has a risk for teratogenicity and embryotoxicity", referring to agents that can damage an embryo or fetus.
The journal article was published at 'Proceedings of the Japan Academy. Series B. Physical and biological sciences' in 2017 and said the drug was proved to be toxic to embryos in animal tests.
The Japanese health authorities have allowed conditional approval for use of the drug, granting it only for serious infectious diseases, including bird flu and Ebola virus. But as the number of Covid-19 infections rises in Tokyo and life in Japan is disrupted, such as the postponement of the Tokyo Olympics, it is reconsidering its approval conditions.
Prime Minister Shinzo Abe last week said Tokyo would push for approval of favipiravir as a treatment for the novel coronavirus.
The drug had proved to be effective in lifting some symptoms of the deadly virus, and had attracted interest from many countries, he said.
China seems to be one of the countries showing interest. Chinese government researchers have said they found the Japanese drug effective in treating coronavirus patients, and added that they would promote the use of the drug.
Zhang Xinmin, director of the National Centre for Biotechnology Development, said at a news conference in Beijing on March 18, that favipiravir was effective in clinical trials conducted by two medical institutions in China. It relieved coronavirus-related symptoms, including pneumonia, and had no apparent side effects, Zhang said.
By contrast, Seoul said using favipiravir would be a hasty decision, given that some studies said the drug might cause side effects, including fetal death or deformity.
South Korea's Ministry of Food and Drug Safety decided not to import Avigan after its team of infectious disease experts concluded that there was not enough clinical data to prove the drug's efficacy and because of potential side effects, according to Yonhap news agency.
"Avigan has not only not shown efficacy during test studies but also there is no data on clinical trials conducted on patients," said Oh Myoung-don, a South Korean infectious disease expert. "The drug has also shown serious side effects, such as fetal deaths in animal studies."
US media outlet Politico said on Tuesday that global regulators and US researchers had long been concerned about favipiravir's side effects, also noting that the Chinese data on the drug was "insufficient".
US Food and Drug Administration (FDA) officials are concerned about "the risks and limited evidence that the drug would work as a coronavirus treatment", according to Politico, citing three officials with knowledge of the deliberations and the internal documents reviewed by the media organisation.
The American media also said that the Trump administration had repeatedly pressured FDA approvals of drugs and devices, "challenging FDA's long-held stance as an apolitical, science-driven agency," adding this would require the FDA to grant an emergency-use authorisation.
One official said that Japan's Prime Minister Abe recently spoke with Trump about the idea, generating enthusiasm within the administration, Politico said.
This article appeared in the South China Morning Post print edition as: Views split on antiviral drug used in outbreak