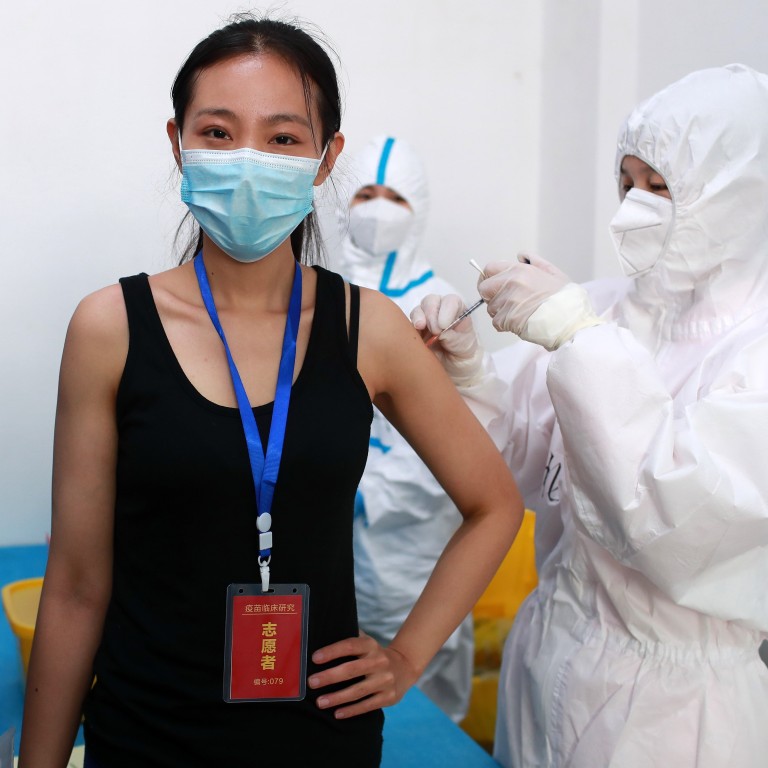 Coronavirus: Chinese regulator says vaccines must have 50 per cent efficacy, give 6 months' immunity
Products that meet the efficacy standard but have not completed their testing may also be used in emergencies, Chinese Centre for Drug Evaluation says
Four Chinese vaccine candidates are undergoing clinical trials in the United Arab Emirates, Brazil, Saudi Arabia and Indonesia
Covid-19
vaccines must have an efficacy rate of 50 per cent and provide at least six months' immunity if they are to be approved for use in China, the country's drug regulator has announced.
According to a draft document released by the Chinese Centre for Drug Evaluation (CCDE), 50 per cent is the minimum efficacy rate allowable, although 70 per cent is the target.
The document said also that the regulator would consider granting emergency use of vaccines that have not yet completed their final phase of clinical trials.
Chinese companies are among the forerunners in the race to produce a vaccine for Covid-19, with four candidates in final testing. A total of 29 products are undergoing clinical trials around the world, seven of which are in the final stage.
On Friday, China issued several documents setting out the standards for clinical trials and research on vaccines, including those based on the unproven mRNA platform.
China's requirement for a minimum 50 per cent efficacy – which means the vaccine would protect half of those injected with it – is in line with the benchmarks set by the
World Health Organisation (WHO)
and US Food and Drug Administration (FDA).
Unlike the Chinese draft, the FDA does not have a requirement for a minimum period of immunity. The WHO said in a document published in April that it hoped Covid 19 vaccines would protect recipients for a year, a target that China is also seeking, but many scientists are concerned that might not be achievable.
It is widely thought that with most of the vaccine candidates in development people would require at least two doses. However, if the period of immunity by each shot is very short, it might be considered impractical to administer, given the logistical and resource implications of a widespread inoculation programme.
As phase three clinical trials can take up to a year to complete, the CCDE said it would consider allowing the use of vaccine candidates that had produced satisfactory efficacy data before the formal testing was complete. The FDA earlier made a similar statement.
The CCDE also said vaccines must be free of the risk of antibody dependence enhancement, a theoretical concern that infections may be worsened after inoculation as antibodies generated by the vaccine bind to the coronavirus without neutralising it and enhance its ability to enter cells.
Wang Huaqing, a leading immunologist at the Chinese Centre for Disease Control and Prevention, said in a recent interview that it should be possible to identify such risks during phase three clinical trials.
The CCDE said its standards were drafted after receiving feedback from more than 50 experts and 37 teams of scientists, and that their requirements took into consideration those of the WHO.
Four Chinese vaccine candidates are undergoing clinical trials in the
United Arab Emirates
, Brazil, Saudi Arabia and Indonesia. Those countries were chosen as China no longer has enough cases to put the products to the test.
The trials are, however, smaller than the usual size of 20,000 to 40,000 patients, so more locations might be sought at a later date.
This article appeared in the South China Morning Post print edition as: Beijing sets vaccine standards