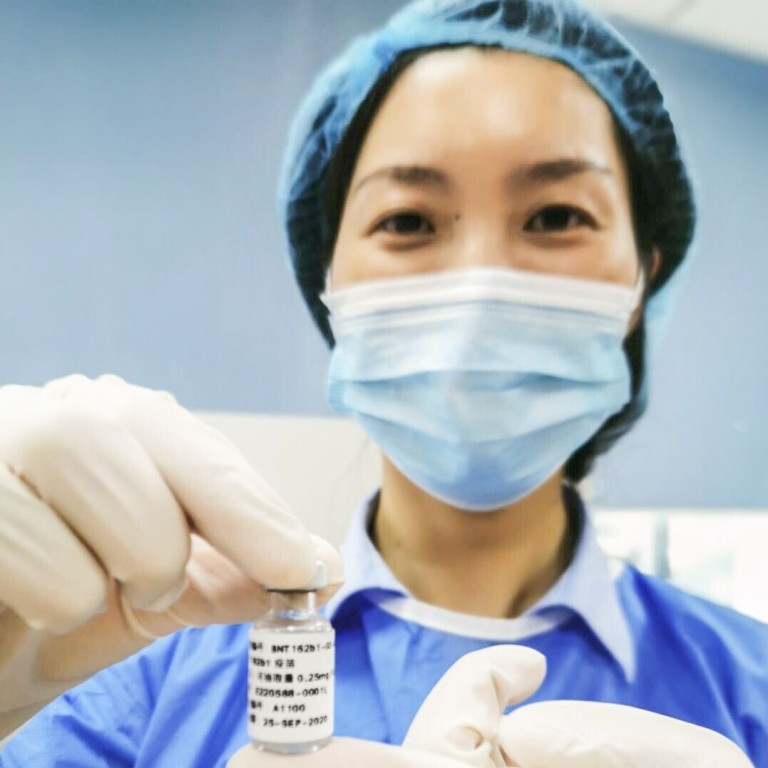 Coronavirus: as countries play blame game over Covid-19, firms work across borders to get a vaccine out
Doctor at Chinese firm working with German company says global collaboration as much as science will lead to Covid-19 vaccine
Fosun Pharma, involved with a candidate in phase 3 trials, is among several Chinese companies partnered with overseas vaccine makers
When the German-made doses of an experimental
Covid-19
vaccine arrived in Beijing, Dr Hui Aimin did not want to take any chances.
He hired three drivers to pick up the vaccine cargo – packed in dry ice at minus 70 degrees Celsius (minus 94 degrees Fahrenheit) – and take turns at the wheel of a special-purpose, temperature-controlled vehicle for the 1,000km drive south to Jiangsu province to begin one of China's first clinical trials of an overseas-made Covid-19 vaccine.
"Eighteen hours after we passed customs clearance in Beijing, we gave the first subject the mRNA vaccine injection," said Hui, senior vice-president, chief medical officer and president of global research and development at the
Shanghai Fosun Pharmaceutical Group Co
.
"This is my first experience with such speed dosing for the first subject in a clinical trial," said Hui, a doctor with three decades of experience in research and development in the US, China and Japan.
The Jiangsu first-stage trials started in July with 144 adults, part of an agreement between Hui's company, commonly known as Fosun Pharma, and the vaccine creator Germany's BioNTech SE. Pfizer Inc. of the United States has partnered with BioNTech on Covid-19 vaccine development for the global market outside China.
The partnerships are an example of the international business collaboration taking place that is expected to allow broader access to safe and effective vaccines, even as relations between many countries have soured amid the pandemic.
Other pharmaceutical companies are in similar tie-ups against a backdrop of concern about supply shortages as the US, Britain and the European Union and others have scrambled to place bulk orders for first doses.
While Fosun Pharma started the Jiangsu trials on one of two BioNTech vaccines, its focus has since shifted to seeking regulatory approval for the second candidate, which is now in phase 3, or final trials, run by Pfizer and enrolling some 44,000 people worldwide.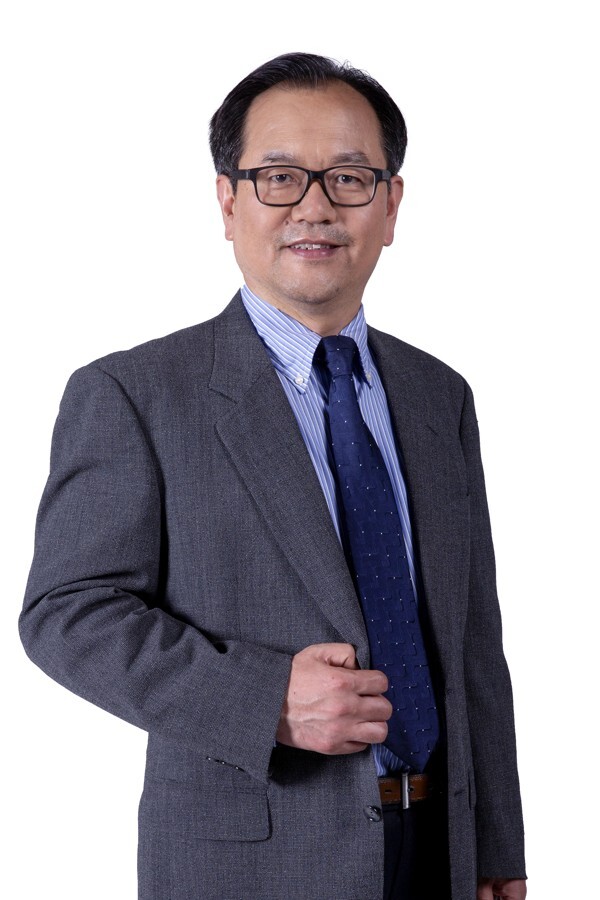 That phase 3 candidate – selected for global trials because it produced fewer side effects than the candidate trialled in Jiangsu – could be among the first vaccines approved for use overseas and in China.
"If the vaccine is successful, it will be approved in China," Hui said, adding that Fosun Pharma was now in the process of seeking approval to run a clinical trial of that candidate in China.
Pfizer's CEO Albert Bourla said last month it would be known by the end of October if that vaccine – which uses novel mRNA (messenger ribonucleic acid) technology to provoke an immune response within the body – worked. This would make it among the first companies to report results on any of the 10 vaccines in final-stage trials around the world.
Hui is hopeful that if the global data shows that the vaccine is safe and effective it could be approved for use in China within a couple of months of US approval.
"Our plan is to run a phase 2 trial and bridge the data from the Chinese subjects with the global data," he said, noting that both data sets would be needed for regulatory approval in China.
"So there will be a little time difference between our approval [in China] and the approval overseas … we are actively working with the agencies to try to shorten the difference."
Fosun Pharma is among several Chinese companies in partnership with overseas Covid-19 vaccine makers.
Beijing Advaccine Biotechnology Co. formed a partnership with US firm Inovio Pharmaceuticals Inc. in January. Advaccine filed to start a phase 1 trial of the Inovio candidate in China last month, according to registry records.
Hui said Fosun Pharma wasted little time settling on vaccine development as part of their strategy to combat Covid-19. He recalls an hours-long company conference call on January 29, when new daily infections in China – the original epicentre of the outbreak – had begun to exceed 1,000.
"We really want to make the contribution to fighting the pandemic, and contribute to solving the global health crisis, and protect humanity, especially our Chinese people," he said.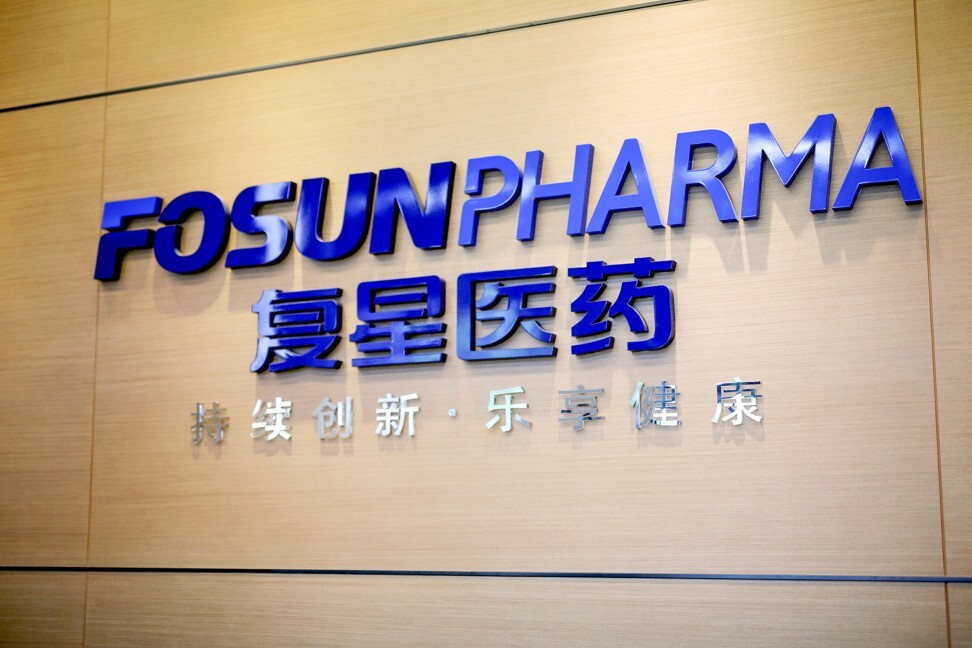 BioNTech was contacted that same day about a potential partnership. Hui said he had his eye on the firm for their cutting-edge mRNA technology.
In March, the companies announced a formal agreement to collaborate on the development and commercialisation of BioNTech's Covid-19 vaccine – known as BNT162 – in mainland China, Hong Kong, Macau and Taiwan.
Hui said discussions were still taking place over how many doses from BioNTech facilities would be allocated to the Chinese market if the vaccine won approval. A deal
to provide 10 million doses to Hong Kong and Macau
from BioNTech's European manufacturing facilities has already been signed.
The two companies were exploring how to ensure sufficient and timely supply to China, "including the possibility of jointly established manufacturing in China", Hui said.
He hoped that among the 10 candidates currently in phase 3 trials, at least one would be available to the public by the end of this year. Such speed was possible because of science but also because of global collaboration, he said.
Hui points to Fosun Pharma's example: developing a vaccine made by a foreign company, using data from global trials and contributing their own data to potentially get the vaccine approved.
"Fighting the pandemic, fighting against the virus – it requires global collaboration," he said, adding that it was possible this winter could bring a hard-hitting second wave as the virus continued to spread globally.
"The vaccine development is really racing against time."
This article appeared in the South China Morning Post print edition as: Vaccine firms act together as nations play blame game