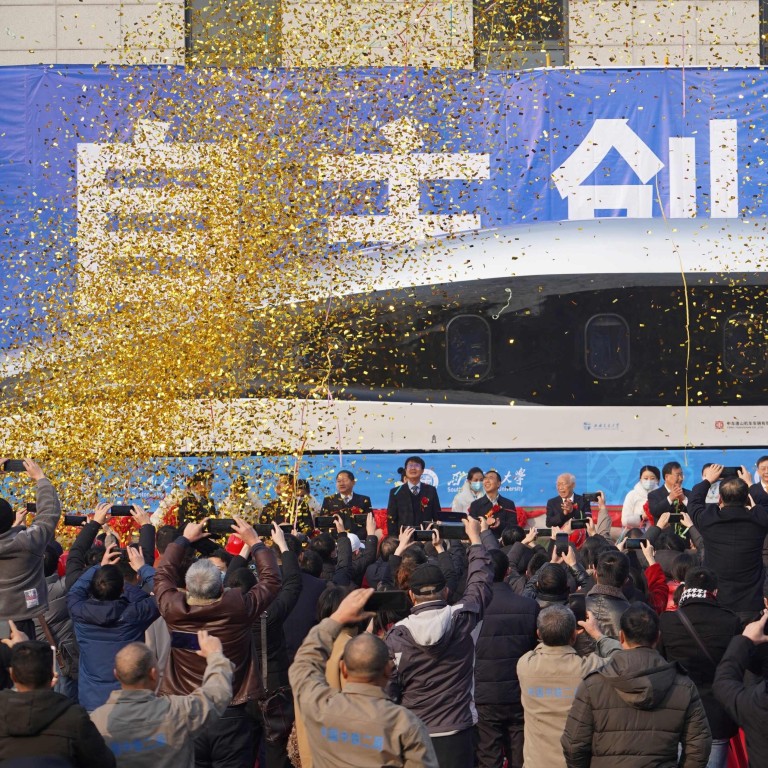 Is this Chinese prototype the shape of maglev train tech to come?
Researchers at a university in southwestern China say their approach could mean superfast but cheap travel
They say they have found a way to keep costs down and a commercially viable product could be at most six years away
China rolled out a prototype of a state-of-the-art maglev vehicle that its developers said could herald cheaper and faster next-generation
magnetic levitation train transport
, even approaching the speed of some planes.
Researchers at Southwest Jiaotong University unveiled the new maglev train and 165-metre (540 feet) test track in Chengdu on Wednesday.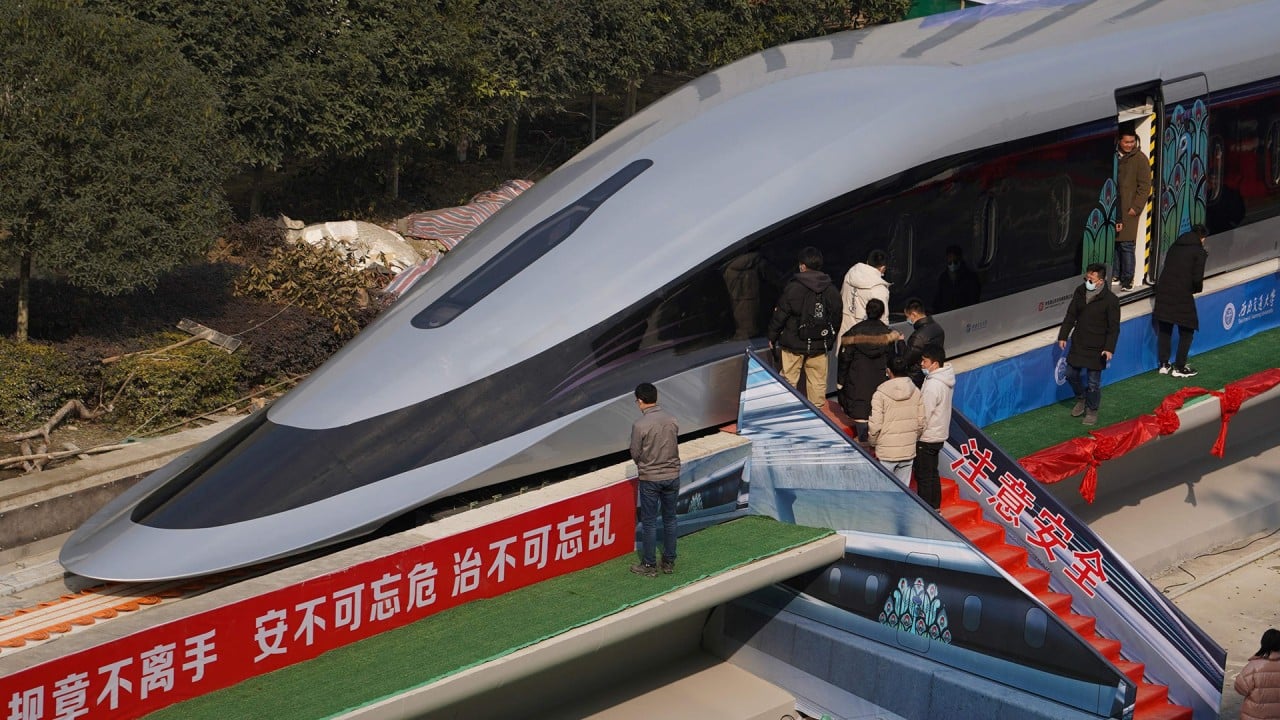 01:38
China unveils state-of-the-art maglev train prototype designed to travel at 620km/h
China unveils state-of-the-art maglev train prototype designed to travel at 620km/h
The train is designed to travel at up to 620km/h (385mph) but researchers said they were working to stretch that speed to 800km/h (497mph).
The new maglev is part of Beijing's ambitious plan to create faster links between cities.
China has the world's fastest commercial maglev service, Shanghai Transrapid, which started operations in 2002 and has a maximum speed of 430km/h.
A faster maglev line featuring superconducting technology that operates at 500km/h is expected to open in Japan in 2027, running between Tokyo and Nagoya.
But researchers at Southwest Jiaotong University said their superconducting maglev technology was more economical than that of their Japanese counterparts.
Superconductivity occurs where electrical resistance approaches zero when cooled to a very low temperature. The superconducting state would be key to support faster and more efficient maglev vehicles.
Deng Zigang, a researcher with the State Key Laboratory of Traction Power at Southwest Jiaotong University, which is developing the new maglev prototype, told local official news outlet Sichuan Online that the Japanese Chuo Shinkansen maglev line used liquid helium to achieve that extreme low temperature of minus 269 degrees Celsius (minus 452 Fahrenheit) for superconductivity.
"Liquid helium is very expensive. Here we achieve superconductivity at a slightly higher temperature by using liquid nitrogen – and that slash the cost to one-fiftieth," Deng said, explaining China's "high-temperature superconducting maglev" technology.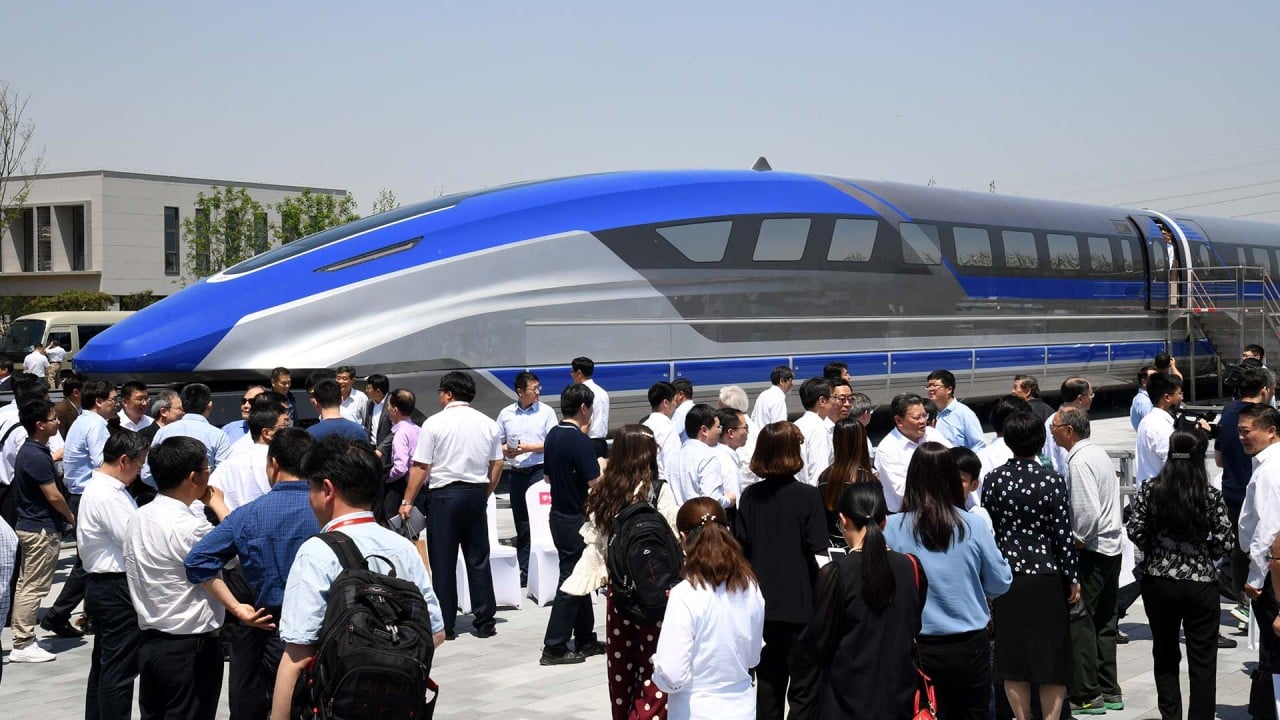 01:01
China unveils ground-breaking high-speed maglev train prototype
China unveils ground-breaking high-speed maglev train prototype
The Chinese team also said that while the new Japanese maglev would need to accelerate first before being able to levitate, the Chengdu prototype could levitate from a standing start.
Researchers told local media that there were still issues to iron out before the new technology became commercially viable, a process that they estimated could take as long as another six years.
Wu Zili, a senior engineer on the research team, said the estimated cost of building a new maglev line would be between 250 million yuan (US$38.65 million) and 300 million yuan per kilometre, compared to 200 million yuan per kilometre high-speed rail. That cost could come down if maglev lines went into mass use.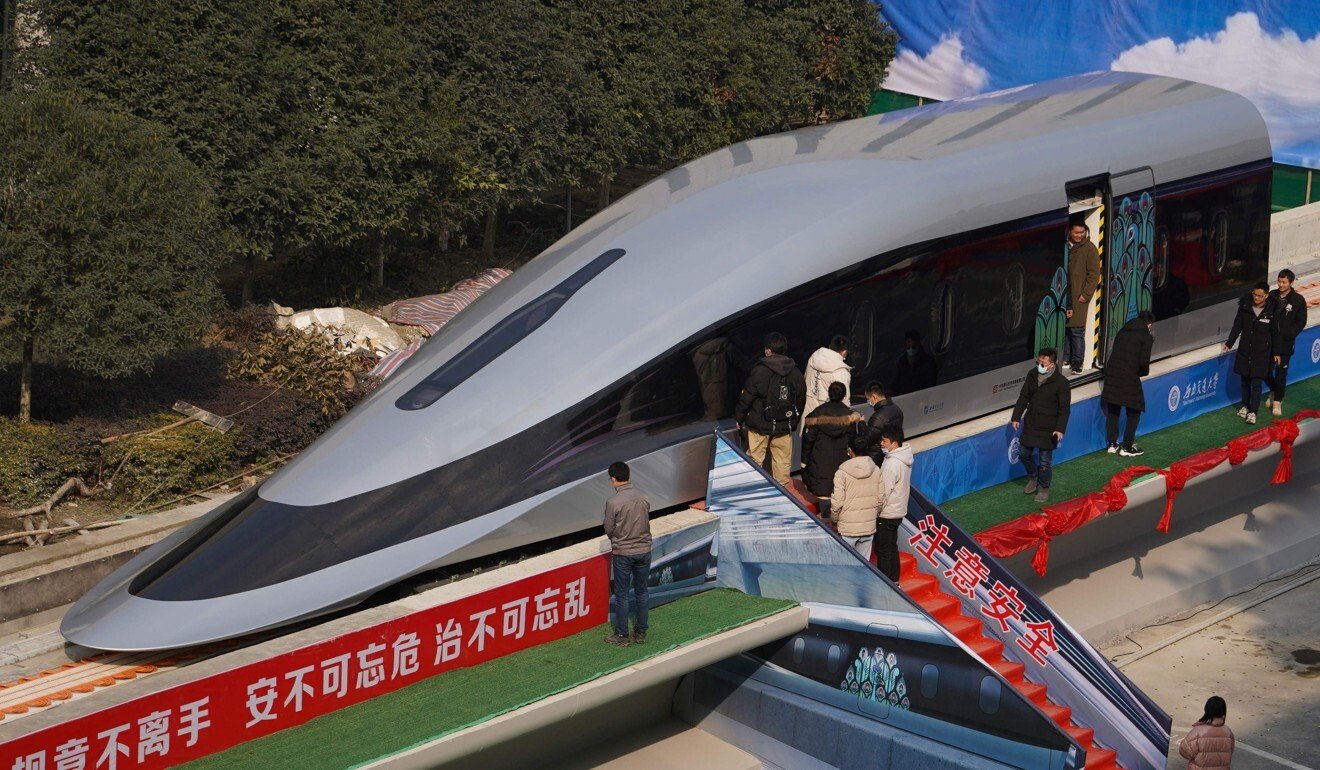 Wu said the maglev's lighter train car would also help cut the cost of building bridges and tunnels for new maglev lines. The prototype launched on Wednesday uses carbon fibre and is about half the weight of its high-speed train counterparts.
Another issue researchers are working on is noise, which engineers hope to reduce it with better aerodynamics. Researchers are planning to lay a much longer experiment track to put the maglev to the real-life test.
This article appeared in the South China Morning Post print edition as: Maglev prototype may herald cheaper, faster transport