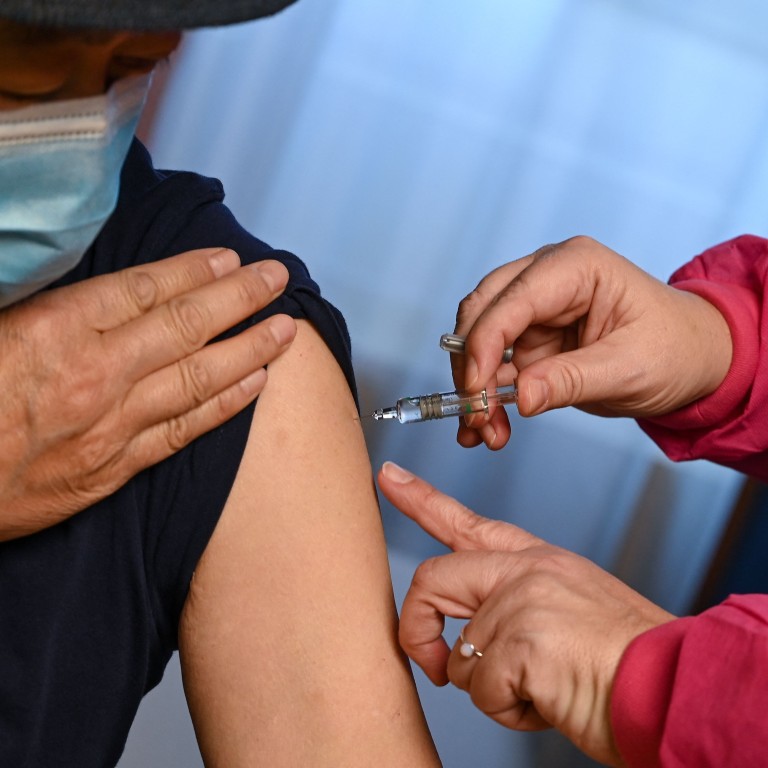 China approves two more Covid-19 vaccines for general use
Convidecia, a single-shot product developed by CanSino Biologics, has been shown to prevent disease symptoms after infection, drugs regulator says
National Medical Products Administration also gives green light to second vaccine developed by Sinopharm
China has approved its first single-shot
Covid-19 vaccine
for general use and also given the green light to a second product developed by Sinopharm.
The single-shot adenovirus-vectored vaccine, known as Convidecia, was developed by CanSino Biologics and the Academy of Military Medical Sciences, and has been shown to prevent symptomatic Covid-19 after coronavirus infection, according to the National Medical Products Administration.
The regulator also approved an inactivated vaccine produced by the Wuhan subsidiary of Sinopharm, adding to the one developed by the company's Beijing unit.
All three products, plus a fourth made by Sinovac Biotech, which has already been given to tens of millions of people in China, were approved for emergency use in July.
CanSino said earlier this month that interim analysis of the data from its multi-country phase 3 trials showed a single shot of its product was more than 68 per cent effective in preventing symptomatic disease and 95 per cent effective at preventing severe disease 14 days after vaccination.
The efficacy rate fell slightly to about 65 per cent at preventing all symptomatic cases and 90 per cent at preventing severe disease 28 days after a single dose, it said.
"A one dose regimen means rapid, large-scale vaccination is possible," Qiming Venture Partners, CanSino's main investor, said in a statement.
"It can rapidly realise immunisation protection and shorten the inoculation cycle, which is of great significance to the overall epidemic prevention strategy of the society."
The vaccine was stable at between 2 to 8 degrees Celsius (36-46 degrees Fahrenheit), making storage and transport easier, and suitable for anyone aged 18 and above, it said.
Although CanSino's vaccine was approved for emergency use by the military, and later given the green light for emergency use in Pakistan and
Mexico
, the company is still months away from being able to mass produce it.
Its plant in Tianjin, which is designed to produce 200 million doses a year, has yet to be completed, but should be up and running soon, the Qiming statement said.
The Wuhan subsidiary of Sinopharm said on Wednesday that its vaccine had an efficacy rate of 72.5 per cent against Covid-19 based on an interim analysis of its phase 3 clinical trial data. It did not elaborate.
Its production facility has an annual capacity of 100 million doses.
All four Chinese vaccines, which between them have been sold or donated to dozens of countries, are still undergoing the
World Health Organization
's approval process.