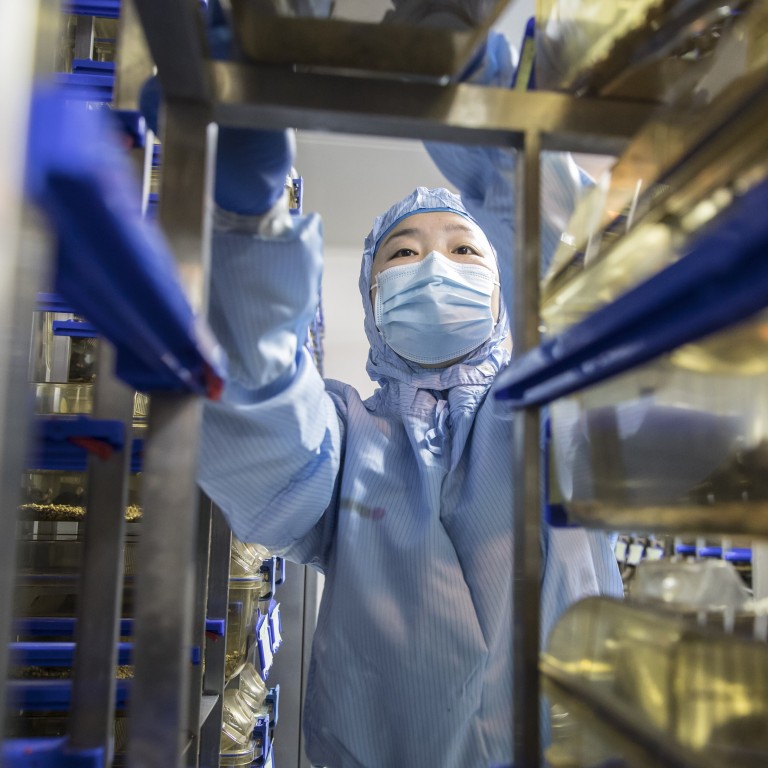 China science: 7 sectors to get extra R&D funding, support as Beijing pushes for global leader status
'Basic research is wellspring of scientific and technological innovation, so we'll boost spending in this area by a considerable sum,' Premier Li Keqiang says
Pledge came as Li delivered government's annual work report at opening session of the National People's Congress in Beijing
"Basic research is the wellspring of scientific and technological innovation, so we will ensure the stable functioning of funding mechanisms for basic research and boost spending in this area by a considerable sum," he said.
Central government spending on basic research would increase 10.6 per cent this year and investment in research and development would grow at an annual rate of at least 7 per cent over the next five years, the report said.
"We will enhance the capacity of enterprises to achieve technological innovation, unlock the creativity of talent, and improve the systems and mechanisms for making scientific and technological innovation," Li said.
Figures from the Organisation for Economic Cooperation and Development show that China has been closing the gap with Western nations on science and tech spending. In 2000, China's funding for R&D was just 0.9 per cent of its GDP. But by 2018 the figure had grown to 2.1 per cent of GDP – or 1.96 trillion yuan (US$302.5 billion) – putting the country 18th on a global list topped by Israel with 4.3 per cent.
Despite the increase, only about 5 per cent of China's overall spending on R&D was on basic research, compared to 15 per cent in the United States in 2018.
In 2019, China's total R&D spend – by governments and companies – was 2.23 trillion yuan, or 2.2 per cent of GDP, according to the Ministry of Science and Technology. The figure rose to 2.4 per cent last year but still fell short of the 2.5 per cent target set in the previous five-year plan.
In the blueprint for 2021-25, the government said it would set up national science centres in Beijing, Shanghai, Anhui and the Guangdong-Hong Kong-Macau Greater Bay Area. These would offer improved residency policies and explore skilled migration programmes to attract foreign talent and provide an "internationally competitive" environment for overseas scientists to work in China, it said.
Zeng Liaoyuan, an associate professor at the University of Electronic Science and Technology of China, said it made sense for Beijing to highlight key areas because "limited significant breakthrough" had been made in sectors that might be affected by bans on technology sales by the US.
"The future will be decided by whether China can create a stable and prosperous environment and whether it can successfully attract high-end talent," he said.
Professor Song Hefa, researcher at the Chinese Academy of Sciences' Institutes of Science and Development in Beijing, said the 10 per cent rise in government spending on fundamental science this year would make it possible for scientists to study challenging topics without the pressure of having to deliver immediate results.
"It will also strengthen researchers' confidence that their efforts will receive ongoing support from the government," he said.
While questions have been raised in China about the value of heavy public sector investment in sectors like quantum communication where it could take decades to see any commercial applications, the five-year plan "sends a clear signal" about the government's intent, Song said.
"China is a big country. We may not have everything, but we must play a leading role in some critical areas that can cause disruptive changes in the future," he said.