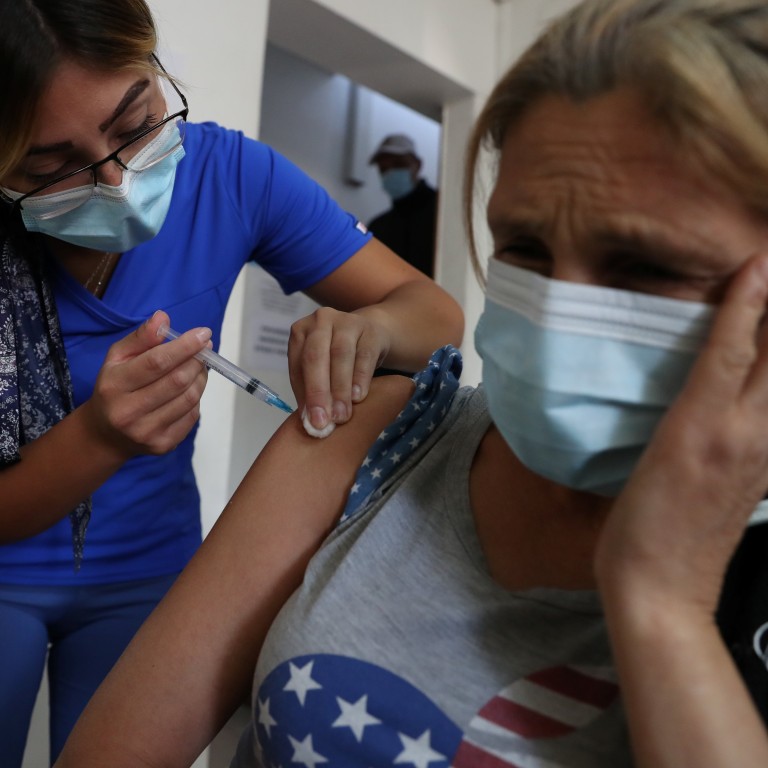 Chile Covid-19 vaccination drive adds to Sinovac efficacy data
As the country grapples with rising infections, results from its vaccinated population echo Brazil's trial of the Chinese jab
The 56.5 per cent rate of effectiveness is lower than some rivals, but still higher than World Health Organization guidelines
Chile
has provided a real-time demonstration of the effectiveness of Chinese firm Sinovac's
Covid-19
vaccine, with its vaccination drive results showing it to be 56.5 per cent effective two weeks after the second dose. The findings were in line with
Phase 3 trial results of the vaccine in Brazil
, which found an efficacy rate of around 50 per cent.
But the study by the University of Chile also found that one dose of the Sinovac jab was only 3 per cent effective against infection, underscoring the need to get fully vaccinated. Efficacy rises to 27.7 per cent within two weeks after the second jab, reaching 56.5 per cent a fortnight later, according to the university.
Chile has vaccinated 7.2 million people to date, with 4.3 million having received their second dose. More than 93 per cent of those who have had both jabs received the Sinovac vaccine. The South American country has also approved the Pfizer-BioNTech and Oxford-AstraZeneca vaccines and, on Wednesday, Chinese company CanSino's single-dose vaccine was added to the emergency list.
On Thursday, Chile reported 8,195 new Covid-19 cases – its highest daily count since the outbreak, and the third time more than 8,000 new cases were recorded in a single day. In the same 24-hour period, 183 deaths were recorded, bringing the country's fatalities from the disease to 23,979.
Deputy health minister Paul Daza described the situation in Chile as "very complex", with more than 80 per cent of the population in quarantine and its borders closed. There has also been a radical change in the age groups being most affected by the disease, with patients aged under 39 years now outnumbering the over-70s.
The researchers estimated the Sinovac vaccine's efficacy in real-life settings at around 54 per cent, after taking into account the 6 per cent of fully-vaccinated Chileans who received the Pfizer-BioNTech jab. According to the World Health Organization, the minimal efficacy threshold is 50 per cent.
"Getting vaccinated very significantly decreases the possibility of infection. It does not eliminate it, but it decreases it a lot, therefore you have to get vaccinated," University of Chile rector Ennio Vivaldi said.
The study also made clear that a first dose "does not have any relevant effect after four weeks," meaning that people who only got one jab were just as vulnerable to infection as the non-vaccinated group.
Professor Jin Dong-yan, a molecular virologist at the University of Hong Kong, said the Chilean findings were within expectations and highlighted the importance of getting fully vaccinated, in line with the vaccine makers' recommendations. But, Jin said, Sinovac's low efficacy rate did put it in a less favourable position when compared to other vaccines.
He pointed to Hong Kong as an example, where the BioNTech and Sinovac vaccines are available. "Even if one is fully vaccinated with Sinovac, the protection is much weaker than one dose of BioNTech. It might be better if our government can purchase more BioNTech and Novavax vaccines," Jin said.
"The right thing to do with Sinovac is to donate them to resource-limited countries before they expire and are wasted. I don't think Hongkongers can use up what is already bought or arrived."