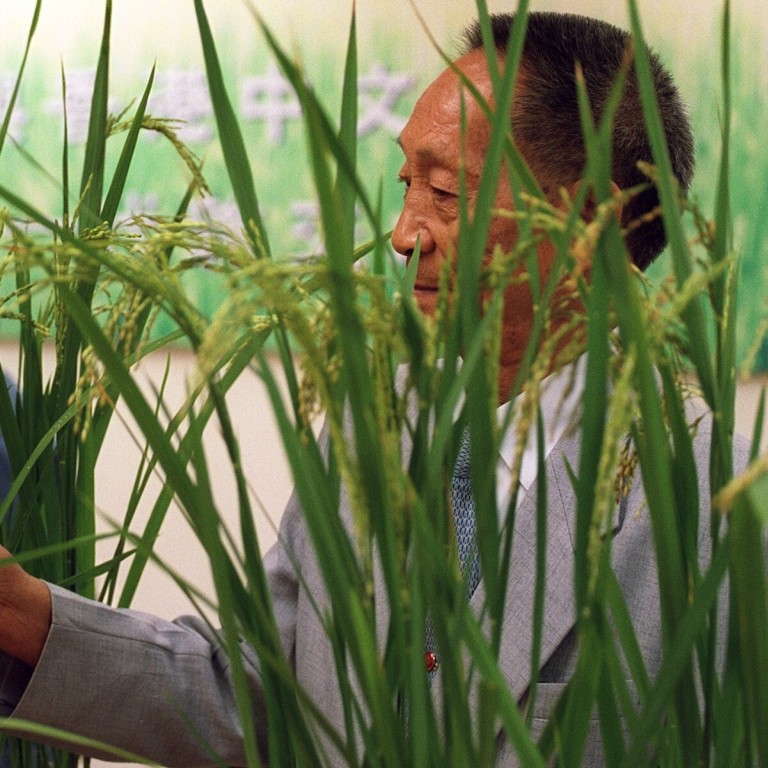 China's 'father of hybrid rice' Yuan Longping dies at 90
Agronomist was best known for developing the first hybrid rice varieties in the 1970s and helping ensure food security in the country
In 2014, he said was working with researchers on rice that had been genetically modified to help China meet its agricultural goals
Yuan Longping
, China's "father of hybrid rice" and hailed for his contributions to the country's food security, died on Saturday. He was 90 years old.
The Chinese agronomist was known for developing the first hybrid rice varieties in the 1970s and regarded as a national hero for boosting grain harvests and helping to feed the world's most populous country.
The official Hunan Daily newspaper reported that Yuan died of multiple organ failure in hospital in Changsha, the capital of central China's Hunan province, just after 1pm.
News of Yuan's death prompted a flood of tributes online and was a top-ranking topic on Chinese microblogging site Weibo.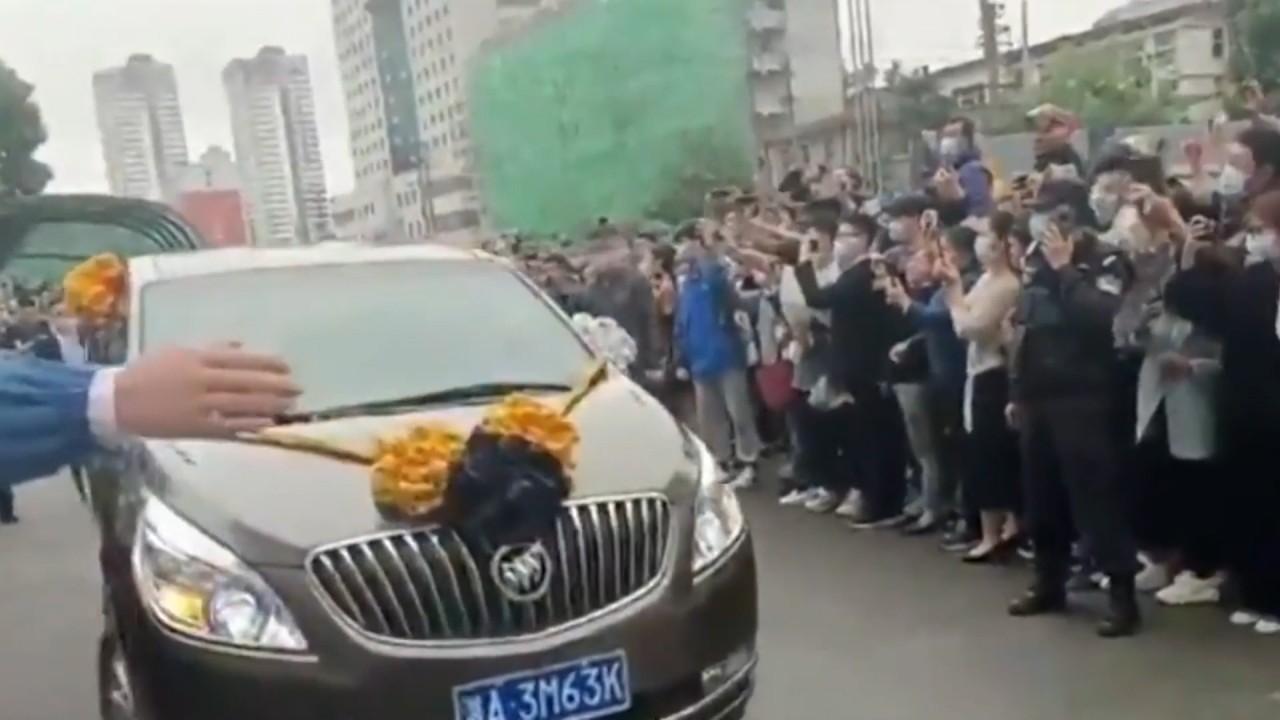 01:23
Large crowds in China bid farewell to Yuan Longping, father of hybrid rice, dead at 90
Large crowds in China bid farewell to Yuan Longping, father of hybrid rice, dead at 90
In Changsha, motorists pulled off to the side of the road and sounded their car horns as the vehicle carrying Yuan's body from the hospital passed by. Pedestrians also stood by the roadside. In the evening, residents queued up to lay flowers outside the funeral home, where a service for Yuan will be held.
Online tributes credited Yuan with helping lift the nation from hunger, with his research greatly increasing grain output and putting China on the path to food security.
There had earlier been some confusion about the state of his health. State broadcaster China Global Television Network (CGTN) reported that Yuan died on Saturday morning, prompting other news outlets to follow suit.
However, Yuan's secretary and the Communist Party's publicity department in Hunan denied the reports. Their posts on Weibo attracted hundreds of millions of views and prompted CGTN to issue a rare apology.
"After verification, Dr Yuan Longping is being treated in hospital. We express our deep apologies for our careless report," it said on Weibo.
But about an hour later, Hunan Daily reported that Yuan had died.
In a report on Rednet – a news portal affiliated to the Hunan government – Yuan's doctor was quoted as saying the nonagenarian had been in hospital in Changsha since April 7 after falling in a rice field while working in one of his projects on the island province of Hainan on March 10.
He often said in interviews that he was driven to increase rice output in China because of the hunger he had witnessed.
"My lifetime pursuit is to ensure all people stay away from hunger," he was quoted by mainland media as saying.
In the decades that followed, Yuan was associated with some of the most important breakthroughs in his field.
01:34
Yuan Longping's funeral draws large crowds as China mourns 'father of hybrid rice'
Yuan Longping's funeral draws large crowds as China mourns 'father of hybrid rice'
As early as 1964, Yuan theorised that a male-sterile grain could be crossed with other plants to boost yields, but it was not until 1973 that he cultivated the first hybrid rice thanks to the discovery of a wild rice species that made the breakthrough possible. Mass cultivation of the crop began in 1976 and proved key to China being able to feed one-fifth of the world's population with just 9 per cent of its arable land.
In 1995, he produced a two-line hybrid rice and was tasked by the government to improve yields still further. He later developed a single line hybrid rice.
In 1996, the agriculture ministry tasked Yuan to start a programme to breed "super rice", plants of much higher yields.
Hybrid rice varieties have yields that tend to be about 20 per cent higher than those of conventional rice, and have been planted in 16 million hectares, or more than half of China's rice acreage, according to state media.
China's state media said the country could feed 70 million more people thanks to Yuan's research.
Yuan was awarded the World Food Prize in 2004, for "pioneering research that helped transform China from food deficiency to food security within three decades".
China first exported hybrid rice to the United States in 1979 and has forged agreements on the technology – sometimes dubbed "rice diplomacy" – with several developing countries, including the Philippines,
Pakistan
and Madagascar.
According to the China National Hybrid Rice Research and Development Centre where Yuan worked, about 8 million hectares overseas has been planted with the varieties.
In 2019, Yuan was awarded the Medal of the Republic, the country's highest honour, for his contribution to China's food security and scientific development of agriculture, as well as increasing the world's food output.
In 2014, he said he was working with researchers on rice that had been
genetically modified
– a controversial technology but one that aimed to help China meet its agricultural goals at the time.
In his later years, he was also involved in research in China and Dubai into growing crops in diluted seawater.
Earlier this year, he became an internet sensation, after an account titled "
Chinese Pioneer Yuan Longping
" was set up on the short video app Douyin. It quickly attracted more than 15 million followers.
His image was also the basis of a popular meme against complacency, with the phrase: "The biggest mistake I have made in my life is to feed you too well."
In an interview last year, Yuan responded to the meme by saying: "You young people have no idea, it really feels awful when you don't have anything to eat."
This article appeared in the South China Morning Post print edition as: tributes to rice pioneer who led china to food security