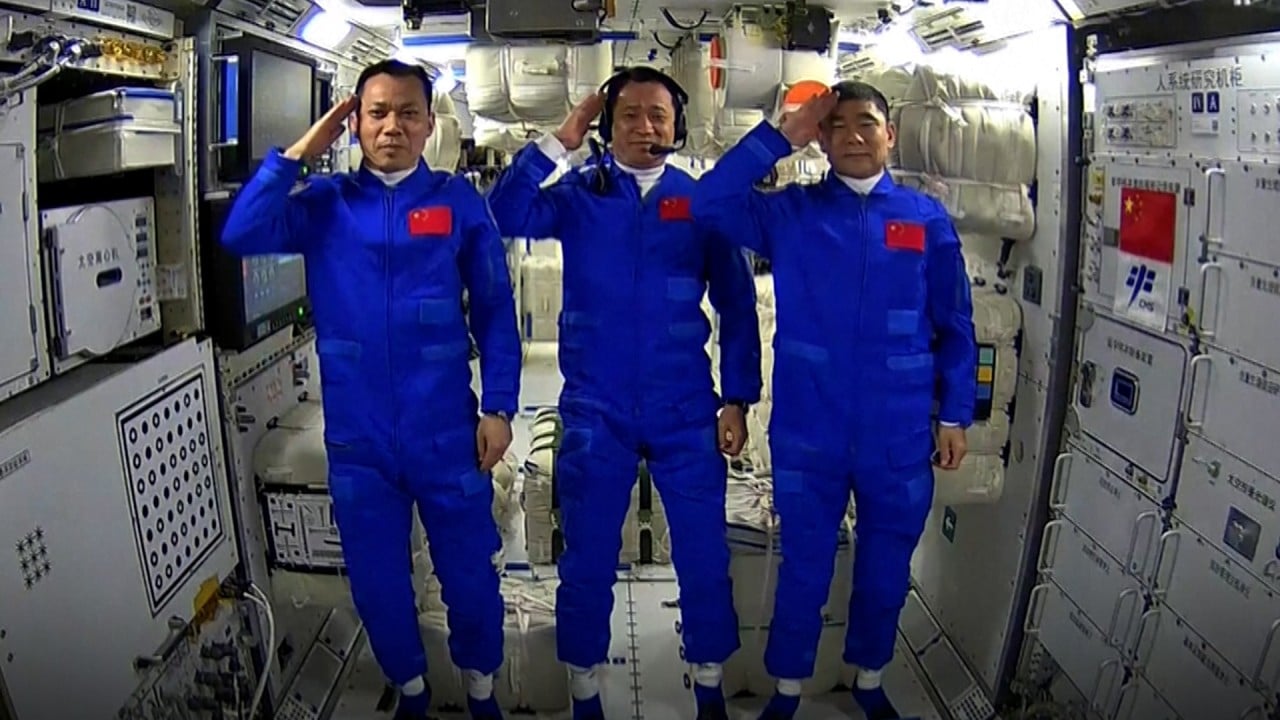 01:57
Chinese astronauts explore space station that will be their home for three months
Chinese astronauts explore space station that will be their home for three months
First astronauts enter China's Tiangong space station after successful docking operation
The three took up residence in the core module hours after the Shenzhou 12 launch craft lifted off from the Gobi Desert
'It feels great' was the message from veteran commander Nie Haisheng as the crew reached earth's near-orbit
The first Chinese astronauts entered the country's Tiangong space station on Thursday afternoon, hours after lifting off.
The three entered the core module that will be their home for the next three months after the Shenzhou 12 launch craft successfully completed the docking manoeuvre at around 4pm.
The astronauts did perform some procedures manually, but most of the flight – including the final approach – was handled by computers.
The use of autopilot has cut the docking process from two days to just a few hours, signalling a significant improvement in China's space technology. The fast-docking technology will also help evacuate astronauts from space in the event of emergency.
Construction work on the space station's core module has only just started, but it will grow rapidly in the coming months as more modules, cargo and crew arrive. The work should be finished next year.
Tiangong, which means Heavenly Palace, will become the largest infrastructure built and maintained by a single country in near-earth orbit and has been touted as a beacon of China's space programme.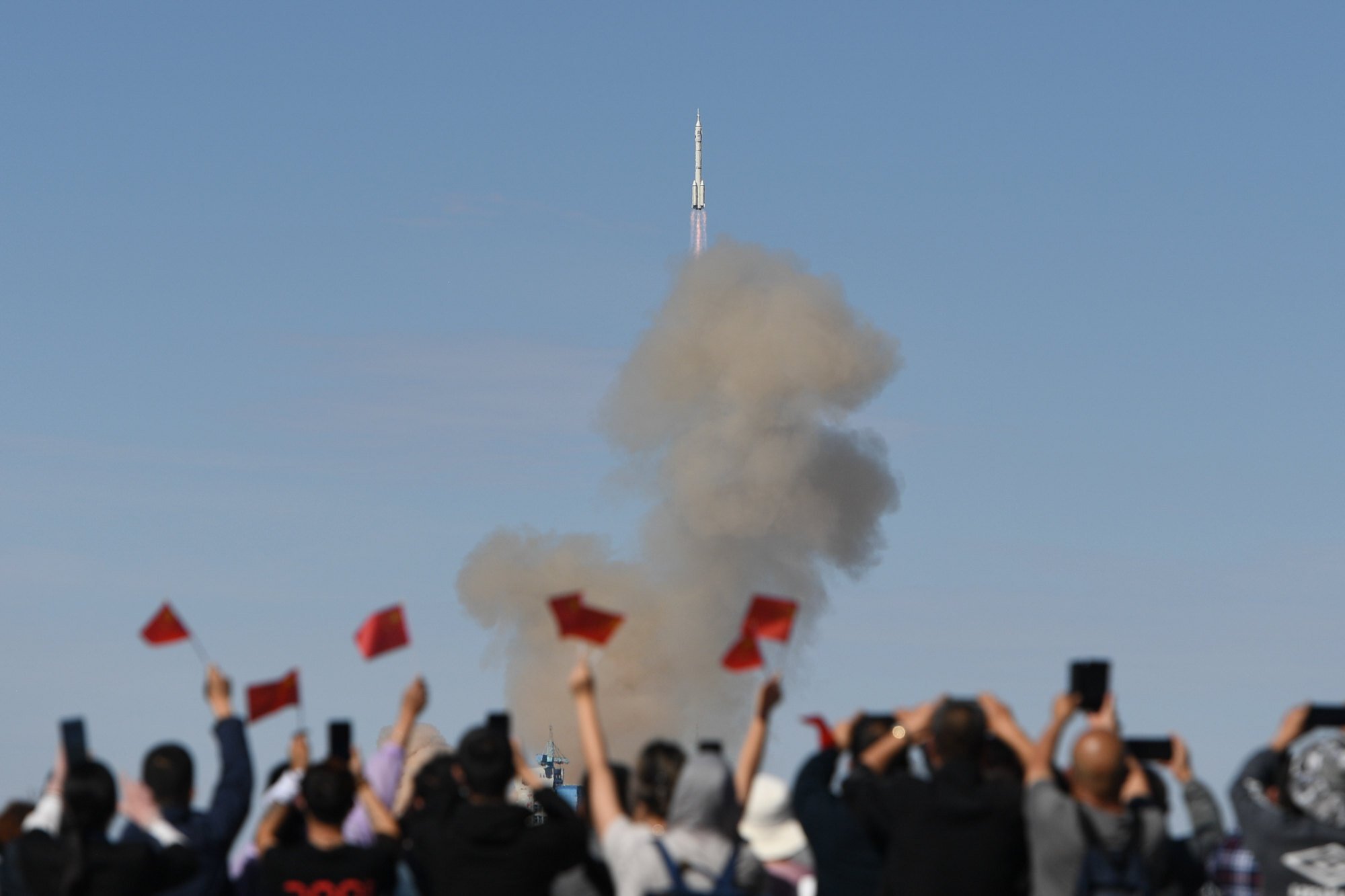 "It feels great," said crew commander Nie, after reaching near-earth orbit.
The mission is the 56-year-old's third space mission. Another veteran, Liu Boming, 54, and 45-year-old Tang Hongbo – on his first space voyage – make up the rest of the crew.
"The flight was perfectly smooth," Chen Shanguang, deputy director of China's manned space programme, said soon after Shenzhou 12 reached its designated orbit on Thursday morning.
"This is the first step. There are many challenges ahead," he added.
Two vice-premiers with responsibility for science and technology, Han Zheng and Liu He, attended the launch event at the Beijing Aerospace Flight Control Centre. They shook hands and congratulated staff after the launch.
Niu and Liu are older than previous Chinese astronauts, including the country's first,
Yang Liwei
, who went into orbit at the age of 38 nearly two decades ago.
The mission is the latest stage in China's ambitious plans to be the only country to own and run its own space station, expected to be completed less than two years from now.
The Tianhe module will serve as the main living and work headquarters for astronauts. Compared to a studio-sized space laboratory that launched five years ago and hosted astronauts for a few weeks, it has three separate bedrooms along with a shower and a gym.
Speaking at a press conference on Wednesday, Nie made no secret that the mission is closely tied with China's ambition to become a world-leading space power.
"This mission will be the first manned flight as part of the China space station's construction. I'm very fortunate to kick off the first leg of the space station's construction and I have many hopes," he told reporters at the Jiuquan launch centre.
"China's space exploration development has crystallised the Chinese people's thousand-year dream of flying to the sky, and added a heroic chapter to the 100-year history of struggle of the [Chinese Communist] party," Nie said, who has been a party member for more than three decades.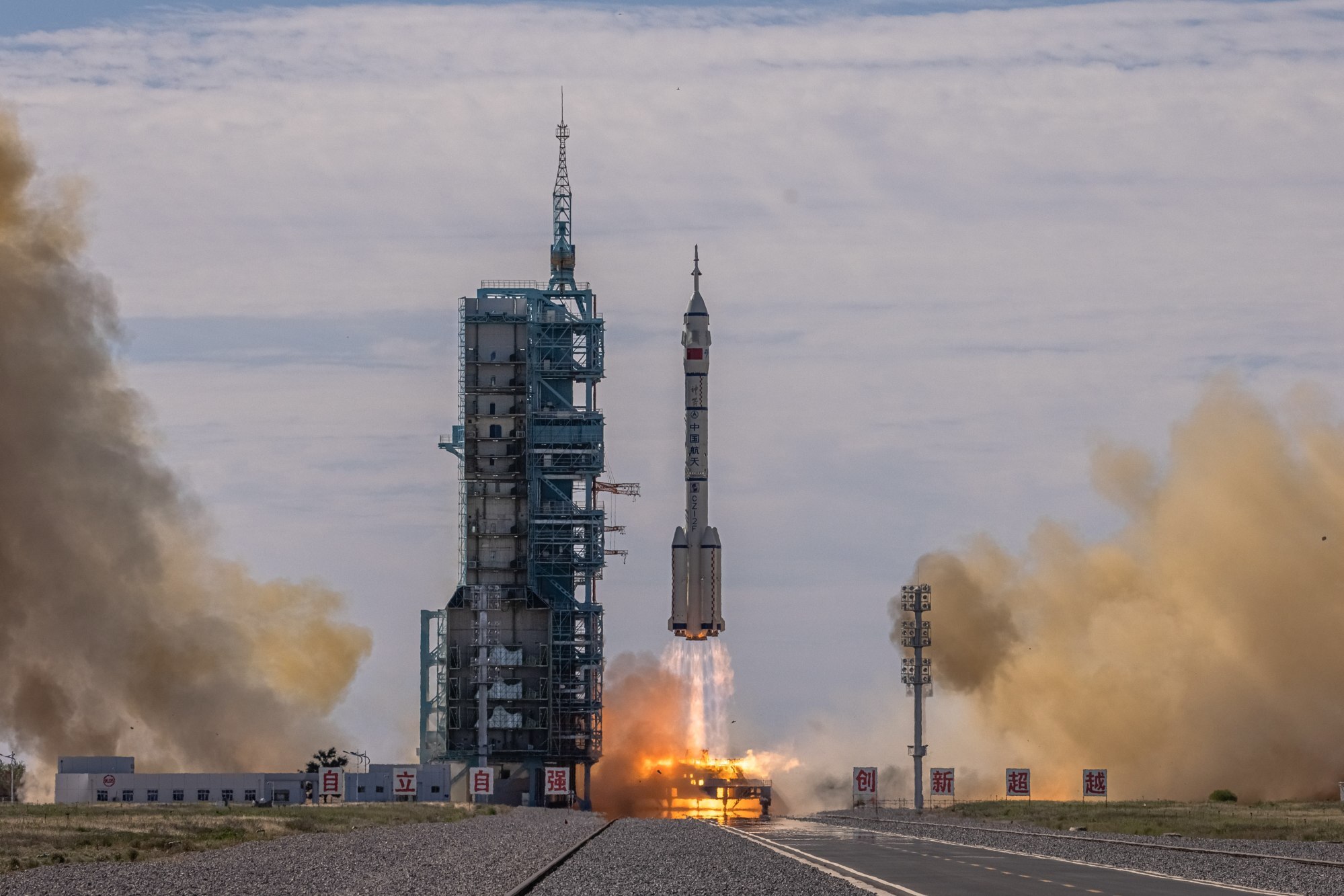 Nie was a backup for China's first manned space flight in 2003 and flew two missions in 2005 and 2013. He has a PhD in astronautics. Born in September, 1964, he is one of the oldest humans to travel in space.
Liu previously took part in the Shenzhou-7 mission in 2008. He was born in to a farming family in Yian county, Heilongjiang province in northeast China in September, 1966.
According to state media reports, he had to make a 40km (25-mile) round trip each day on his bicycle between his remote village and school. After becoming a pilot in the Chinese Air Force, he continued to run 10km each day for exercise.
The youngest astronaut on the mission, Tang is making his first space flight. Information about him is scarce, but he was born in October 1975 in Xiangtan, in the southern province of Hunan. He like his colleagues he was also an air force pilot before being recruited by the manned space programme in 2010. 
The three astronauts follow 11 other Chinese citizens to have gone into space, including Yang, who did so in 2003.
Yang, now deputy director general of China's manned space programme, has said that the age of the crew did not matter.
"We have given them some help to help them better adapt to this flight. I think [their age] is not a problem for the mission," he said in an interview with state television.
Yang said the work awaiting the astronauts would be extremely challenging and complex but they had trained hard to complete the tasks. 
"The content of physical training has increased a lot, six or seven hours in a session for activity that will take place outside the spacecraft," Yang said, adding that after some drills the crew barely had the strength to hold their chopsticks.
The core Tianhe module is 16.6 metres long and 4.2 metres across at its widest point. Inside, the astronauts will have to test equipment and technology new to not only China's space programme but also the world. Some technology, including ion thrusters – a kind of electric propulsion – has never been used before in a manned space flight.
The station's construction work also means the three men will have to spend a lot of time on spacewalks, testing their physical strength to the limit.
The module has numerous tools to help ease the astronauts' workload, including a giant robotic arm that can move to virtually any location on the space station's surface. It can pass a tool or part to an astronaut, or carry him or her from one place to another.
The Chinese spacesuits also have some new features so the crew feel more comfortable and their movements are easier.
China initially hoped to send its astronauts to the ISS, which was launched in 1998, but the US rejected the request.
China's space station programme has in part been driven by that rejection, according to Chinese space officials.
It is hoped the push into space will add wealth to the nation. And it is thought that when the ISS is retired in the next few years, Tiangong will be the largest artificial structure in space.
China's astronauts have trained with their counterparts in Europe to work together on the Chinese space station. China has also signed a contract with Russia to jointly engage in manned space activities and build a base on the moon.
China has said it will help developing countries train their own astronauts and will welcome them to its space station.