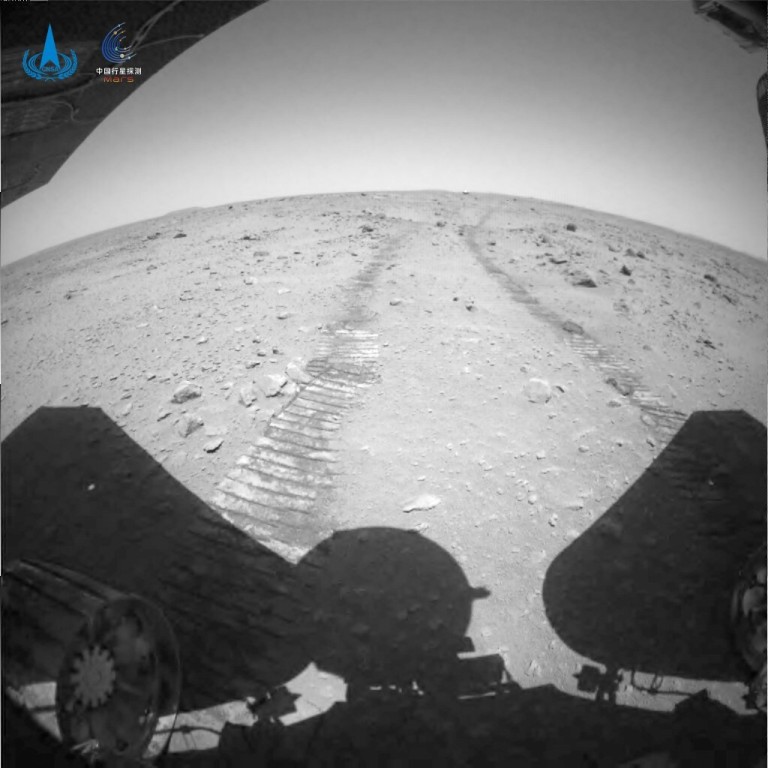 China's Mars rover Zhu Rong shown landing and exploring in first video
Footage showing the rover's descent, separation and movements on Mars released by China National Space Agency
Sound clips from the rover, which can be used to analyse the red planet's environment, are also released
China has released its first video clips of the landing and movements on Mars of its
rover Zhu Rong
.
The footage was released by China National Space Agency (CNSA) on Sunday along with audio of Zhu Rong leaving its lander and manoeuvring around the planet.
Footage of the rover's descent showed the deployment of its parachute, and its separation. There were also images of the Mars landscape and the imprint left by the rover on the planet's surface.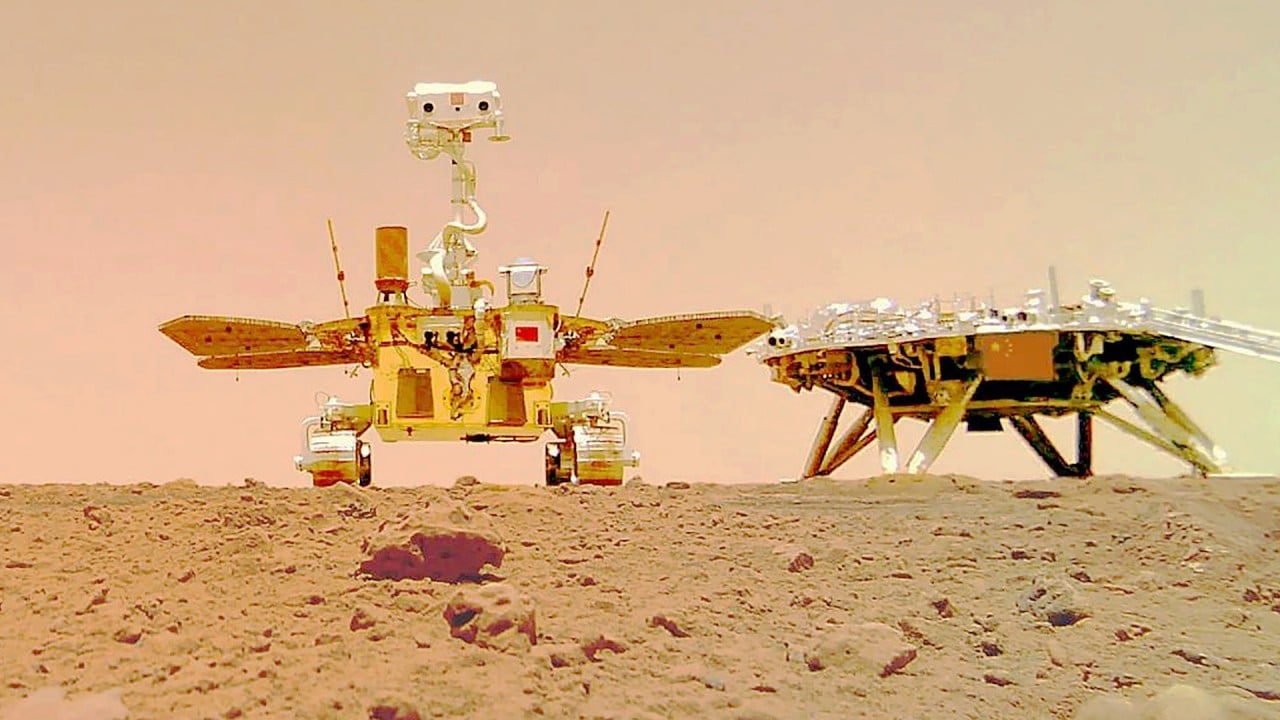 01:06
First video from China's Mars rover Zhu Rong shows descent and exploration
First video from China's Mars rover Zhu Rong shows descent and exploration
The
rover landed in Utopia Planitia
, a large plain, on May 14, making China the third country to successfully land on Mars after the United States and the Soviet Union.
The CNSA said Zhu Rong had been working on the surface of Mars for 42 Martian days as of Monday, having travelled a total of 236 metres (774 feet). A Martian day is 24 hours and 39 minutes.
The six scientific instruments on the rover were all turned on and working normally, Liu Jizhong, deputy commander of the Mars exploration programme, told Chinese media.
"I hope that scientists from other countries can join our team and do research together to achieve more," he was quoted as saying.
"Footage released this time included the sound made by our rover when it left the lander, through which we can make some more in-depth analysis on Mars' environment and condition, such as atmospheric density and other parameters on the planet."
03:08
China joins elite club of countries that have reached Mars
China joins elite club of countries that have reached Mars
The aims of Tianwen-1 include studying Mars' geological structure, climate, soil characteristics, water and ice distribution, and internal structure.
China's attempted exploration of Mars began with the
Yinghuo-1 mission in 2011
. Its first Mars probe, attached to a Russian spacecraft, was lost before crashing into the Pacific Ocean the following year.
The latest Mars mission comes with China pursuing ambitious space programmes and racing to catch up with the US in space technology. In recent years, China has launched the world's first quantum satellite, made a soft landing on the far side of the moon and brought lunar samples back to Earth using a purely robotic mission.
China is building its own space station,
Tiangong
, for which it has launched a core module and sent the first three crew members for a three-month mission.
The country this month released a road map for Mars exploration in the next two decades. It plans a mission to bring back samples from the planet in 2030 and aims to send crews and build a base there from 2033.
Nasa's Curiosity and
Perseverance
rovers are also working on Mars. In April, Perseverance succeeded in extracting oxygen from the planet's carbon dioxide-rich atmosphere, a feat never achieved before.
This article appeared in the South China Morning Post print edition as: Red rover