Energy
Get more with myNEWS
A personalised news feed of stories that matter to you
Learn more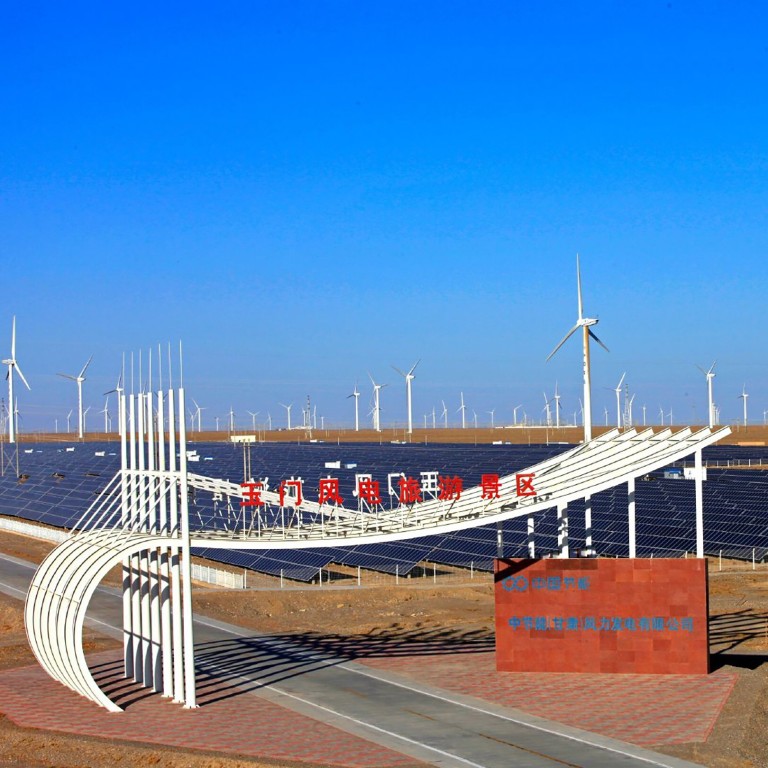 Why has China's poorest province just built world's largest wind farm?
Gansu had to fight to complete the farm after past oversupply issues, with remoteness and desert landscape among the challenges
Local official says the plant 'turned the lifeless Gobi Desert into an unlimited chamber of treasure', but much depends on demand for its electricity
A huge wind farm in China's northwest is the latest in the country's succession of
energy
mega-projects, but the rocky road of its construction has already raised questions over its future.
Completed last month in the Gobi Desert in the landlocked province of Gansu, which has the country's lowest GDP per capita, the 100 billion yuan (US$15 billion) project was delayed for four years by the central government over high investment risks after previous plants there hit trouble.
The 10 gigawatt (GW) capacity of the farm, in Jiuquan, far exceeds that of the second-largest wind power plant, India's 1.6GW Jaisalmer park, and is so far about half that of the country's
Three Gorges Dam
, the world's largest hydropower plant. It could generate billions of yuan and create jobs in a province where the annual income is only about half the national average.
But putting the world's largest wind farm in a distant desert location creates challenges regarding its efficiency and the demand for its electricity.
01:21
Critics query green credentials of world's second-largest hydroelectric dam after speedy build
Critics query green credentials of world's second-largest hydroelectric dam after speedy build
According to the provincial government's latest plans, the wind farm's capacity will double to 20GW by 2025. It is projected that it will help to cut Gansu's fossil fuel use in electricity production to 35 per cent, making it one of the greenest provinces in China.
However, after the central government approved the province's wind farm programme in 2009, the rapid growth of the power generation capacity outpaced local demand.
By 2016, nearly half of the electricity produced by the province's 9GW worth of wind turbines was discarded because there was no use for it. The same year, Beijing issued a strict ban on further investments for the Gansu wind farm, and many local businesses built on the wind industry went bankrupt or moved elsewhere.
Gansu then spent years rebuilding the trust of the central government, according to Gansu governor Ren Zhenhe. "This is the best opportunity we have … we can't afford to lose it again," he said.
Jiuquan recently drew attention when it was reported by international media that more than 100 silos for intercontinental ballistic missiles had suddenly appeared there – next to the wind farm.
The Chinese government and military have not revealed the location of their missile silos, while some Chinese media said the "silos" could be pits for new wind turbines.
What is not in doubt is that the farm is expanding quickly. To meet the ambitious 2025 target of doubling capacity, 12GW of new wind turbines and solar panels will be approved to be built this year alone, according to provincial government plans.
Construction workers have to contend with one of the most hostile terrains on Earth. The Gobi has frequent dust storms, extreme temperatures and no trace of water. Before building turbines, workers and engineers had to put in place roads, power lines, living quarters and communication towers.
"We finally made it – we turned the lifeless Gobi into an unlimited chamber of treasure," Jiuquan's Communist Party secretary Wu Yangdong said in a public speech last month. "We are building a Three Gorges dam on wasteland."
The use efficiency of the farm's renewable energy rose to 95 per cent and the central government last year lifted its ban on wind energy investment in Gansu.
02:17
China's Three Gorges Dam faces severe flooding as Yangtze overflows
China's Three Gorges Dam faces severe flooding as Yangtze overflows
But the hostile environment, lack of water and relatively small population meant Gansu had little scope for development of major industries.
The province has built or begun building several ultra-high-voltage power lines to send more than 30 per cent of the wind energy to over 20 provinces, while hi-tech companies such as Huawei were invited to build large data centres near the farm.
After China announced a goal of being
carbon neutral by 2060
, Gansu has been "overwhelmed" by the number of companies seeking wind power deals, Ren said.
But Gansu is far from China's major economic centres, and long-distance power transmission could increase the price of its energy export. Wind energy investors have moved away from "one big farm in one location" to "smaller farms in several locations", according to a researcher who requested not to be named due to the sensitivity of the issue.
"The centre of gravity [in wind energy] is moving from the northwest to southeast. Rich coastal provinces such as Zhejiang have become big players," he said. "For Gansu, the hardest battle may have just begun."