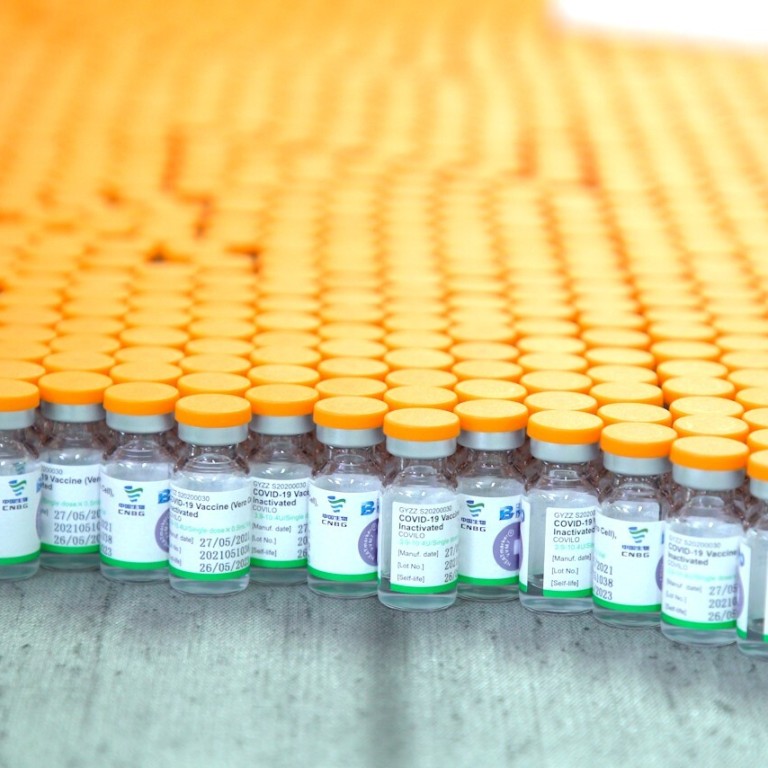 Chinese vaccine firms to rush 110 million doses to Covax now, half a billion by mid-2022
Sinovac and Sinopharm sign advance purchase agreements to provide more doses and diversify the Covax portfolio to help developing nations beat the pandemic
Gavi, the Vaccine Alliance has the option to extend its purchase of Chinese vaccines, alleviating a shortfall created by the virus surge in India
A global sharing scheme has contracted two Chinese manufacturers to immediately supply 110 million
coronavirus vaccine
doses to poorer countries as part of an advance purchase agreement.
The agreements with Sinopharm and Sinovac – which have been validated by the
World Health Organization
for emergency use – come as the Delta variant, a more transmissible strain expected to become dominant globally, poses a rising risk to health systems.
The purchase agreements are expected to make up the shortfall of doses seen by the
Covax Facility
, a global sharing scheme aiming to provide equitable access to
Covid-19
vaccines.
Gavi, the Vaccine Alliance, a public-private partnership which buys vaccines for Covax, said in a statement on Monday that 60 million doses from Sinopharm would be made available between this month and October and Sinovac would provide 50 million doses of its vaccines by the end of September.
Gavi has the option to buy a further 60 million doses in the fourth quarter this year and 50 million more doses in the first half of next year from Sinopharm. In the agreement with Sinovac, Gavi can buy a further 150 million doses in the fourth quarter of 2021 and 180 million more doses in the first half of 2022.
"I welcome today's agreements with Sinopharm and Sinovac which will make doses immediately available to Covax participants," Gavi CEO Seth Berkley said. "Thanks to this deal, and because these vaccines have already received WHO emergency use listing, we can move to start supplying doses to countries immediately."
The deals are expected to make up for the shortfall created after Covax's major supplier the
Serum Institute in India
was banned from exporting doses amid the country's second wave of outbreaks.
Covax has so far shipped over 102 million
Covid-19 vaccines
to 135 participants. In late May, it announced it faced a shortfall of 190 million doses by the end of June because of the "severe impact on Covax's supply in the second quarter of this year … [from] the terrible surge of the virus in India".
Sinovac and Sinopharm were the first
Covid-19 vaccines
approved for emergency use in China last year and have been used to inoculate hundreds of millions of people in China.
Real-world effectiveness results from Chile, published in the New England Journal of Medicine last Wednesday, showed that the Sinovac vaccine was 65.9 per cent effective against the new coronavirus, 87.5 per cent effective at preventing hospital admissions and 86.3 per cent effective at preventing death.
But little data is available on how well the vaccine stands up against the Delta variant. Several countries, including Indonesia, are offering booster doses to people initially inoculated with the Sinovac vaccine.
Sinovac chief executive Yin Weidong said in a statement the company had delivered over 1 billion doses globally by the end of June 2021 and the vaccine's advantage in "safety and regular transportation and storage conditions" supported easy access to the vaccine "in every corner on the globe".
Some 2.91 billion doses are expected to be produced by the end of this year, according to London-based information and analytic firm Airfinity.
China National Biotec Group, Sinopharm's vaccine manufacturing arm, said in a separate statement that a second facility that had started production earlier this year would supply 1 billion doses to Covax when the facility passed WHO good manufacturing practice.
A study of phase 3 trials has shown the Sinopharm vaccine has an efficacy of 79 per cent against symptoms and hospital admissions. It has not published real world data but in the
United Arab Emirates
and Bahrain where the vaccines are used, booster shots are offered to Sinopharm recipients six months after completing the regimen.
Gavi said the two vaccines would diversify the Gavi-managed Covax Facility portfolio, which included 11 vaccines and vaccine candidates, including shots from AstraZeneca-Oxford, Janssen, Moderna, Novavax and Pfizer-BioNTech.
Last month Gavi signed an advance payment agreement with Chengdu-based Clover Biopharmaceuticals to provide up to 440 million doses of protein-based vaccines next year.
This article appeared in the South China Morning Post print edition as: China to supply 110m jab doses for Covax