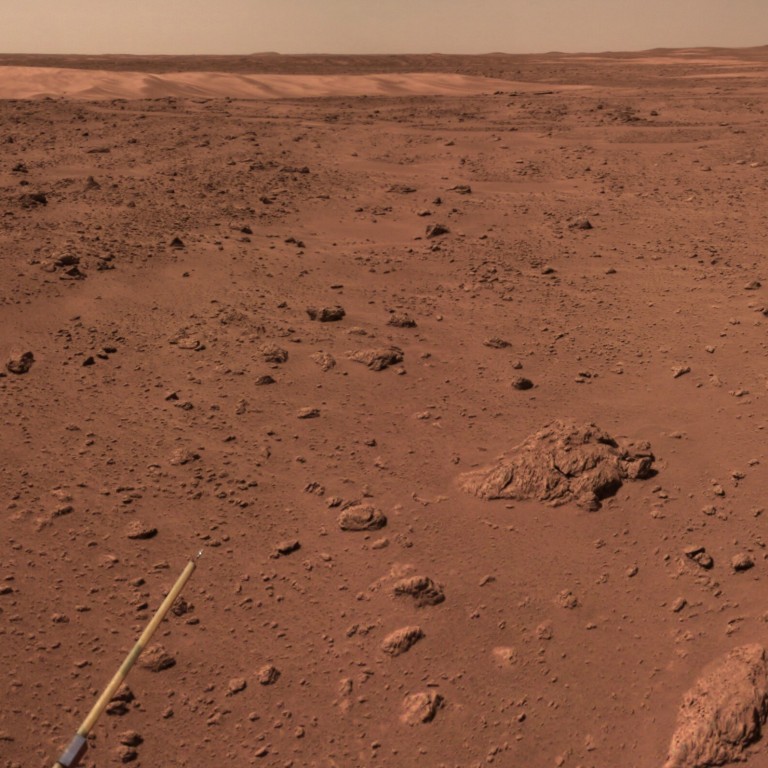 China releases new Mars images as nation marks 100 days of red planet exploration
China's Tianwen-1 orbiter takes images showing route of Zhu Rong Mars rover which has travelled over 1km from its landing platform
People's Bank of China launches commemorative coins to celebrate the country's first Mars exploration mission
China released the latest images of its
Mars rover
on Monday, the 100th day of
Zhu Rong's
operation on the red planet.
The pictures released by the China National Space Administration showed the route of the rover, which had travelled more than 1km south from the landing platform by Monday. The photos were taken by the
Tianwen-1
orbiter on Tuesday last week.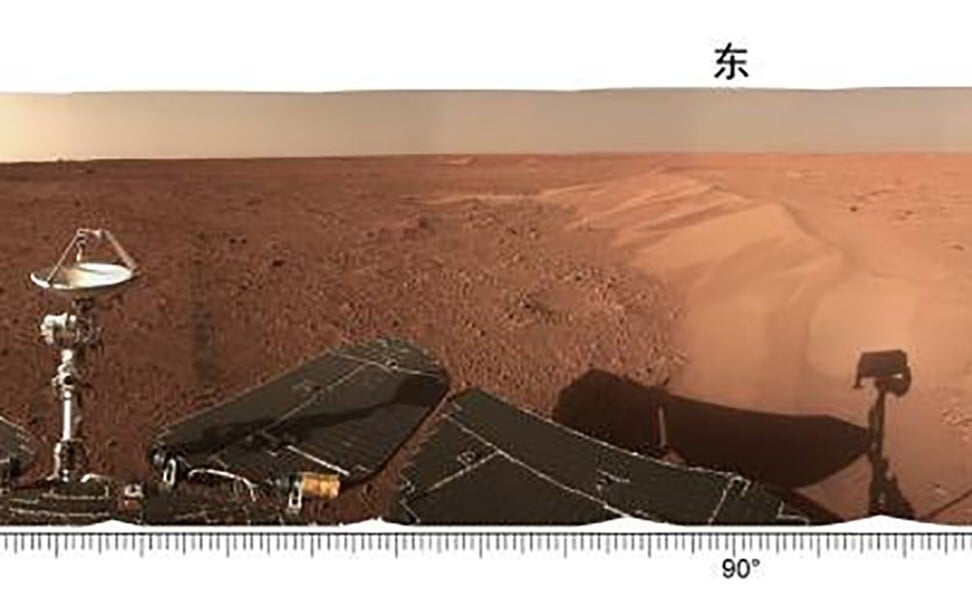 The space agency said the rover would head towards the boundary between the ancient sea and land in the south of Utopia Planitia, a large plain in the northern hemisphere, to collect data.
It added that the distance between the Earth and Mars was approaching its furthest, at about 395 million kilometres (245 million miles).
The orbiter and rover will pause their exploration in mid-to-late September, when communications are interrupted as the sun comes between Mars and Earth, according to CNSA.
The period is known as Mars solar conjunction, when Mars and Earth are on opposite sides of the sun, almost in a line.
After that, the orbiter will attempt to conduct remote sensing exploration of Mars, while serving as a communication relay station between Zhu Rong and Earth.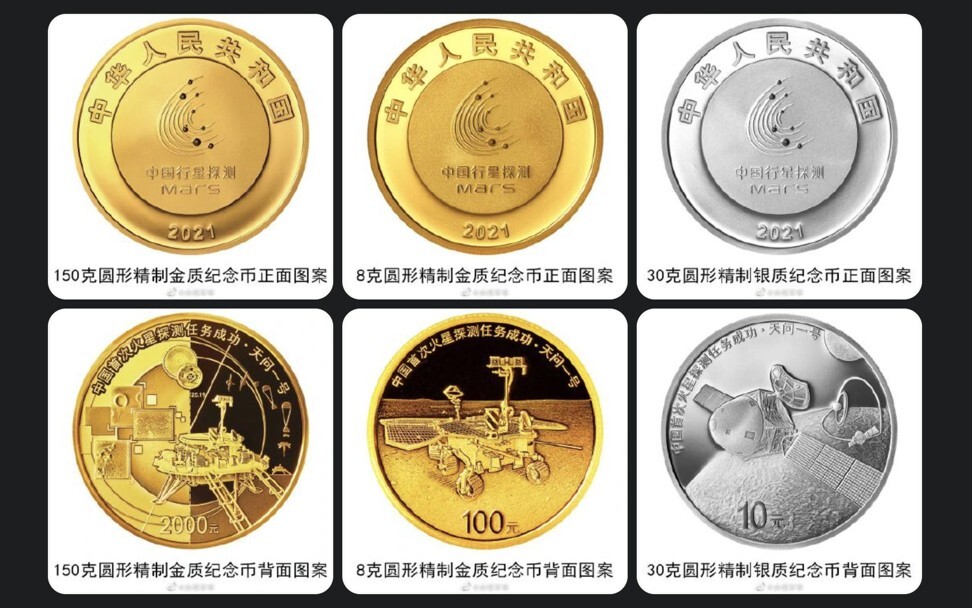 Meanwhile, the People's Bank of China launched a set of commemorative coins on Monday to mark the success of the country's first Mars exploration mission.
Zhu Rong is part of the Tianwen-1 mission, China's first independent Mars exploration mission.
The rover lifted off from southern China just over a year ago along with a lander and an orbiter to relay information to and from Earth.
It entered Mars' orbit in February before touching down three months later.
The mission is part of China's ambition to retrieve samples from Mars in 2030 and send crews to the planet for exploration in 2033.
The Zhu Rong is not alone on Mars – Nasa's
Curiosity
and
Perseverance
rovers are also working on the planet.
China is the third country to land on the planet after the United States and the Soviet Union.
So far the United States has landed successfully on Mars eight times. The Soviet Union was the first to achieve the feat in 1971, but the lander soon stopped communicating and the federation's subsequent attempts all failed.
China's efforts to explore Mars date back to 2011 with the launch of the Yinghuo-1 mission involving a Mars probe attached to a Russian spacecraft.
But the spacecraft was stranded in orbit and ended up being lost before crashing into the Pacific Ocean the following year.
China has been trying to catch up with the US in space technology and is making progress with several space-related programmes.
Three astronauts are in orbit building China's own space station, the Tiangong, which is expected to be completed next year.
The International Space Station developed by the US, Russia and other countries is ageing and approaching the end of its intended life in 2024.
This article appeared in the South China Morning Post print edition as: Latest images from Mars rover released on 100th day of red planet probe