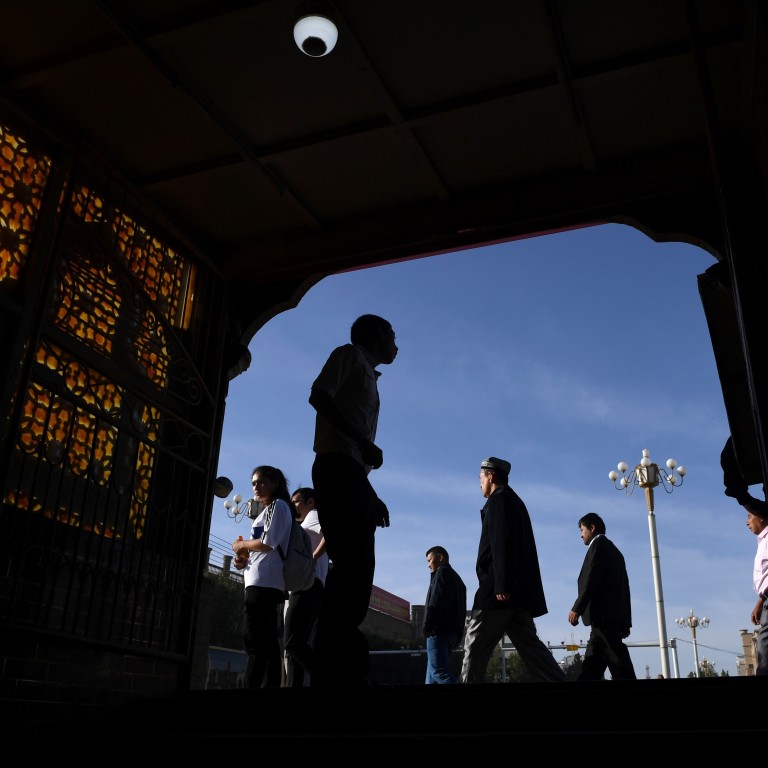 China's genetic profiling research faces pushback from academic journals over ethics concerns
More than 80 Chinese papers highlighted, including where DNA profiling of Uygurs and Tibetans is involved and voluntary consent is hard to establish
Publisher sees no merit in boycotting all research from a country but seeks to assess each paper on its merits and adherence to ethical standards
Some of the world's biggest academic publishers are investigating research papers containing genetic or facial information on
minorities
amid allegations of ethical violations in the gathering of the data. Much of the research in question stems from China.
Concern about such profiling of marginalised groups has led to calls for the retraction of published research papers from China. In at least one case, several scientists on the board of a major US publishing house resigned over the issue.
Yves Moreau, a professor in computational biology and bioinformatics at Belgium's University of Leuven, has raised the alarm over worldwide ethical lapses in genetics technology use since 2015. That year, his collaborators and he raised awareness of a law mandating DNA profiling of Kuwait's population, which was then repealed two years later.
Moreau said he had now turned his attention to China's DNA profiling or
facial recognition
research owing to the large number of reports being submitted.
"We don't realise that we are doing a lot of research that contributes to very dangerous surveillance technology across the world, not just in China," Moreau said. "But I focus on China because this is where I see the biggest problems right now."
Minority reports
Moreau, who has served as a consultant for the Forensic Genetics Policy Initiative to set human rights standards for global DNA databases, said he had highlighted more than 80 China research papers for investigation to almost every major academic publisher since 2019.
The publishers include Netherlands-based Elsevier, German-British company Springer Nature, and John Wiley & Sons of the US. The companies together control around half the US$10 billion global scientific publishing industry.
An as yet unpublished review of forensic population genetics research by Moreau found that 17 per cent of papers that involved China's police or justice system – through authorship or funding – contained genetic information on Tibetans, who make up just 0.5 per cent of China's population. This proportion was 22 per cent for Uygurs, who also account for less than 1 per cent of the national population.
Moreau said his review found that as many as half the 529 papers on forensic genetics research from China between 2011 and 2018 involved China's police or justice system.
Forensic genetics was certainly important for the police in investigating and solving crimes, he said.
"It's not unusual for the police force to collaborate with scientists in this area of forensic genetics because law enforcement needs this technology. But the scale is just enormous, we're talking about hundreds of papers," he said.
'Embarrassing'
Moreau said that while the research could help solve crimes, the risk of vulnerable groups being harmed could not be discounted. It was troubling that many academic journals had not considered ethical implications before publishing some papers, he said.
"It's really quite embarrassing that no one, especially these journals, thought of this. [For] specialists in population genetics studying certain groups or working in certain fields – it's standard practice to be careful and really think about political issues or other factors that could pose risks," Moreau said.
Moreau's campaign led to eight members of the board of the journal Molecular Genetics and Genomic Medicine, published by Wiley, resigning over a lack of progress in investigating 18 research papers, online news outlet The Intercept reported on August 5.
The publisher defended its investigation, saying it acted with due process and care and awaited recommendations on the next steps to take, as "science and society continued to advance at a rapid pace", according to an emailed statement.
Netherlands-based Elsevier said it was investigating several papers the South China Morning Post had identified that did not outline the ethics approval process or had an author that came from a police or judiciary-linked institution in China.
Ed Gerstner, the director of journal policy for Springer Nature, told the Post that they were investigating 50 research papers and had added editors' notes to 29 others to alert readers to potential ethical concerns. Two papers from China had been retracted.
Gerstner said the investigations took a long time because there was a need to accurately assess technical documents in Chinese and communicate with people at various organisations.
In the past two weeks, the publisher withdrew four additional papers which analysed DNA samples from hundreds of Uygurs after the authors, which include Li Caixia, the chief forensic scientist at China's Ministry of Public Security, could not provide proof of an ethics approval for the research, according to Gerstner.
The retraction notices for the papers said that Li and her colleagues did not agree to the retraction.
Top down
Nie Jing-Bao, a bioethicist originally from China who now works at the University of Otago in New Zealand, said the Chinese model of science was generally authoritarian and nationalistic – it emphasised the common good and could be driven by a top-down approach.
"In this broad context, consent and individual concerns would become less important," Nie explained.
The government's drive for scientific development can lead to immense benefit for the Chinese people and mankind, but can also put ethics and research integrity in second place, Nie said.
This creates a dilemma for Chinese scientists, who have to work within this system while trying to do good research and getting caught up in accusations, according to Nie.
China Union of Life Science Societies, the academic body that promotes biological research in the country, did not respond to an emailed request for comment.
Two of the papers being investigated by Elsevier are co-authored by Liu Chao, a pioneer in forensics science in China, credited with improving the success rate of accurate analysis of DNA collected from decomposing bodies to more than 96 per cent from 52 per cent. He is a captain with the Guangzhou police and set up the city's forensic genetics lab, according to a profile by the local government.
Liu said he had planned to become a medical doctor but was assigned to the Guangzhou police after graduating from a masters programme in 1991, according to a speech he gave at his alma mater Southern Medical University in Guangzhou in 2016.
However, he said he then recognised the "blank slate" potential in China's forensics science at the time and decided to change course.
"I realised that if I could not align my research direction with the needs of law enforcement work, I could not gain a foothold in the field of forensic science."
Liu did not respond to an emailed request for comment for this article.
Provocative
Moreau said his view was that any academic study of DNA profiling on any Chinese population was potentially toxic and should not be published. The letter was intended to get a discussion going in the community, he said.
"We wanted to put out a provocative statement for the community debate about what to do. Once the community starts talking, people would kind of wake up from their daily routine of doing the research and consider, yes, there is a serious issue, what do we do about it?" Moreau said.
Gerstner from Springer Nature said the publisher did not consider it appropriate to boycott research from entire countries.
"All research deserves to be assessed on its own merits – and adherence to ethical standards, regardless of its country of origin," he said.
This article appeared in the South China Morning Post print edition as: Genetic profile research comes under scrutiny