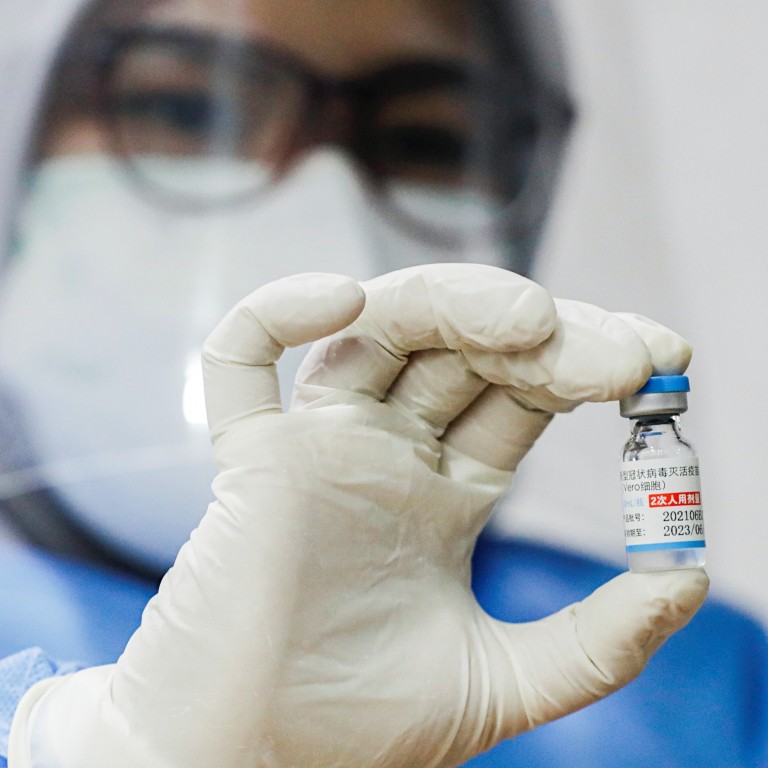 Chinese vaccines' value clarified by real-world data as exports near 1 billion
Studies in various countries suggest China's inactivated vaccines may be less effective overall than other jabs but protect against severe illness or death
Some nations have wavered about administering the vaccines, but experts say they do help governments in need fight the coronavirus
China has exported nearly 1 billion doses of
Covid-19 vaccines
to over 60 countries and pledged 2 billion doses this year, but just how effective the Chinese jabs are, especially against more transmissible or resistant variants, was initially unclear.
The knowledge gap has been partially filled with publication of some large real-world effectiveness studies in countries where the
Delta
and Gamma variants have been prevalent.
Researchers concluded that the Chinese vaccines were less effective than other vaccines but still offered valuable protection against severe illness or death. Experts argued that the Chinese jabs –
approved
by the
World Health Organization
(WHO) for emergency use – were worth having for countries in need.
A study in Bahrain, published last month before peer review, compared four
Covid-19 vaccines
– the
Sinopharm
, AstraZeneca, Pfizer-BioNTech and Sputnik shots – between December and July. It found that the Sinopharm vaccine, though effective in preventing hospitalisation and death, worked less well than the others, especially for people aged over 50.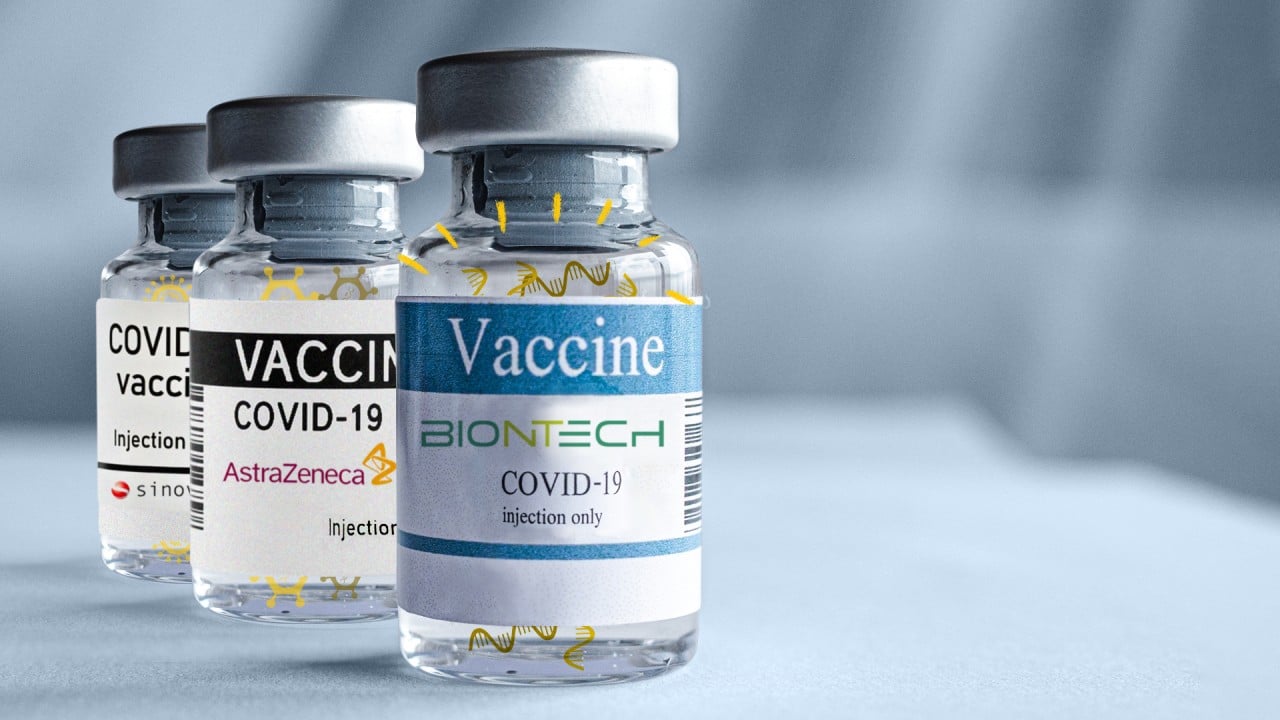 06:18
SCMP Explains: What's in a Covid-19 vaccine?
SCMP Explains: What's in a Covid-19 vaccine?
For those in that age group who tested positive for Covid-19, the death rate was 1.53 per cent for patients vaccinated with Sinopharm's shot, 0.79 for those given the Russian Sputnik V, 0.69 for those with Pfizer-BioNTech's vaccine and zero for those given AstraZeneca vaccine. The intensive care unit (ICU) admission rate was 1.7 per cent for Sinopharm, 0.23 per cent for Pfizer-BioNTech, 0.17 per cent for AstraZeneca and zero for Sputnik.
In Brazil, where the Gamma variant has been prevalent, a study published last month involving 76 million vaccinated people found that the AstraZeneca vaccine offered about 90 per cent effectiveness against hospitalisation, ICU admission and death, while the vaccine produced by Sinovac, another Chinese developer, provided about 75 per cent such protection.
The differences in effectiveness may be attributable to the different technologies used, researchers wrote. Inactivated vaccines such as those of Sinopharm and
Sinovac
use a killed version of the germ to destroy disease-producing capacity, while adenovirus-vectored vaccine use a modified, harmless virus to trigger an immune response.
A study in
Chile
published this month in
The New England Journal of Medicine
found the Sinovac shot CoronaVac was effective in preventing infection by 65.9 per cent, hospitalisation by 87.5 per cent, ICU admission by 90.3 per cent, and death by 86.3 per cent.
The Chilean government last month released a report that found CoronaVac was 58.5 per cent effective against symptomatic illness, compared with 87.7 per cent for Pfizer-BioNTech's vaccine and 68.7 per cent for AstraZeneca's.
But such comparisons may not always be fair on inactivated vaccines, according to Zheng Zhongwei, a National Health Commission official who heads China's
Covid-19 vaccine
development task force.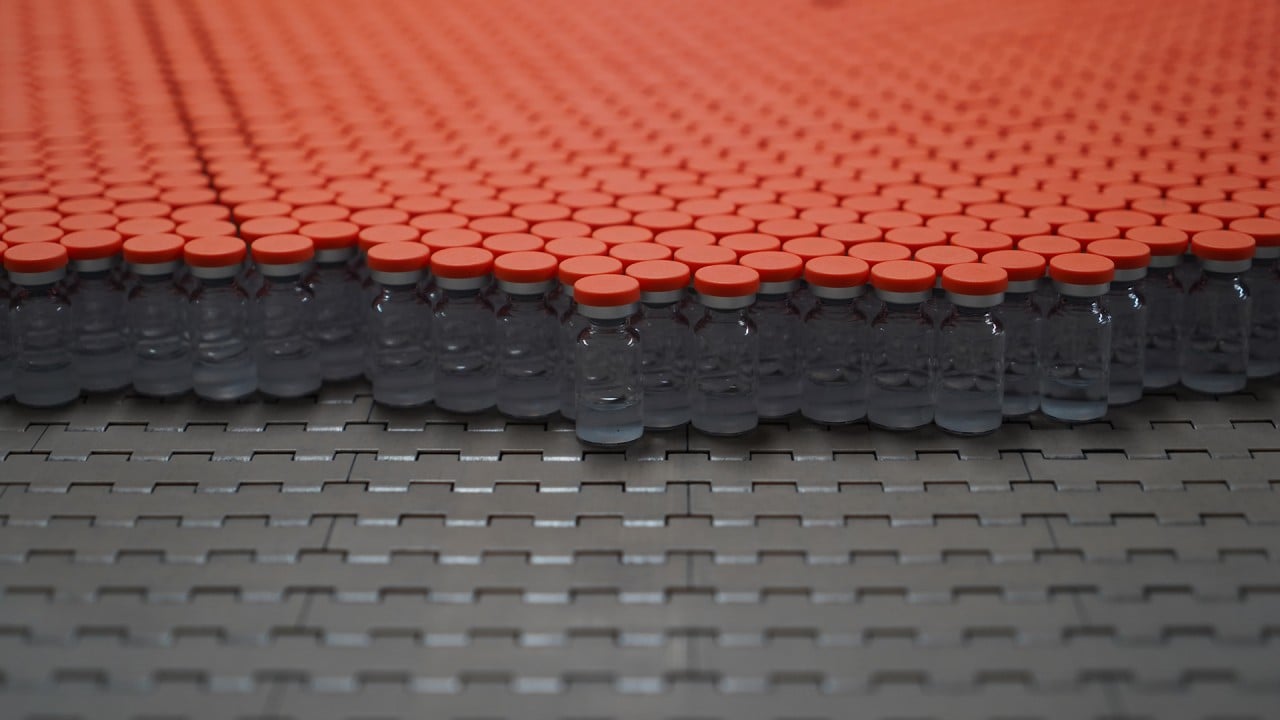 02:35
Inside a plant in China producing the WHO-approved Sinovac Covid-19 vaccine
Inside a plant in China producing the WHO-approved Sinovac Covid-19 vaccine
He said immunity of all
Covid-19 vaccines
waned after three months and in some countries the inactivated vaccines were administered "two or three months" earlier, before other vaccines arrived.
"I don't want to say which vaccine offers better protection but I hope this can be viewed in a more scientific way," Zheng said.
The WHO said vaccines could not be compared head-to-head, because of differing approaches to designing the various studies. The agency said all vaccines it approved for emergency use were highly effective in preventing severe Covid-19.
Dr Annelies Wilder-Smith, a consultant to the WHO, and Dr Kim Mulholland, a member of the WHO Strategic Advisory Group of Experts on Immunisation, said in an editorial alongside the Chilean Sinovac study that the jab's effectiveness was still "substantial" and comparisons "may be explained in part by a combination of poor effectiveness against mild or asymptomatic infection and waning effectiveness".
They called for urgent mix-and-match studies of Sinovac and other inactivated vaccines, and said waning protection indicated booster shots may be needed.
China has already announced it will offer a third dose of inactivated vaccine as a booster to the elderly and high-risk people. In the United Arab Emirates, Bahrain, Indonesia and Brazil, viral-vectored or
mRNA
vaccines have been offered to the elderly and health care workers.
Amid doubts over the effectiveness of Chinese vaccines, some countries are turning down those being offered to low and middle-income countries through the Covax Facility, a global initiative for equitable access to vaccines.
Sinovac and Sinopharm agreed to provide a combined 110 million doses between July and September with an option for a further 440 million by next June, via Covax. Beijing has pledged to provide 2 billion doses this year, and has so far provided 990 million – mostly inactivated.
South Africa, listed by Covax as having one of Africa's largest allocations of Chinese shots, with 2.5 million Sinovac doses, had not accepted them, citing insufficient information on efficacy against the Delta variant and in populations with HIV, Reuters reported.
Nigeria, the largest recipient of Chinese shots in Africa via Covax, with an allocation of nearly 8 million Sinopharm doses, approved the vaccine but called it only a "potential" option for inoculating its population, the report said.
In Thailand, where people have been given a dose of CoronaVac followed by a dose of AstraZeneca's shot, the Chinese embassy this month urged against "underestimating and defaming Chinese vaccines".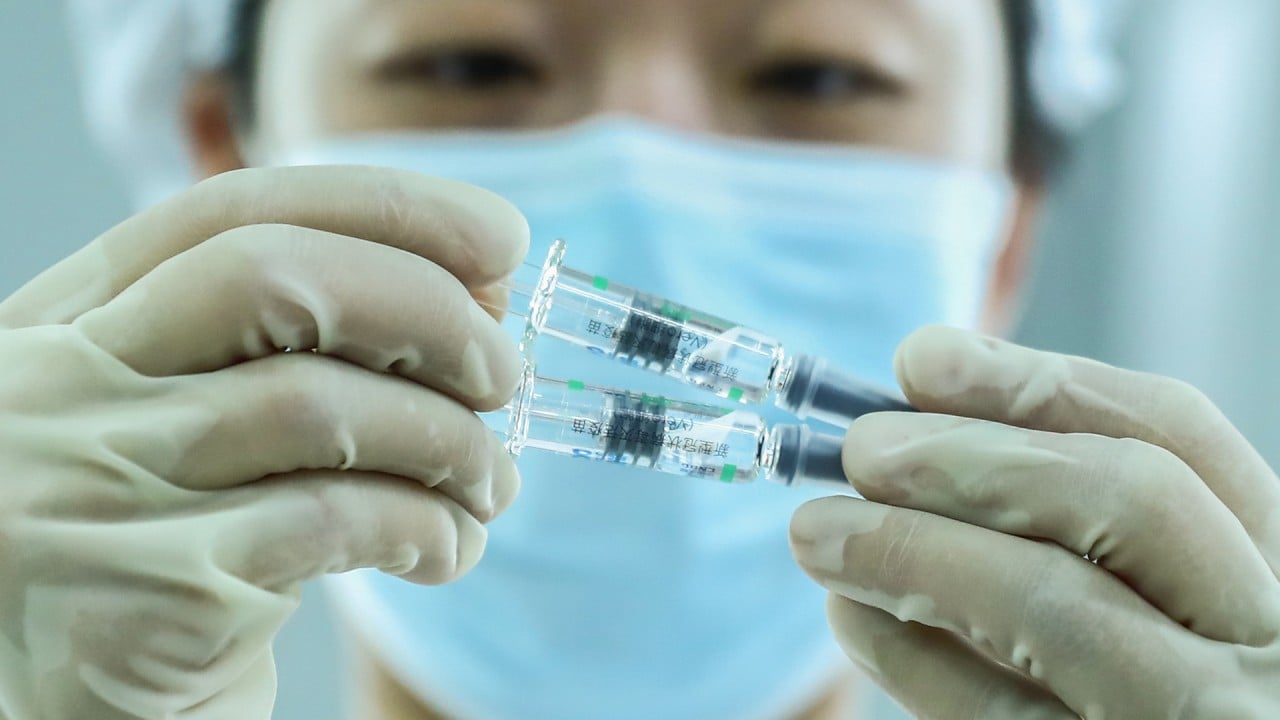 02:01
China considers mixing Covid-19 vaccine types to boost effectiveness
China considers mixing Covid-19 vaccine types to boost effectiveness
But experts maintained WHO-approved inactivated vaccines helped protect populations and advised countries in need to take them.
Hsu Li Yang, an associate professor and infectious diseases expert at the National University of Singapore, said all WHO-approved vaccines appeared highly effective at preventing severe Covid-19 and death, with inactivated vaccines not seeming significantly inferior.
"Long-term efficacy is uncertain for all vaccines," Hsu added. "At this stage, countries should deploy what they have rather than wait for mRNA or viral-vector vaccines."
Jin Dongyan, a virologist from the University of Hong Kong, said low-income countries that needed vaccines should not turn down inactivated jabs.
"If they are offered Pfizer-BioNTech vaccines, great, but Sinovac and Sinopharm are still helpful," Dongyan said. "For countries with no access to other vaccines, a good way is still to have Sinopharm or Sinovac. It's not ideal, but it's better than no vaccine."
This article appeared in the South China Morning Post print edition as: data helps flesh out efficacy of China jabs