Science
Get more with myNEWS
A personalised news feed of stories that matter to you
Learn more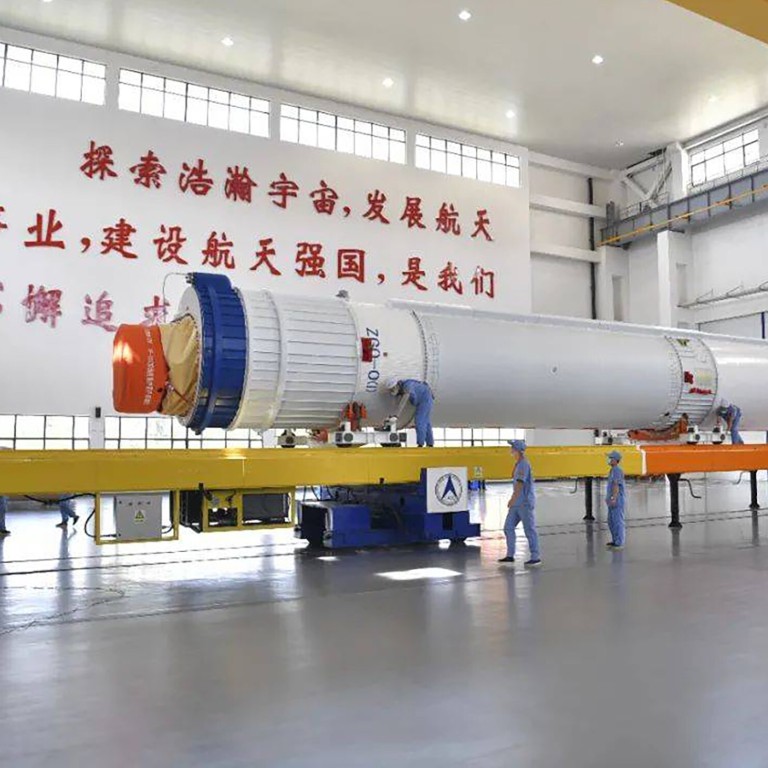 China poised to launch Tianzhou-3 cargo ship to replenish Tiangong space station
Tianzhou-3 will dock with the Tiangong space station to deliver fuel and supplies
The station's first three astronauts will then leave in a return capsule, with three more expected to replace them in October, sources say
China is set to launch a third cargo spaceship to dock at its space station to deliver fresh supplies and bring back
three astronauts
who have been there for almost three months, sources say.
Two sources familiar with China's manned
space
programme said the Tianzhou-3 cargo spaceship was scheduled to launch next Monday from the southern island of Hainan.
Tianzhou-3 is expected to dock with the
Tiangong space station
within 24 hours of launch to deliver fuel and supplies for three more astronauts who are set to be taken there by the Shenzhou-13 spaceship in October. The new trio are expected to stay in orbit for six months.
Assembly and testing of the spaceship and its carrier rocket Long March-7 Y4 at the Wenchang launch site had gone smoothly, the source said.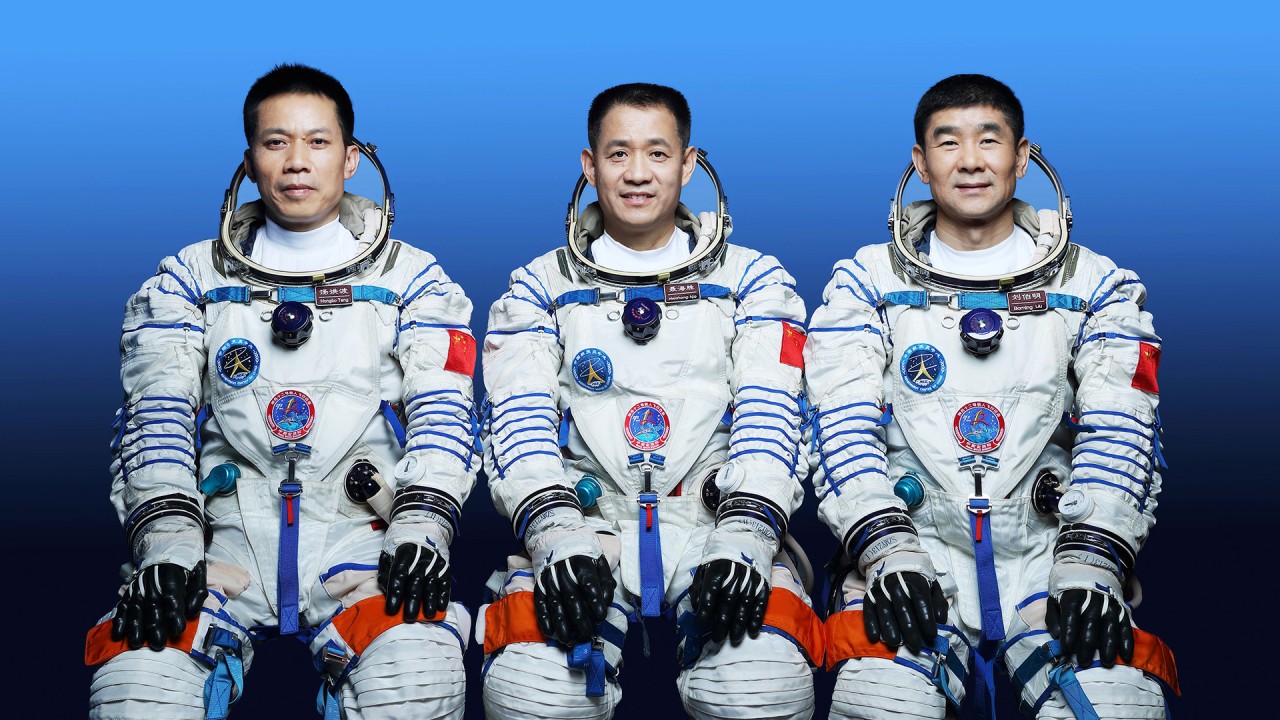 02:27
China sends astronauts on space mission to build Tiangong Space Station
China sends astronauts on space mission to build Tiangong Space Station
A second source in Beijing said that after Tianzhou-3's arrival, the first three astronauts sent to the Tiangong station –
Nie Haisheng, the commander, Liu Boming and Tang Hongbo
– would next week leave in a return capsule, to land at the new Dongfeng landing site in northern China's Inner Mongolia autonomous region.
He said a new crew of three astronauts would be sent to the space station in the Shenzhou-13 spaceship, with a tentative launch date around October 16, from the Jiuquan launch centre, also in Inner Mongolia.
In May, China Manned Space Agency announced successful testing of a new return capsule at the landing site. The capsule used a new material that is 30 per cent lighter than that of previous capsules but has greater heat-shielding capacity, and is designed to be reusable.
"[The returning astronauts] will celebrate National Day with us on October 1, if all goes smoothly," the source said.
Hao Chun, director of the China Manned Space Engineering Office, was also quoted last week by mainland media as saying that the three astronauts would return to Earth "in less than a fortnight", hinting that they would land by around September 23.
By then, they will have spent nearly 100 days at the space station. During the mission, Nie, who was part of the Shenzhou-6 and 10 space missions in 2005 and 2013, has already become the first Chinese astronaut to spend more than 100 days in total in orbit.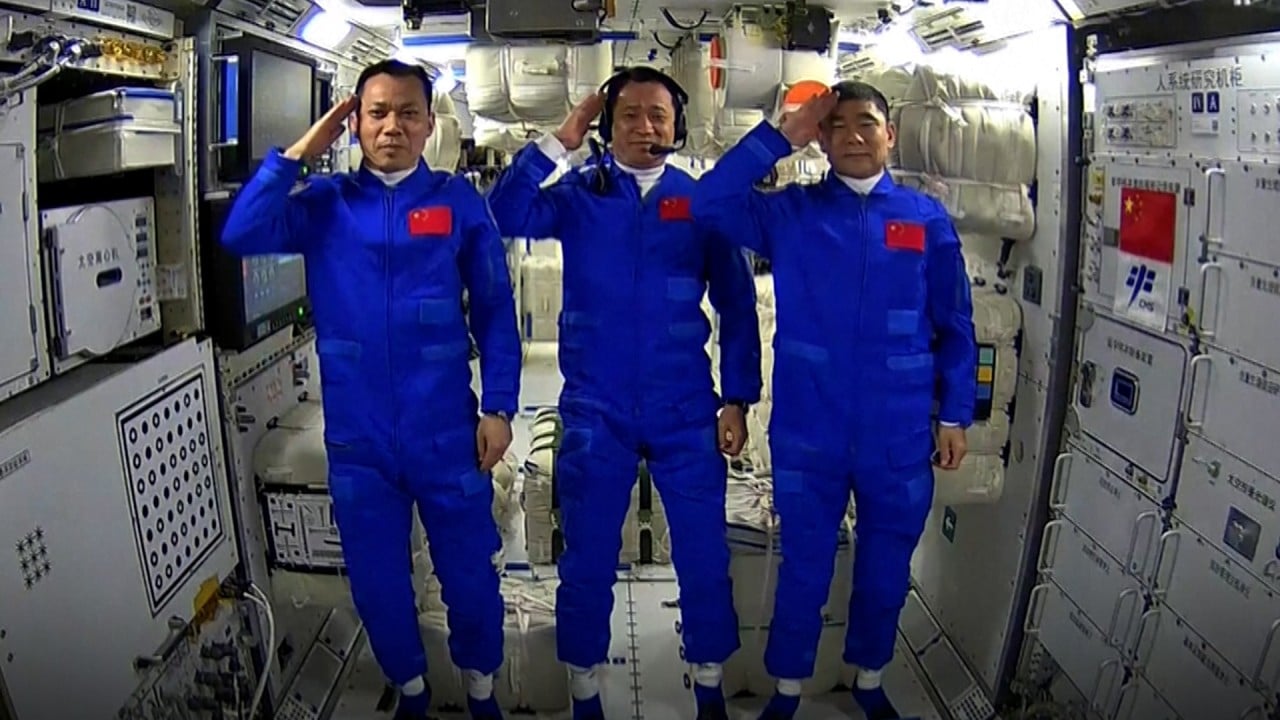 01:57
Chinese astronauts explore space station that will be their home for three months
Chinese astronauts explore space station that will be their home for three months
Former Soviet astronaut Valeri Polyakov holds the world record for the longest single stint and total time in space, staying aboard the Mir space station for 437 days and 18 hours during one trip and accumulating combined space experience of 22 months.
Since arriving at the Tiangong space station in June, the Chinese astronauts have conducted hundreds of experiments, at least two spacewalks and conversations with media, President Xi Jinping and students from mainland China and Hong Kong.
After the Shenzhou-13 launch to carry the next three astronauts, China is next year expected to send into orbit two more modules, named Wentian and Mentian, to carry out experiments in areas including space medicine and biotechnology. Two cargo and two manned missions are also being planned, to make the space station fully functional.
Once completed, Tiangong is expected to be about a quarter of the size of the
International Space Station
(ISS), built by a coalition of 16 countries.
Tiangong could be the only space station operating in near-Earth orbit by the end of the decade, because the 15-year-old ISS is ageing, especially the Russian segment, the Zvezda service module. A smoke alarm went off in the module last Thursday and astronauts smelled burning before a planned spacewalk.
Astronauts have had to spend an increasing amount of time finding and patching holes in the station and Russia announced on Monday that it would quit the project in 2025.
China has invested heavily in its space programme and in May became the second country to put a functional rover on Mars, two years after landing its first spacecraft on the far side of the moon.