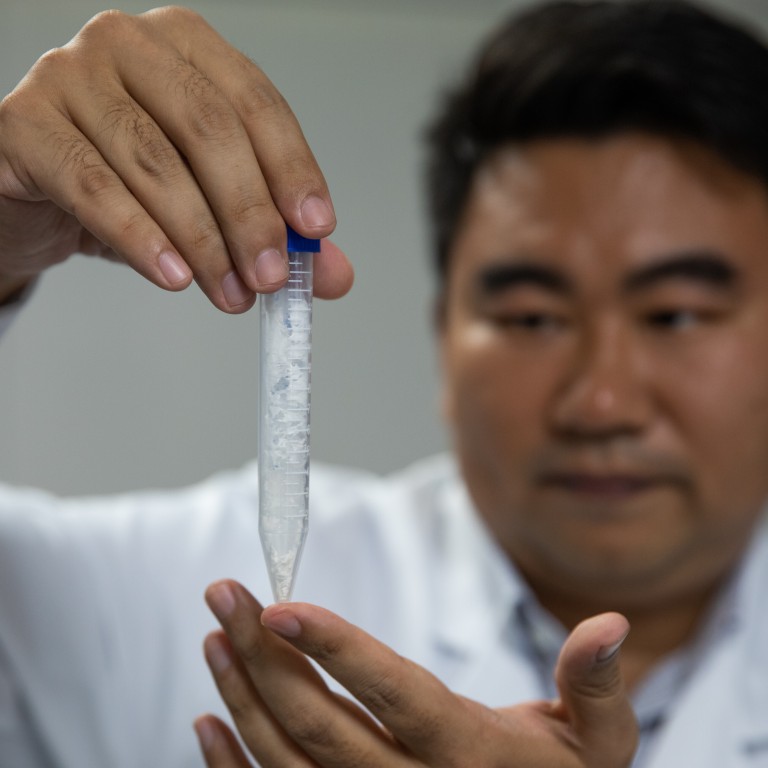 Chinese scientists have found new way to make starch in a lab. Could it save on water and land?
Paper in Science magazine details system to reduce carbon dioxide to methanol which is converted by enzymes to carbon sugar units, then to starch
But the laboratory method is a long way from being sustainable, energy efficient, economically viable or a replacement for traditional agriculture
Researchers at an institute under the Chinese Academy of Sciences have developed a way to artificially create starch from carbon dioxide much quicker than plants can naturally, potentially cutting the amount of
farmland
needed for starch crops.
But more research is needed for the process to be industrialised and other scientists said the energy source would determine if the energy-intensive method was sustainable.
The researchers at the Tianjin Institute of Industrial Biotechnology said they had developed a process that would make starch in laboratories 8.5 times faster than the starch synthesis cycle in corn, resulting in a product they said was the same as natural starch.
"We only need a few hours in the lab to complete the process which takes a few months by plants," lead author Cai Tao, a research associate with the institute in Tianjin, told state broadcaster CCTV.
"The annual production of starch in a 1 cubic metre (35 cubic foot) bioreactor theoretically equates to the annual yield from growing one-third of a hectare (35,500 square feet) of maize without considering the energy input."
In nature, many plants use sunlight as the source of energy to convert water and carbon dioxide into oxygen and sugars. The carbohydrates supply plants and animals that eat plants with energy.
Starch is a major source of calories in the
human diet
and an important industrial raw material. It is mainly produced by crops such as maize.
Now, the Chinese team has developed a system in which carbon dioxide is reduced to methanol by a catalyst and then converted by enzymes to carbon sugar units, then to starch. They published their findings in the peer-reviewed journal Science on Friday last week.
"If the overall cost of the process can be reduced to a level economically comparable with agricultural planting in the future, it is expected to save more than 90 per cent of cultivated land and freshwater resources," said Ma Yanhe, head of the institute in Tianjin.
The institute said the new method could cut the effect of fertilisers and pesticides on the environment.
But the team said more research was needed before the method could be industrialised.
"It is still in the laboratory stage and we will have more scientific challenges in the future. If it can be industrialised, it will provide strong support for food security, carbon dioxide utilisation and carbon peak and carbon neutrality goals," Ma told state broadcaster CCTV.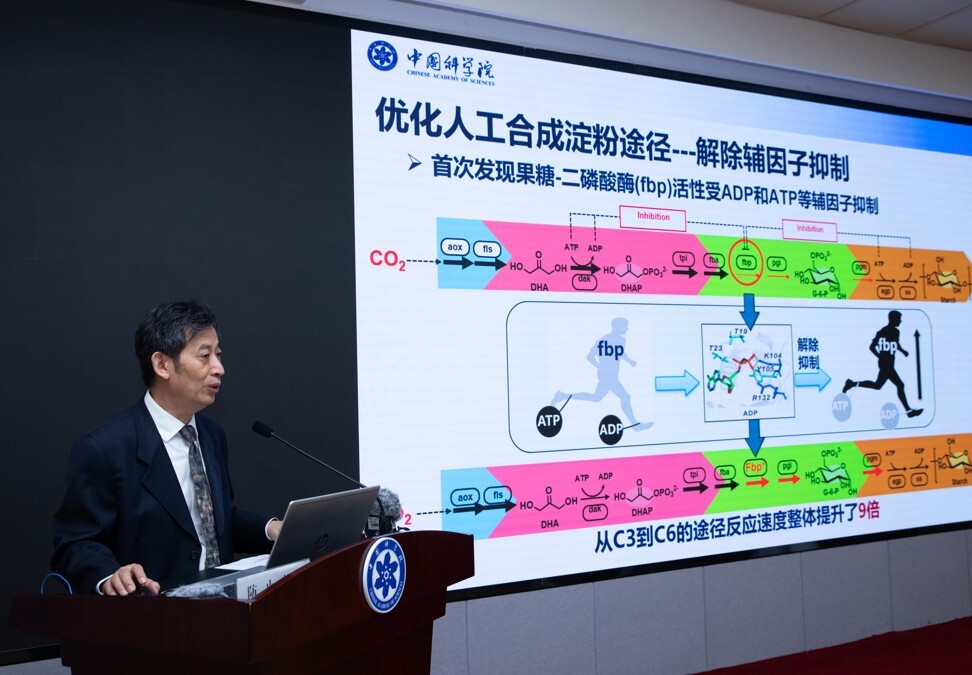 Sun Fei, an associate professor of chemical and biological engineering at the Hong Kong University of Science and Technology, said the energy source for starch production would determine how sustainable the method was, calling it an important study for synthetic biologists.
"This entire process is still energy-intensive. Whether it will eventually become sustainable or not will depend on the sustainability of the energy source to be used," Sun said.
"It would surely be sustainable if mankind could also make more strides in alternative energies such as fusion power and new battery technologies."
He said that in theory the process of starch synthesis should be able to reduce carbon dioxide in the atmosphere, just as plants do with photosynthesis.
Shao Minhua, associate director of the energy institute at HKUST, said the study had gone one step further in converting methanol, a product of carbon dioxide reduction, to food.
"Researchers have tried to reduce carbon dioxide using renewable energy into other chemicals, including ethylene, methanol, ethanol etc, as a way to store energy," Shao said.
"The main breakthrough of this work is proposing a possible pathway to produce starch from [methanol] with a high theoretical efficiency at 61 per cent."
Harvey Millar, director of the Australian Research Council Centre of Excellence in Plant Energy Biology at the University of Western Australia, said the new method did not mean an immediate shift from farming to synthesising – it was not cost-effective until engineering issues were optimised.
"It's interesting for sure, but won't be stopping people growing plants in agriculture for starch any time soon," he said.
"[Scientists] have to make and keep replacing the synthetic enzymes they use as they are not stable for very long," he said, adding that plants would maintain their advantage because they could efficiently replace enzymes inside their cells.
"The method also involves high temperatures, pressures and high concentrations of reactants, especially for the carbon dioxide hydrogenation to methanol that will be costly to keep using.
"As the authors fully acknowledge in the paper, this is still a long way from being more efficient in economic terms compared to what a seed, sunlight and water can achieve in a maize plant or another starch-forming crop," Millar said.