Science
Get more with myNEWS
A personalised news feed of stories that matter to you
Learn more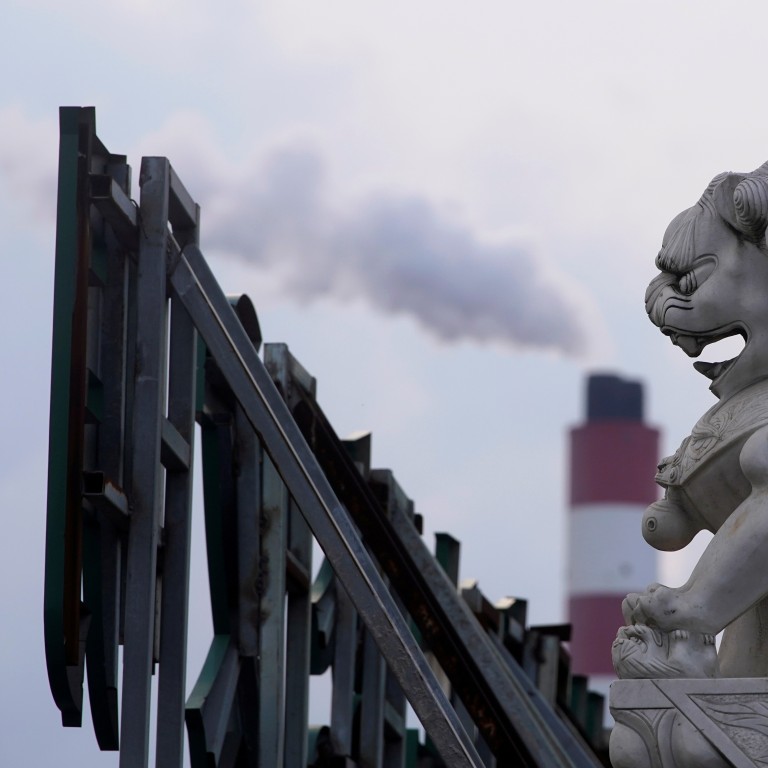 COP26: China's carbon emissions set to pass pre-pandemic levels
Report by Global Carbon Project predicts country's emissions will rise by 4 per cent this year as the economy rebounds from Covid-19
China is the world's biggest source of carbon dioxide, followed by the US, EU and India
The annual assessment by an international group of scientists called the Global Carbon Project said "Chinese emissions appear to have risen in both 2020 and 2021 despite the economic disruptions of Covid-19" and are now 5.5 per cent above pre-pandemic levels.
Worldwide carbon emissions are set to return to 36.4 billion tonnes, near their 2019 levels after dropping by 5.4 per cent last year amid lockdowns, according to the team of nearly 100 researchers in 17 countries who used energy statistics and cement production data to make their forecasts.
Last year, China emitted 31 per cent of the world's fossil fuel carbon dioxide, followed by the US at 14 per cent, the European Union at seven per cent and India also at seven per cent. The four accounted for 59 per cent of global carbon dioxide emissions.
Global Carbon Project's executive director Pep Canadell said that worldwide carbon dioxide emissions are very likely to reach and probably exceed pre-pandemic levels because most parts of the world dominated by fossil fuels would catch up with economic activities.
"We can expect that China will not maintain that huge growth we saw on coal," he said, referring to a 2.5 per cent projected increase in coal emissions this year.
"But China is moving from a huge stimulus package to get the economy going and the rest of the world is asking for China for a lot of products, which has pushed the industry to really require so much energy," he said.
Frank Jotzo, director of the centre for climate economics and policy at the Australian National University who was not involved with the report, said China's shift to renewables and reduction in heavy industrial activities is counterbalanced by its economic growth, bringing the country "roughly on the plateau" of emissions growth.
"[China is] getting a lot more renewable energy into the system and by and large a reduction in heavy industrial activities, such as basic steelmaking, because massive infrastructure build-up … is slowing down," he said.
"But at the same time, the economy is increasing, and that provides a continued push for more energy consumption."
China has pledged that its carbon emissions will peak before 2030, with carbon neutrality to be achieved by 2060.
Jotzo said "the real downward trend would be expected to happen perhaps next decade. [For] a good global
climate change
outcome … you'd want China to pull even harder, and get on the steeply downward slope already during the 2020s."
Meanwhile, a separate study linked premature deaths with buying imported goods, saying that in 2010 2 million people had died from diseases related to air pollution as a result of consumption patterns in the Group of 20 economies.
The study published in the journal Nature Communications on Tuesday, said that of the G20 countries, China has the highest number of people dying earlier than average from diseases caused by inhaling PM2.5 particles as a result of one person's lifetime consumption.
Lead author Keisuke Nansai, from the National Institute for Environmental Studies in Japan, said that in China 20 people's lifetime consumption habits will result in one premature death.
"When you and 19 friends buy things … [that] consumption will kill one person," he said.
"Direct production emissions from China killed 1.09 million [and] 94 per cent of them were local people in 2010. And 185,000 people were sacrificed for other countries' consumption because China is the global factory."
G20 members represent around 80 per cent of the world's economic output and three-quarters of international trade.
He said China ranked highest among the countries impacted by the global footprints of Australia, Canada, Japan and South Korea, reflecting their dependence on China's exports.
"In addition to impacting their own countries, France, Germany, Italy, and the United Kingdom likewise have footprints biased toward China … a hotspot for health impacts in the consumption supply chain of developed countries," the team wrote.
Nansai said developed countries should help reduce greenhouse gas emissions (GHGs) in other parts of the world to tackle
climate change
and save lives from air pollution.
"The G20 has agreed to reduce coal-fired power generation, and if this is achieved, it will also reduce PM2.5," he said.
"Countries should not only think about domestic measures. Developed countries should work to reduce GHG emissions in developing countries [so that] the same global reductions in GHGs can further reduce the number of premature deaths from PM2.5."
This article appeared in the South China Morning Post print edition as: carbon emissions now 5.5pc above pre-covid levels