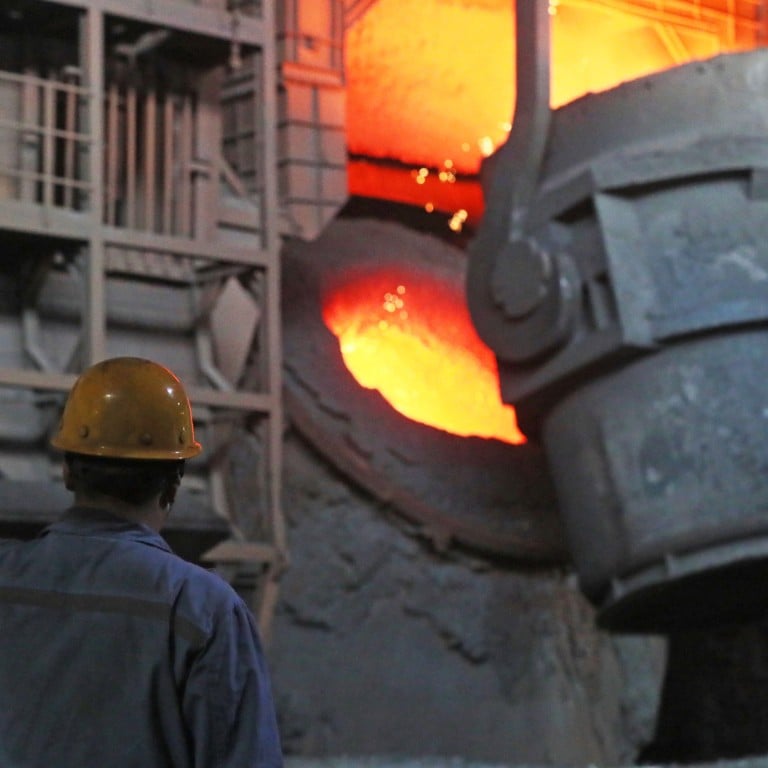 China ETS reduces carbon but needs map to cap-and-trade based system: study
Researchers find pilot trading scheme reduced emissions by companies before roll-out of national mechanism
They recommend world's largest carbon market moves to cap-and-trade mechanism if decarbonisation targets are to be achieved
China's regional emissions trading scheme (ETS) pilots were effective in reducing companies' carbon emissions in the early trading phase, despite low carbon prices and infrequent allowance trading, according to Chinese researchers.
The pilots, in seven provinces and cities, started in 2013, ahead of the launch of a
national emissions trading scheme
– the world's largest carbon market – in July this year.
China, as the world's largest emitter of greenhouse gases, hopes the market-based mechanism will help to decarbonise its economy and achieve the
climate targets
laid out by President Xi Jinping – to reach peak carbon emissions before 2030 and become carbon neutral by 2060 – in September last year.
A study, published on Tuesday in the peer-reviewed journal Proceedings of the National Academy of Sciences, assessed the effectiveness of the regional ETS pilots in Beijing, Tianjin, Shanghai, Chongqing, Shenzhen and the provinces of Hubei and Guangdong.
The study assessed the economic consequences of the ETS pilots based on a unique data set of company tax records in the manufacturing and public utility sectors – including power and heating – from 2009 to 2015.
The researchers compared companies that were regulated in the regional ETS pilots with similar ones that were not, and found the regional schemes were effective in reducing companies' carbon emissions, resulting in a 16.7 per cent reduction in total emissions and a 9.7 per cent reduction in emissions intensity.
"It is the first comprehensive assessment of the effects of the Chinese ETS from companies' perspective," said study co-author Zhang Junjie, an associate professor of environmental economics at Duke Kunshan University.
"When the regional ETS pilots were launched in 2013, there were debates as to whether a low carbon price and infrequent allowance trading market were effective in reducing emissions, so we wanted to do an assessment of the effects of an ETS on companies."
The study found that under carbon regulations, companies reduced emissions by conserving energy, improving energy efficiency and switching to low-carbon fuels, such as natural gas.
Even though the companies' costs increased under the scheme, they reduced labour and capital inputs and improved productivity, so they maintained the same level of output, according to the study by researchers from Duke Kunshan University, Shanghai Jiao Tong University, Duke University and the London School of Economics and Political Sciences.
"Carbon price plays a central role in incentivising emission reductions," the study concluded, adding that if China could increase its carbon price to the same level as the scheme in the European Union (US$32 per tonne), it would reduce emissions by 20 per cent.
The price in China's national ETS closed at 49.18 yuan (15 US cents) per tonne on Monday. The cumulative trading volume reached about 134 million tonnes and the cumulative turnover was 5.5 billion yuan (US$862 million).
The study suggested a cap-and-trade system would create stronger regulatory pressure than the rate-based rule currently used by China's national ETS.
Many countries have adopted the cap-and-trade mechanism, including EU members, Canada and Argentina. In these countries, governments cap the amount of carbon dioxide companies are allowed to release and require them to pay for more permits if they emit more.
Over-emitting companies can buy permits from companies which generate fewer emissions. Caps are then reduced over time in a way that encourages companies to be more energy efficient or switch to cleaner fuels.
But China's national ETS is an intensity-based mechanism, with adjustments based on actual production levels.
Trading is currently limited to the power-generation sector, involving about 2,200 key emission units, and is expected to expand to other high-emissions industries, including petrochemicals, chemicals, steel, non-ferrous metals and construction in coming years.
"China's national ETS is what we call tradeable performance standard. It's about the intensity of emissions and is not directly matched to the target of peaking carbon emissions by 2030," Zhang said.
"A national ETS without an explicit emissions cap is unlikely to achieve China's ambitious climate targets. It is therefore urgent to design a transition from the rate-based system to the cap-and-trade system."