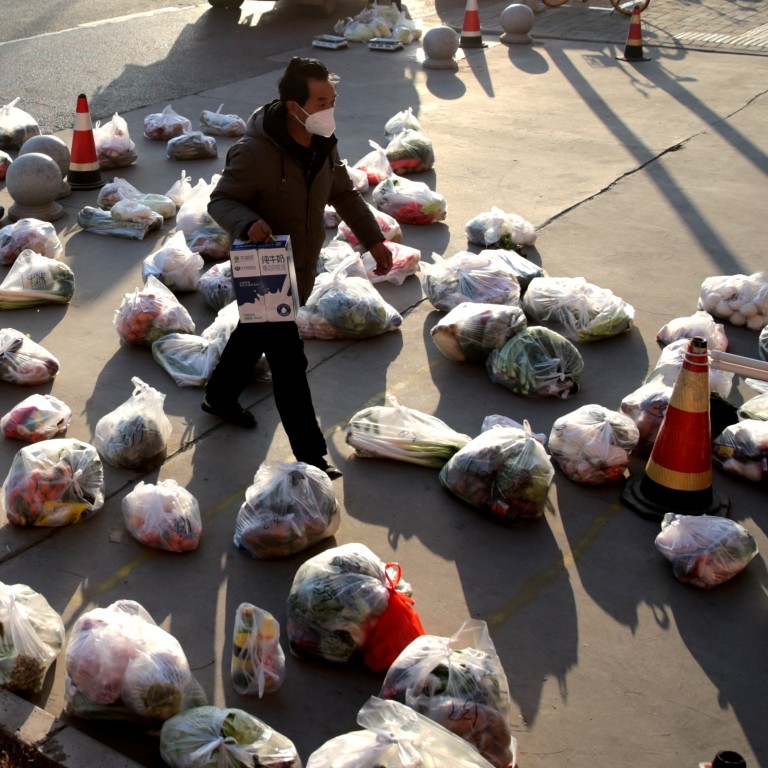 Coronavirus: official tells locked-down Xian residents they will get food deliveries
Commerce ministry has been coordinating with six neighbouring provinces to ensure supply of daily necessities, spokesman says
Many in the Covid-hit city have complained that they cannot buy what they need; a Xian official says the problem is a worker shortage
China's commerce ministry has sought to reassure residents of locked-down
Xian
that they will get the basic supplies they need, after many complained of food shortages.
The northwestern city of 13 million people in Shaanxi has been under lockdown for the past eight days as it battles China's worst
Covid-19
outbreak this year.
Spokesman Gao Feng on Thursday said the ministry had been coordinating with six neighbouring provinces to ensure the supply of daily necessities, while the commerce department in Xian was also working to make sure demand is met.
"The Ministry of Commerce is working together with local government departments, with further measures to ensure deliveries are made and grocery prices are stable by responding to changes brought by the pandemic and [market] supply and demand," Gao said at a regular press briefing.
All but one of the 156 new locally acquired Covid-19 cases reported in China on Wednesday were in Xian, according to the National Health Commission. The other case was in the southern region of Guangxi. In addition, 51 imported cases were reported.
Xian has recorded a total of 1,117 cases since the latest outbreak began on December 9. Authorities have imposed tough measures on the tourist city – known for its
Terracotta Warriors
– including the stay-at-home order, travel curbs and compulsory testing. A new round of mass screening began on Thursday.
While the numbers in Xian and the rest of the country remain low compared to other parts of the world, China has continued to pursue a zero-Covid strategy, swiftly imposing restrictions to stamp out any outbreaks. There were 2,563 active cases in China as of Wednesday, 15 of them severe, according to the health commission.
It comes as the US, UK and some European nations have been reporting record numbers of daily cases – in the hundreds of thousands – as the highly infectious Omicron variant continues to spread. China has reported nine cases of Omicron so far.
In Xian, many residents cannot leave their homes unless they are going to get tested or for other approved reasons, meaning they are relying on deliveries for food and other necessities. But thousands have taken to social media with complaints about running out of food and being unable to buy more.
Chen Jianfeng, deputy head of Xian's commerce department, on Wednesday said the main reason people were having "difficulty buying food" was a shortage of workers that was affecting deliveries.
Among the complaints on social media network Weibo, a commenter named Skinny said: "This is getting more and more ridiculous. I never thought in my lifetime I would be unable to sleep because of not having food to eat."
In another post, Shengquanlieshou said supply shortages during the initial outbreak in Wuhan at the start of the pandemic were understandable, but it was more difficult to understand in Xian after so many lockdowns.
The latest outbreak in Xian has been linked to a passenger on a flight from Pakistan, a cluster that has spread to six cities in five provinces.
Shi Bingyin, former dean of the First Affiliated Hospital of Xian Jiao Tong University, told Shaanxi Daily that the chain of transmission "is not clear so far, but the basic point [is] it is an imported outbreak, the source of the disease was from abroad".
"Most of the confirmed cases found were also very mildly symptomatic or asymptomatic, detected during mass screening instead of them going to hospitals after discovering symptoms – which we call hidden transmission – and as far as I know, there have only been a few cases of severe disease," Shi said. "The situation in Xian now is not as tense as the situation in Wuhan last year."