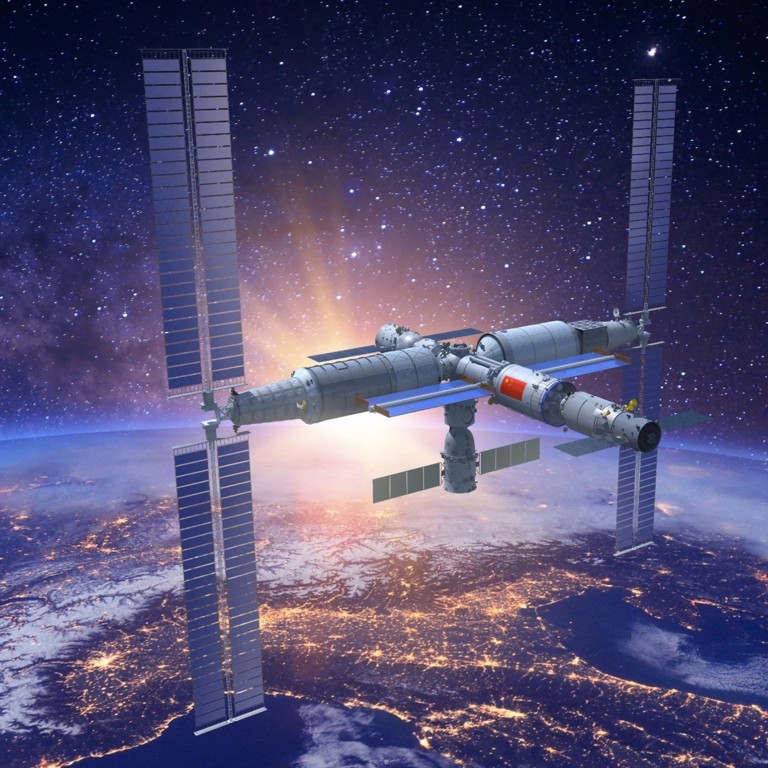 China space programme: 4 key missions in 2022 include finishing core of space station, sea rocket launches
In 2022, China has big ambitions relating to the moon, Mars and sea-based rocket launch pads
There are six missions planned this year to expand the Tiangong space station – China's rival to the ISS – for long-term living
Less than 20 years after its first astronaut went to space in 2003, the country has launched satellites, space stations and rovers to Mars and the moon and has plans to explore Jupiter around 2030.
For this year, Chinese space agencies have already announced several key milestones they aim to hit. Here are some of the most exciting.
1. Completion of Tiangong space station's basic structure
China launched its first experimental space station in 2011, just as the United States passed a law that in effect barred cooperation on the International Space Station (ISS).
By then, the Tiangong will be about a quarter of the size of the ISS, which was built by a coalition involving Nasa, European Space Agency nations, Russia, Canada and Japan. The ISS main structure took about 13 years to assemble.
Six launches have been planned for this year to expand the Tiangong station for long-term habitation, but the launch dates are yet to be announced.
The Shenzhou 14 crew's main task will be to help dock two laboratory modules – Wentian and Mengtian – to complete Tiangong's basic structure.
Later in the year, another batch of three astronauts – the Shenzhou 15 crew – will join them in orbit and for the first time there will be six people occupying the Tiangong space station at once.
2. Launching rockets from the sea
China's first ship designed as a rocket launch pad at sea is planned to go into operation in 2022.
The ship, which is still under construction, is 162.5 metres (533 feet) long by 40 metres wide. It is designed to help launch rockets carrying satellites and to recover parts of them to be reused. It does not require a pilot to move or to launch the rockets.
After the Long March-11 rocket was launched from the ocean in 2019 and 2020, the new vessel has been designed so China can launch more frequently.
3. Mission to Mars
The 240kg (530lbs) rover has transmitted plenty of geological data to scientists, some of which has been published in papers in scientific journals, such as Nature.
The rover is already operating past its designed lifespan of 90 sols – or Mars days – which is about 92.5 days on Earth.
Running more than 220 days, Zhu Rong's extended mission will be to travel south, where the terrain has more features than the plain of Utopia Planitia, where the Tianwen-1 lander touched down.
For 2022, the rover will continue to travel and collect more data for scientists to learn how terrain, such as scarps as steep as 60 metres, were formed and whether cone-shaped features indicated past geological activity on Mars.
4. Moon rover to probe mysterious object
The mission team of Yutu 2 spotted the object after examining a series of photos taken by the rover, according to a report in December by Our Space, a science outreach media outlet affiliated with the Chinese space programme.
The rover travels less than a metre (3.3 feet) on average every Earth day as it hibernates throughout the 14-day lunar night and can only travel towards the object in the lunar daytime.