Science
Get more with myNEWS
A personalised news feed of stories that matter to you
Learn more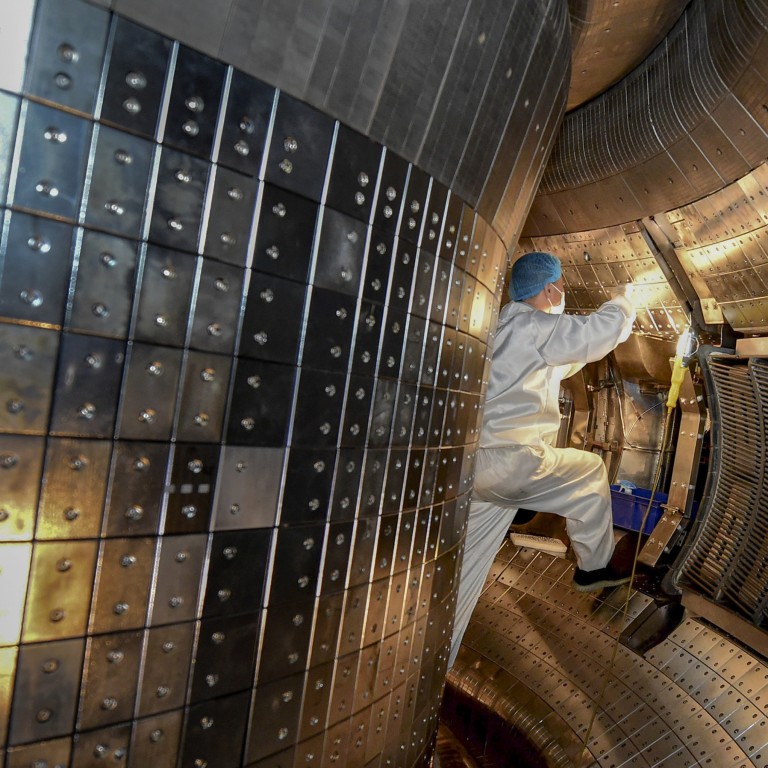 China's 'artificial sun' hits new high in clean energy boost
Research facility in Anhui ran at 70 million degrees Celsius for more than 17 minutes, state media reports
The achievement 'lays a solid scientific and experimental foundation towards the running of a fusion reactor', scientist in charge says
China has made a new breakthrough in its quest for
clean fusion energy
, as one of its "artificial suns" set a new record in sustained high temperatures, according to state media.
The Experimental Advanced Superconducting Tokamak (EAST), a nuclear fusion reactor research facility, ran at 70 million degrees Celsius for as long as 1,056 seconds (17 minutes, 36 seconds), Xinhua reported.
This comes after EAST
achieved another milestone
in May, running at a plasma – or hot gas – temperature of 120 million degrees Celsius for 101 seconds.
For another 20 seconds during the experiment in May, the facility achieved a peak temperature of 160 million degrees Celsius, which is more than 10 times hotter than the Sun, Xinhua reported.
"These are the goals for different stages … The recent operation lays a solid scientific and experimental foundation towards the running of a fusion reactor," Gong Xianzu, a researcher at the Institute of Plasma Physics of the Chinese Academy of Sciences, was quoted as saying by Xinhua on Friday.
Gong was in charge of the experiment at EAST, which is located at the academy's Hefei Institute of Physical Science in the eastern province of Anhui.
The facility is called an "artificial sun" because it mimics the nuclear fusion reaction that powers the real sun, which uses hydrogen and deuterium gases as fuel.
Fusion energy is considered the "ultimate energy" for a carbon-neutral energy future, because hydrogen and deuterium gases are abundant on earth, are clean and have minimal waste products.
EAST is one of three major tokamaks in operation in China. The
HL-2M tokamak
fusion reactor, which was commissioned last December, is located in Chengdu, in southwest China, and the third one is in the central city of Wuhan.
The experiment, which started in early December, will last until June.
"[The experiment] once again challenged the world record. We have comprehensively validated the technology, driving it a major step forward from basic research to engineering applications," Institute of Plasma Physics director Song Yuntao said.
Meanwhile, EAST will provide insights into plasma physics research crucial to setting up industrial-size reactors to generate clean energy, state broadcaster CCTV reported on Friday.
However, despite a decades-long quest by the worlds' scientists, fusion reactors are still far from reality.
The two main challenges are keeping the temperature over 100 million degrees Celsius and operating at a stable level for a long time, according to Xinhua.
Similar endeavours are ongoing in the United States, Europe, Russia and South Korea. China is also among 35 countries involved in the International Thermonuclear Experimental Reactor (ITER) megaproject in France.
The Chengdu "artificial sun" project, the HL-2M Tokamak apparatus, operated at 150 million degrees Celsius for up to 10 seconds in an experiment late last year.