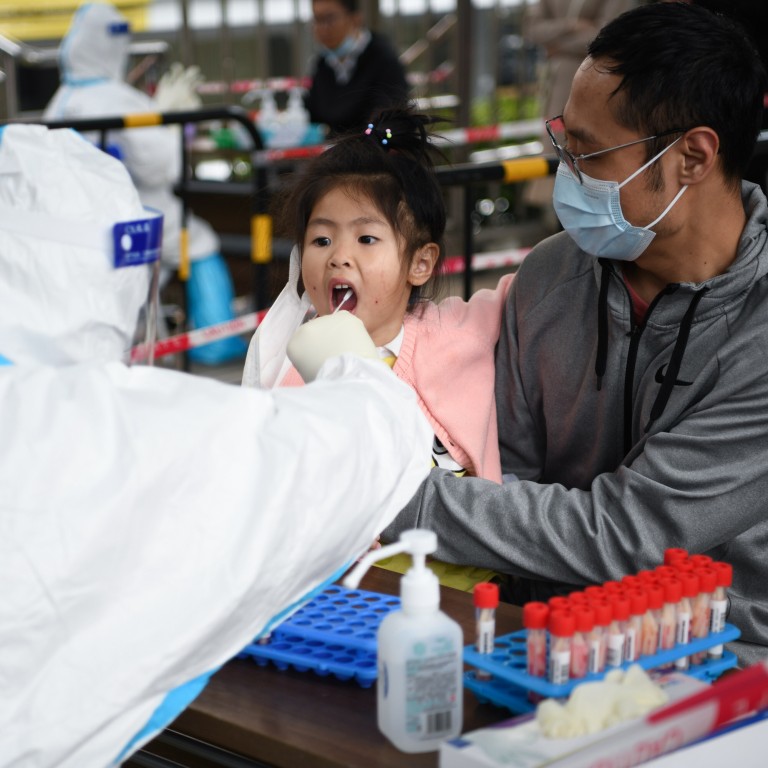 Coronavirus: Shenzhen's Delta cluster 'highly likely' linked to imported goods, authorities say
First person to test positive believed to have come into contact with contaminated item that arrived from overseas, according to health commission
With four cases found, mass testing is under way, some public venues have closed, and residents have been told not to leave city unless necessary
Health authorities in
Shenzhen
say a Covid-19 cluster in the southern Chinese city is "highly likely" to have come from a worker being exposed to contaminated goods that arrived from overseas.
Four locally acquired cases of the Delta variant have been found in the city since Friday, when a married couple tested positive during routine screening. A colleague of the woman was confirmed with the virus on Saturday, and another woman tested positive on Sunday and is being treated in hospital, the Shenzhen Health Commission said.
But it said an epidemiological investigation had found that the origin of the strain they have is not the same as other local cases elsewhere in China, including Hong Kong, or other imported cases found in Shenzhen recently.
The first person to test positive worked in the international supply chain and had come into contact with imported goods believed to have been contaminated with the virus, the health commission said. No further details were given.
The
new infections
are the first cases of community transmission reported in Shenzhen since an outbreak in May 2020.
Across China, 157 new Covid-19 cases were reported on Monday – 97 of them locally acquired, according to the National Health Commission.
Fifteen of the new infections were in Xian, the locked down northwestern city in Shaanxi that has been grappling with an outbreak since early December.
There were 60 cases reported in three cities in the central province of Henan, and 21 cases of the highly infectious Omicron variant in the
northern city of Tianjin
.
While the numbers are low compared with many other countries, China's zero-Covid policy has seen authorities move swiftly to contain
the virus
when clusters emerge by imposing tough restrictions like travel curbs, mass testing and lockdowns.
In the tech hub of Shenzhen, compulsory mass screening of the city's 12.5 million residents began on Saturday. Residential compounds where the four infected people live have been sealed off and large gatherings are not allowed in those areas.
Residents have been told not to leave the city unless necessary, and anyone who wants to travel must show a negative Covid-19 test result from within 48 hours of departure. Bus terminals have been closed until further notice, as have parks, museums and other public venues.
The outbreak is also expected to delay plans for a
long-awaited border reopening
between Shenzhen and neighbouring Hong Kong that would allow limited quarantine-free travel.
Nicole Yu, a financial analyst who lives in Hong Kong, said she did not expect the border to reopen any time soon.
Yu has been separated from her Shenzhen-based husband for most of the past two years since the border closed because of the pandemic. She said he had visited her every six months or so after spending the required weeks in quarantine.
"It feels like we are Niulang and Zhinu," she said, referring to the love story behind Chinese Valentine's Day of a cowherd and a weaver who were separated by the Milky Way and only allowed to reunite once a year.
Yu said she hoped the latest outbreaks could be contained before the
Lunar New Year
on February 1.
"One of my colleagues is in quarantine in Shenzhen and was planning to travel to Tianjin for the Lunar New Year," she said. "But now she doesn't know what to do."