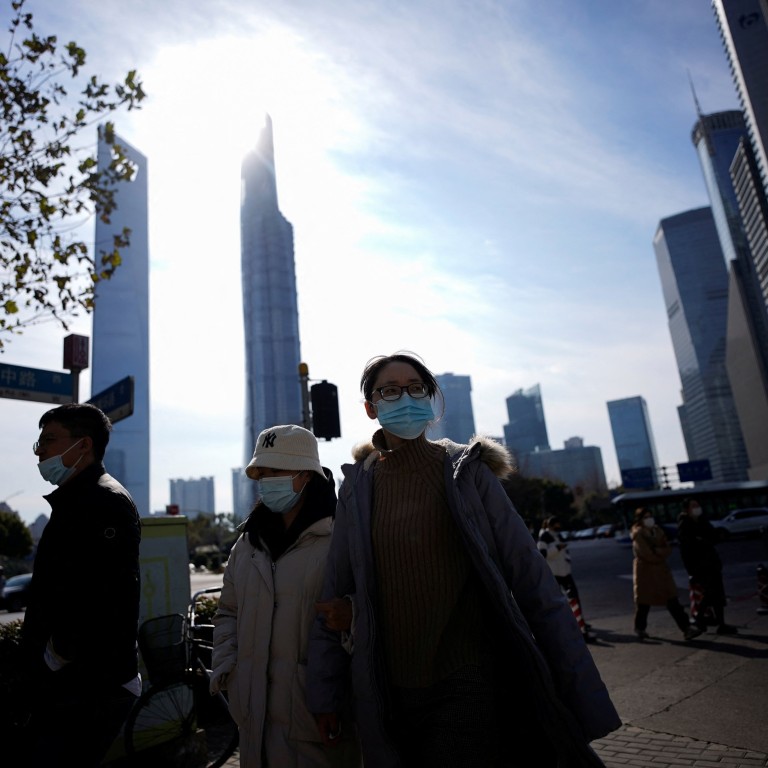 Shanghai on Covid-19 alert as new cluster closes bubble tea shop
Infections believed to have spread from an imported case, giving Shanghai its first symptomatic cases in a month
City tightens its rules for people undergoing health monitoring at home after their quarantine
Shanghai has reported its first locally transmitted symptomatic
Covid-19
cases in almost a month, two of them employees of a bubble tea shop, which has been closed.
The city's health department reported two new local symptomatic cases and three asymptomatic cases. It had not reported a symptomatic case since December 17, and its previous asymptomatic case was on Friday last week.
It was found that all five new cases shared the same transmission chain as an imported asymptomatic case reported on Tuesday – that of a Chinese student studying in the United States who had arrived in China on December 21.
After completing 14 days' quarantine – during which his four Covid-19 tests came back negative – he was serving a further seven-day
health monitoring period
, when people are allowed to go out but must avoid social gatherings and report their health regularly. On the last day, having been out during the seven days, he tested positive.
The two symptomatic cases were close contacts of the student and worked at the bubble tea shop. The asymptomatic cases were another employee of the shop, a relative of one of the employees, and another close contact of the student. All but one were fully vaccinated, the Shanghai health department said.
The bubble tea shop, in Jingan district in downtown Shanghai, has been closed.
The transmission has sparked anger on social media from some residents towards students returning from abroad, as well as criticism of the Shanghai government.
"You overseas students are not in China when everybody else tries to make your motherland stronger, but you are so good at bringing the poisonous virus back to your country," one person said on the Twitter-like Weibo.
"The so-called precise Covid-prevention policy is actually a lax one, only benefiting some groups of people," another said. "Spring Festival is coming, and we're stuck in the city, not able to go back to our hometowns."
Shanghai's local government on Thursday tightened its guidelines for people undergoing health monitoring at home, urging them not to go out unless it was necessary.
It asked them not to use public transport, wander around their residential complex, take part in public events or go to busy public venues or confined spaces. There would be "harsh punishment" for breaking these rules, it said.
All cross-province group tours from Shanghai have been suspended, and the authorities have asked residents not to leave the city during the
Lunar New Year
unless necessary.
Across the country, the National Health Commission on Friday reported 143 local symptomatic cases, four asymptomatic cases and 58 imported cases.
The central Henan province accounted for 98 of the local symptomatic cases. Of those, 69 were in the city of Anyang, where cases have been traced to the northern city of Tianjin, which has had the country's first known outbreak of the Omicron variant.
The provincial authorities said they had issued more than 20,000 licences as of Thursday for vehicles to bring in daily necessities including food, with several cities in lockdown and closed to inbound traffic.