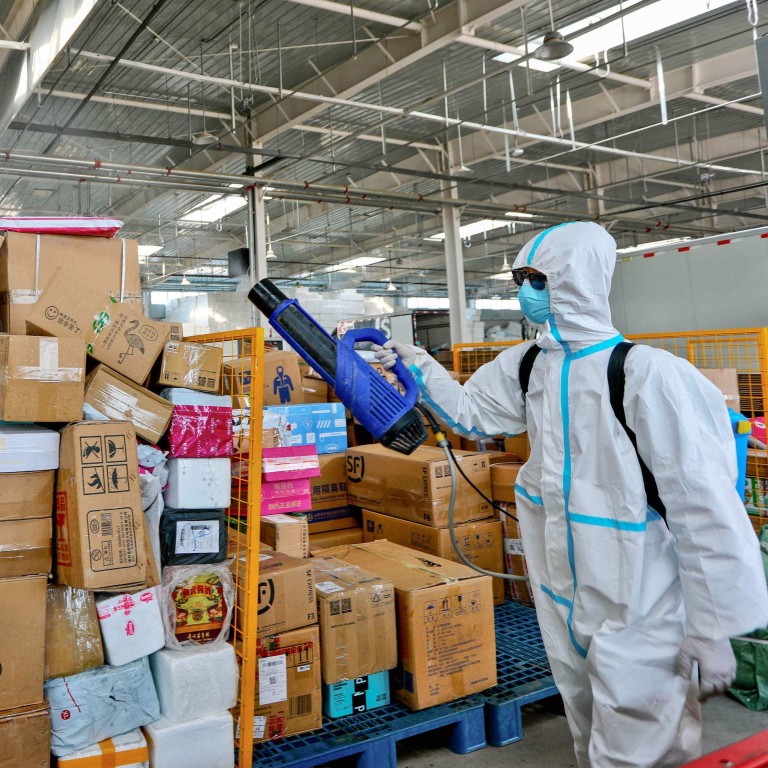 China Post to test all overseas mail for Covid-19 as outbreak continues
Letters and parcels will be held for nucleic acid testing and released within 14 to 20 hours of a negative result
The tightened regulations follow 87 new local cases reported and 147 imported infections across the country
The state-owned China Post Group Corporation has further tightened regulations on
overseas mail
after 15 out of the country's 34 provinces and municipalities reported new
Covid-19
cases last week.
In a notice released on its official WeChat account on Monday, China Post said it was carrying out nucleic acid testing for overseas mail and parcels to prevent the possibility of coronavirus infections through contaminated objects to human beings.
Tao Mu, from China Post in Hohhot, Inner Mongolia, told state broadcaster CCTV that mail would be delivered within 14 to 20 hours of a negative test result. The northern region reported dozens of Covid-19 cases in recent weeks.
"After disinfection and leaving the parcel for 24 hours, we will open the parcel and carry out Covid-19 testing for the inside objects with the consent of the recipient," Tao said.
China Post described the process as "an additional barrier" to effectively reduce the risk of coronavirus transmission through objects.
China has been an outlier in asserting that Covid-19 can be transmitted via cold-chain imports and other inanimate objects, a possibility which has been largely dismissed by most international scientists.
The US Centres for Disease Control and Prevention said last year it was possible for people to be infected through contact with contaminated surfaces or objects, but the risk was generally considered low.
Beijing's tightened regulations on overseas mail started last month when local authorities suggested the city's first case of the Omicron variant could have arrived via a package from Canada.
China Post responded by asking relevant businesses to step up the disinfection of overseas mail and parcels. It also suggested that people should reduce mail and express delivery of goods from countries with a high risk of Covid-19.
In Luohu district, Shenzhen, the postal service stopped door-to-door deliveries. Several centralised pickup points were established, where recipients are required to upload their personal information via a QR code for future tracking if necessary.
Shenzhen reported 30 new locally confirmed cases and 26 imported cases on Monday. So far, more than 100 local cases have been detected in the city in the latest round of the outbreak.
And 15 of China's 34 provinces and municipalities have reported locally confirmed cases, from the northeastern province of Heilongjiang to the southwestern province of Yunnan.
In total, there were 87 new local cases and 147 imported infections reported in the mainland on Monday. Of the imported cases, 53 were recorded in the southern province of Guangdong, with most coming from Hong Kong.